W Abu Dhabi – Yas Island introduces Phillip Realmo as the newly appointed Director of Food and Beverage (F&B) for the hotel
Boasting over 14 years of extensive experience in the F&B industry, Phillip Realmo brings a wealth of expertise and knowledge to his new role, where he will be responsible for elevating the dining and beverage offerings at this iconic Yas Island property.
Originally from the United States, Phillip Realmo's remarkable journey in the hospitality sector commenced as a bouncer in Chicago. With a strong background in entertainment, event management, promotions, and nightlife, he has honed his skills in revitalising dining and nightlife establishments. Through unwavering dedication and determination, he has climbed the professional ladder to attain his current prestigious position as Director of Food and Beverage.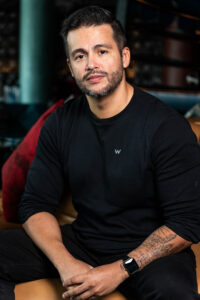 Phillip's rich career has spanned various countries and cultures, including the USA, Thailand, China, Qatar, UAE, Colombia, and Mexico, which has endowed him with a distinctive multicultural perspective. His extensive experience is further complemented by his history with W Hotels, where he played pivotal roles in the successful openings of W Bangkok, W Bogota, W Guangzhou, and W The Palm.
In his current capacity at W Abu Dhabi – Yas Island, Phillip will oversee a diverse range of culinary outlets, featuring cuisines such as Indian, Italian, Nikkei, Arabic, Continental, Western, and Asian. His responsibilities extend to the management of eight outlets, in addition to overseeing banquets, catering, and events.
With Phillip Realmo steering the F&B department, W Abu Dhabi – Yas Island is poised to redefine the culinary and beverage experiences, setting new benchmarks for excellence on the vibrant Yas Island.