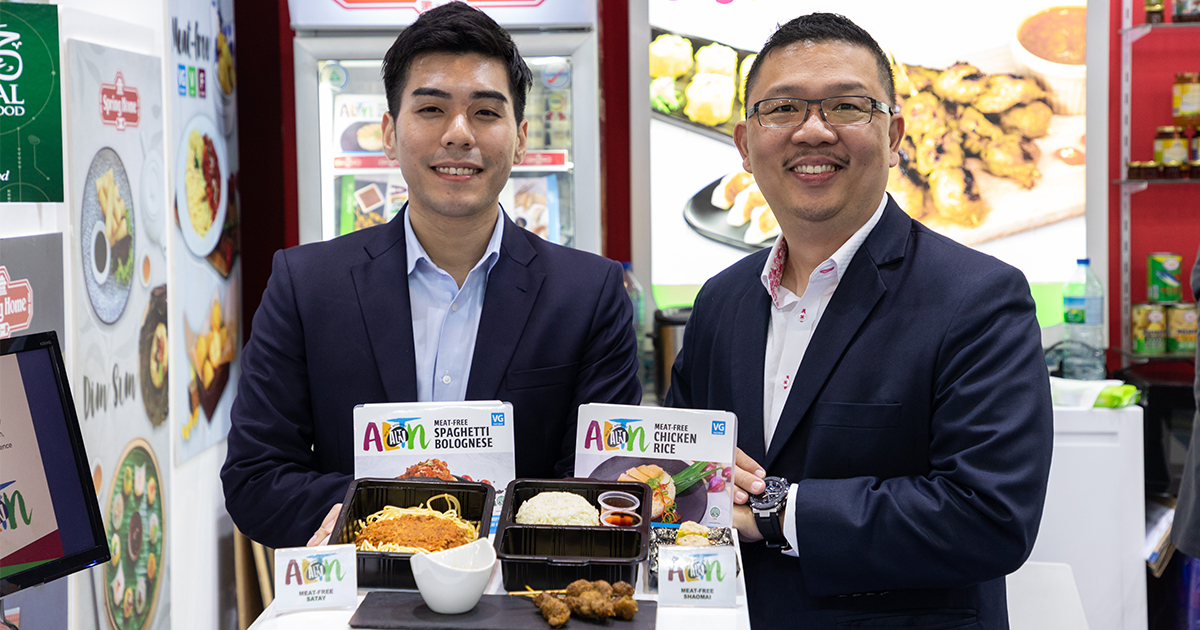 Singapore-based Tee Yih Jia Food Manufacturing Pte Ltd (TYJ Food) is already a world leader with numerous exciting and flavourful range of food products. During a recent discussion at Gulfood 2020, we asked them about their expansion plans to increase supply across the Middle Eastern foodservice industry, focusing on the launch of their new gourmet meat-free range 'ALTN', as well as ensuring product consistency, quality and safety.
Welcome to Gulfood Kowi and Collin.  How are you settling in?
It is great to come back to the Middle East again; this year is especially significant as it marks our tenth attendance at the Gulfood trade show. We already supply our food products to several Middle Eastern countries, but continue to see value in participating in Gulfood to showcase our innovative new food products and concepts, rub shoulders with other food industry insiders and continue to engage our clients and potential clients in this competitive and relatively new market for Asian frozen products, meat-free ready meals and hot snacks.
Tell me a little about TYJ Food?
Our headquarters is in Singapore, and we have state-of-the-art production facilities in Singapore, Malaysia, China and the United States. Since 1998, TYJ has proudly held the stringent internationally-recognised HACCP certification as well as the British Retail Consortium's (BRC) highest grade for Global Standard for Food Safety.
With a history dating back to 1969, TYJ Food started as a small, semi-mechanised factory producing spring roll pastry for local markets and small restaurants. Over the years, the business grew exponentially as it sought to export its products to gateway markets globally and fully-automated its manufacturing processes to increase production and ensure product consistency and quality. We currently produce 30 million sheets of spring roll pastry a day, making us the world's leading supplier of the product.
Our current 400,000 sq ft manufacturing plant in Singapore is already running at full capacity. Due to increasing worldwide demand for our products, we are nearing completion of our new 1.2million sq ft state-of-the-art manufacturing plant, which will significantly scale up production, enabling us to meet new demand and continue growing aggressively. Apart from Singapore, we also have a newly built manufacturing facility in China, as well as manufacturing plants in Malaysia and the United States. In addition, TYJ Food has cultivated deep distribution networks in over 80 countries. We have five anchor brands; our flagship brand Spring Home, Happy Belly, Master Chef, Rysuhobo and our recently added 'ALTN' meat-free range of products for both foodservice and retail buyers.
Chefs and caterers in the Middle East would love to understand more about each brand, tell us more?
Spring Home is our flagship brand which includes a wide range of ready-to-eat or ready-to-cook products for foodservice and retail channels, such as spring rolls in a variety of flavours, samosas, roti paratha, dim sum, crepes, rice balls, plus of course our world-famous spring roll pastry sheets.  When called upon, we are more than happy to make a product to specification and create exclusive recipes for our clients.
ALTN is our meat-free range of snacks and ready meals, which are in line with the current growing trend and demand for more ALTerNative options to meat, keeping and improving on traditional texture, taste and nutritional value. Our meals include dishes such as Asian inspired satay, spaghetti bolognese, Singapore Hainanese chicken rice and shaomai.
Happy Belly offers a range of oriental wrappers such as wonton skin, gyoza skin, Peking duck wrapper and the worlds first ever frozen hargow crystal skin.
Masterchef offers a range of ready to eat crepes for both savoury and dessert dishes which saves chefs time and costs of producing their own.
Ryushobo is our ramen noodle range which is available in a variety of popular flavours and packed for retail and catering.
In your opinon, what is it that chefs and caterers worldwide love about your products, do you think?
Aside from taste and texture, the majority of our products are frozen and have impressive shelf lives that span between 24 and 36 months: chefs find that these products offer significant savings on wastage and costs, whilst knowing that the products will always have consistent taste and quality.  Each product is cooked straight from frozen, making it truly a food of convenience.
Who do you currently supply to in foodservice and retail?
We supply to food service buyers, namely hotels and retailers across the world. The UAE and the Middle East continue to represent a substantial under-tapped opportunity. Currently, we have listings in supermarkets such as Spinneys. We want to increase our footprint with some of our products for both retail and foodservice buyers. We feel we can make a difference in this space by offering a product with superior taste, cost-savings, quality and convenience.
What are your three bestsellers to the foodservice industry and to the consumers?
The three most popular products are spring roll pastry, Indian paratha bread and Chinese dim sum.
Why do you think that is?
Each of the products forms the heart of the region; they are the traditional go-to dishes. They are also typically labour-intensive in nature to prepare and make, and we are able to deliver products which can be cooked straight from the freezer and on to the table. Not only is it a cost-cutting exercise but prevents food wastage and saves enormous amount of time. We are also able to tailor-make our products, which typically include these products as base ingredients.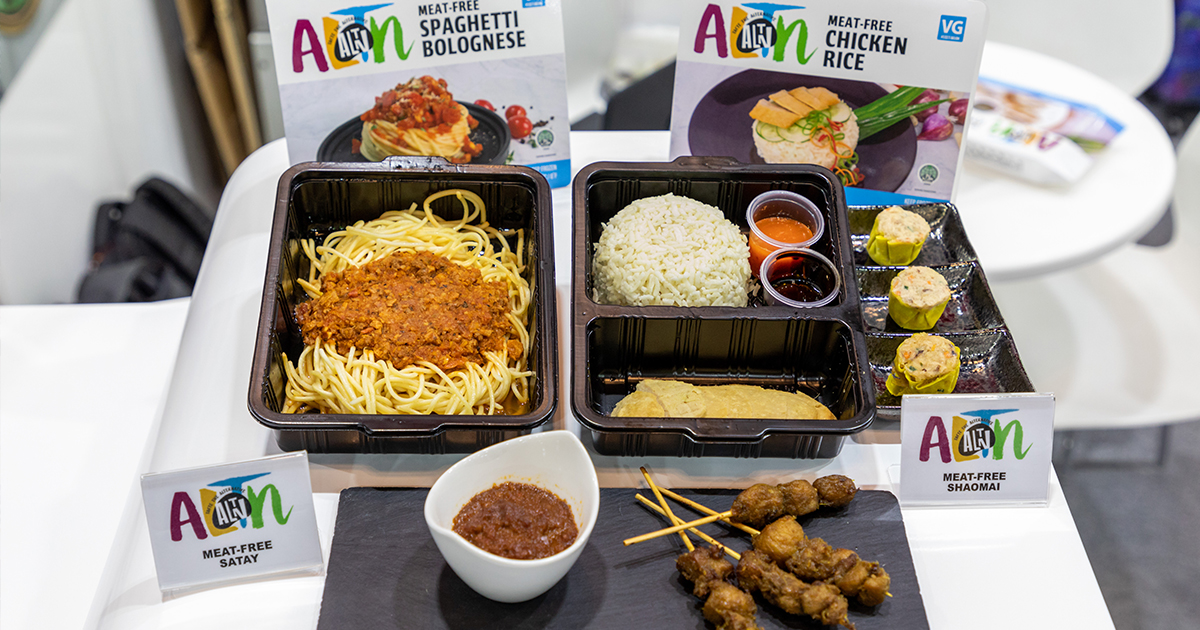 Vegan and meat-free ranges of products are fast becoming a trend here in the Middle East.  After sampling a few of the products in your meat-free range ALTN, I suspect chefs will be quite excited to try it.  Please tell us more about the taste and flavour profile?
Now that the taste and texture have wowed you; you'll understand that these meat-free, plant-based products are superior to, yet boast similar texture and flavour to that of meat. Our Asian satay and chicken rice are Asian staples. Following documentaries such as Cowspiracy; there is no longer a 'need' to eat meat: across Europe, a staggering one-in-four people in some European countries have now converted to plant-based eating and the trend is only growing.
It's exciting to see plant-based products emerging in popularity in the Middle East. While the growth may not be as fast as other markets, we suspect that is because the consumer may not have found the right ALTN-ative yet!
Dubai is an excellent hub into the rest of the Middle Eastern region, are you planning to expand further into this territory?  If, so which country next?
Yes. Naturally, we will seek to find the right partners, who are already established in the region, and will take our product across the MENA region.
What future growth are you anticipating?
Aside from tripling the size of our manufacturing plant in Singapore, we are constantly keeping up-to-date with worldwide food trends, taste profiles and working with research and development chefs to increase our product range and flavour profiles further.
How would you like to see attending Gulfood benefitting your business?
We have been to Gulfood many times before and we hope to continue entrenching our brand and products in the market. We also hope to engage with existing and potential clients to boost our presence in the region. One more thing on the wishlist is to secure an on-the-ground partnership that is beneficial to TYJ prospering in the Middle East.
Lastly, when can we expect to see your ranges available in the Middle East?
As mentioned, a number of our products are already sold here, and we are excited to be showcasing ALTN – our newest product range. Beyond that, we have the capacity, with the right partner, to be distributing here more extensively within the next three to six months for some brands and sooner for some of our stronger, more established brands.
Interested to partner with TYJ Food and other Singapore food companies? Connect with Enterprise Singapore, the country's enterprise and trade development agency, at mary_intacto@enterprisesg.gov.sg or +971 4 3020105.