Sponsored: The regional edition of the World Chocolate Masters 21/22 competition, by Cacao Barry, is set to take place on September 1, 2021. Chef Romain Renard, Director at Chocolate Academy Dubai – MENA and member of the organising committee at World Chocolate Masters, gives us a glimpse into the phenomenal event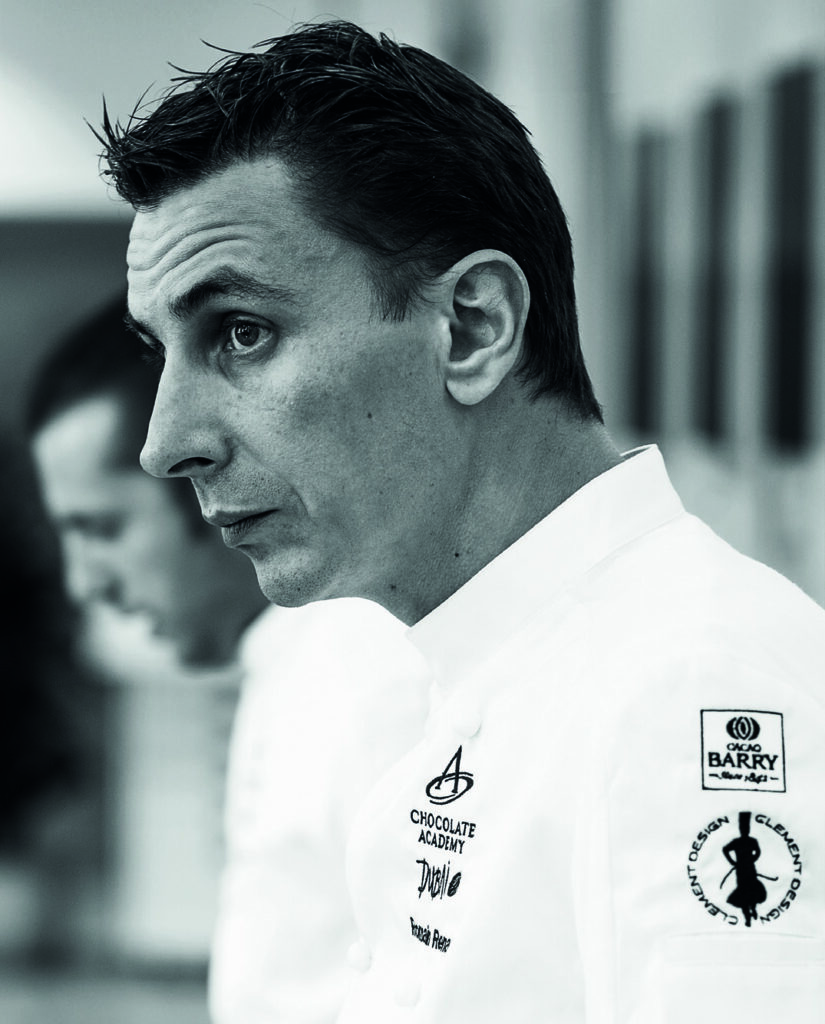 As the Director at Chocolate Academy Dubai – MENA, Chef Romain Renard holds extensive experience in Pastry Arts and Chocolaterie. With close to 20 years of involvement with big culinary names, Chef Romain has been the Executive Pastry Chef for brands such as Jumeirah Group, Mandarin Oriental, Shangri-La, Armani and Four Seasons, among others.
The regional edition of the World Chocolate Masters (WCM) 21/22 is finally here. Tell us about the competition and its history in the region.
World Chocolate Masters is the only competition on the planet dedicated to pushing the boundaries of chocolate creativity. It's the ultimate opportunity for upcoming chefs from all over the globe to share their chocolate talent and connect with fans, professionals and industry leaders worldwide. The cutting-edge innovations revealed and shown here by the chefs have always been an inspiration to chefs all over the world.
The competition incites chefs to reach out to science, technology and design and rethink chocolaterie and patisserie as we know them. What you see in the competition will be in the counters of the best pastry and chocolate shops three to five years from now. Design, sustainability, permissibility, and entrepreneurship will become part of chefs' quests for the chocolate delights of tomorrow. We want to stimulate them to gap the bridge.
There were more than 10 million chocolate fans, professionals and market leaders who have watched and connected with us during last edition's WCM event. It is a truly unique experience viewed around the globe and an enriching chef's journey among qualified peers.
Where did the idea of WCM stem from for Cacao Barry?
Excellence is the one word that defines the idea behind both Cacao Barry and World Chocolate Masters.
Launched in 2005, World Chocolate Masters was ideated with the sole purpose to connect with chocolate artisans throughout the world and give them a common platform to challenge their knowledge and create something innovative.
Over the last year 16 years, the competition has challenged and inspired Chefs globally, resulting in recognition and therefore a business boost to all participants.
What can you tell us about the theme for this edition?
The new theme of the upcoming World Chocolate Masters competition is really exciting and leaves a lot of room for creativity to the participants. This unprecedented time has pushed all of us to think of a new direction and that's what World Chocolate Masters is all about.
The 8th edition theme is born from the divide between apocalyptic visions and the rise of a bright new optimism. How does this duality impact the way we live, create, connect, and enjoy chocolate? What's the future of indulgence?
It will be interesting to see chocolate artisans; how they reconsider the past and create a bright future inspired by design, science and technology.
What, in your opinion, are the key highlights from past competitions?
Twenty of the world's best chocolatiers took part in last year's competition – Futropolis – to tackle the concept of the future megacity. It was incredible to witness their individual interpretation of the theme and how they translated ideas into edible creations.
One of the key highlights that I look forward to every year is the presentation of unique flavour-combinations. Last year, the winning creation had an interesting fusion of praline made of classic ganache and a mandarin-lemongrass coulis. Such experimentation does not happen anywhere or anytime of the year and does require a platform such as WCM for Chefs to push themselves.
Tell us more about the Chefs participating this year and your expectations from each.
In the Middle East we see a global pool of talent which enables a diverse sense of excitement and support for the participating Chefs. Each Chef with their journey and individual experiences, brings something new and fresh, every year.
This year again, we have 7 chefs who are extremely talented, competitive, and have won accolades at global platforms.
Vivian Creado
Bertrand Le Gallic
Ashwani Kumar Pathania
Aravinda Leelarathna
Dilip Kumara
Syarif Purawinata
Dammika Herath
Under the year's theme of #TMRW, the participating Chefs will be seen pushing their boundaries and creativity to a direction that is still untapped.
What trends can we expect to see at WCM 21/22?
The World Chocolate Masters has always embraced innovation and therefore transformed its competition format to offer contestants the opportunity to set new standards. With the upcoming final, the format will be completely new again – offering new assignments, a new setting, and new impulses.  Some of the exciting trends that we can expect this year are:
Biomimicry: Inventions from Nature's Lab – Through natural selection, living organisms have evolved into highly efficient ecosystems over time. These structures, materials and make-up have given rise to new technologies on both macro and nanoscale to influence design, solve engineering problems and create energy-efficient solutions.
Gastronomy Tailored to Your Genes – As we know, not every person responds similarly to the same food or diet. Turns out that the relationship between our unique genetic makeup, general health and lifestyle greatly impacts the way we enjoy food. And an increasing number of nutritional researches say personalised meals might very well be the next step in gastronomy.
The Rise of The Ghostaurant – One kitchen. Unlimited creativity. With digitalisation lowering the bar for young entrepreneurs to make their mark, new ways of food creation, production and delivery are gaining widespread popularity. Companies like Feedr or Eat First don't have physical dining areas. Instead, they deliver freshly cooked meals right to your doorstep. Welcome to the world of delivery-only.
Upcycling is Taking Over – Known as the creative reuse of materials, ingredients and waste, upcycling is the process of transforming by-products, waste materials, useless or unwanted products into new materials or products of better quality and environmental value.
Whom can the audience look forward to seeing on the jury this WCM 21/22?
This year, we have a five-member committee who will be evaluating the creations of each contestant based on the suggested assignments. All jury members are leading experts in gastronomy and this year the competition will see:
Emmanuel Ryon, President of The Jury – Chef Emmanuel is one of the most respected and refined ice cream masters in the world, with more than 25 years of experience, a World Pastry Championship (Lyon 1999) and Meilleur Ouvrier de France Glacier (2000), serving as milestones in the life of this great professional.
Charles Azar – At a young age his encounters with Meilleurs Ouvriers de France to helped him perfect his skills as a chocolate-maker, showed him a different vision of patisserie and gave him a taste for competitions. From holding a three-time distinction at The World Pastry Cup, Lyon to an acknowledged National Pastry Champion, a Master Chocolatier and a Master Consultant; the accomplishments of Charles Azar are nothing but inspiring.
Gregoire Berger – Widely regarded as one of the most creative and innovative chefs in the UAE, Chef Gregoire has set the precedent for the culinary scene in Dubai with his innovative ideas and use of exceptional techniques and quality ingredients, earning more awards than any other chef over the past years. Grégoire's culinary narrative, in a nutshell, is rooted in expressing memories through his exquisite creations, which he humbly refers to as 'the metamorphosis'.
Andreas Krampl – Beginning a career as chef apprentice in his hometown in Germany, Chef Andreas is now the Senior Director of Culinary, Middle East & Africa at the Marriott Group of Hotels, responsible for strategy development and execution across culinary of the giant hospitality group.
Nicolas Lambert – Chef Lambert boasts a remarkable resume, honing his craft at fine eateries and hotels across France before moving to Caprice Restaurant at Four Seasons Hotel Hong Kong. It was there that he was recognised as the youngest ever "Asia's Best Pastry Chef" by The World's 50 Best Restaurants. Following a successful stint at Four Seasons Hotel Lion Palace St. Petersburg, he has landed in Dubai with his suite of signatures that both flavorful and visually captivate.
What are the areas of innovation you personally will be looking forward to this year?
My lookout from every competition, is something extraordinary and something that defies traditional pastry and chocolate making. The pastries that contain less sugar, less fat and offer a full vegan experience, putting the 'what has been a trend' to be todays normal. Those are the key aspects that really catch my attention.
Each Chef should be able to create food that has less impact on the planet focusing on less carbon food prints; and is better for the consumer, today and tomorrow.
How can participating chefs ensure they stand out at this year's competition?
The only way is emulating the concept and belief of WCM, i.e. new and innovative ideas. They need to create something exciting that beautifully and tastefully captures the theme and make a huge impact on the judges. Each chef needs to think outside the box, but keep in mind that the chocolate is the main and only focus.
Visit the website.