In the kitchen with Chef Serge Gouloumès, Executive Chef at Hilton Doha the Pearl Hotel Residences
Chef Serge Gouloumès, hails from south-western France, where he started his career locally before travelling the world to expand his culinary repertoire. La Pomme Cannelle, a 1 Michelin star restaurant in Belgium was where he began, continuing with the Caribbean islands as Head Chef in Saint Martin, for the opening of Poisson d'Or restaurant. After working in the US at Ma Maison Hotel in Beverly Hills, followed by stints in France and Switzerland, in 2005, Chef Gouloumès was awarded 1 Michelin star as the executive chef of the Relais&Chateaux Le Mas Candille in Mougins south of France, an ode to his fantastic gastronomical expedition. Most recently, Chef Gouloumes decided to commence a new journey in the Middle East, heading to Qatar to join.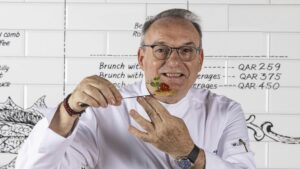 What made you choose this career?
I am originally from the Southwest of France, and in that region, sharing a good meal around a table with family and friends is very important. My grandmother used to cook for us every Sunday, what I call a King's Meal, consisting of at least ten different dishes. I still remember to this day those delicious meals. Both my parents like to cook and host dinners as well. But from a younger age, I told myself that I wanted to be a Michelin-starred chef, and I wanted to travel the world, and I did it.
Tell us about your career highlights and journey to date.
I had the privilege to work in luxury places throughout my professional career and had the chance to discover beautiful places around the world. I was also lucky to meet people from various cultures, kitchen chefs and staff, with different nationalities, but we have one common denominator which is the passion for the culinary arts. I will say being a Michelin-starred chef opens many doors and opportunities in one's life. You certainly become more devoted to excellence, looking for and researching local products and creating dishes that complement the country you're in. You become attentive to all the details from the kitchen to the dining room, the table layout, the ambience, and the service. Every little detail counts to make the customer experience unforgettable with a wow factor.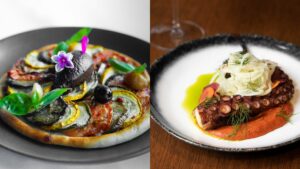 My other accomplishment is the publishing of my book D'Esquisses en Delices (From sketches to Delights) in 2013. It was the result of over one year of hard work, and it was a pride for me to have my son Benjamin, who's an artist, draw all the sketches. It was also touching to have incredible testimonials from wonderful customers who became friends. I like to say that this personal work is like a feast to be shared with everyone.
Describe your cooking ethos.
First, it's the visual and I like each of my dishes to be a piece of art. Then comes the smell and diverse aromas and of course the quality of the product and each ingredient I use. I love seasonality and what mother earth provides us. Personally, I prefer seafood and vegetables
and healthy dishes as they always resonate with me much better. I like to mentor new young chefs but also learn from them. The new generation of chefs have a different approach and it's great to discover new techniques and enjoy the game of cooking together.
Name a few signature dishes that best represent this cooking ethos.
Definitely the Zucchini bisque and eggplant caviar with lemon gel; Hamachi carpaccio with coriander, wasabi cream and sesame oil; Lump crab meat tomatillo tartare; Lobster focaccia or sea bream filet basil crust; Seabass filet on a basil crust. A very nice Lamb rack just roasted perfectly with garlic and thyme and a nice lamb juice. To finish, a chocolate tart made from the best chocolate Valrhona (Manjari 64% pure Madagascar).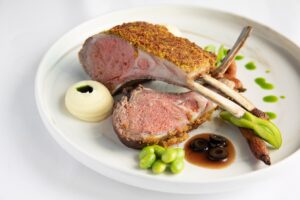 Was it your mission to secure a Michelin star for Relais&Chateaux Le Mas Candille?
Yes, it was my mission as well as the owner of Le Mas Candille. It takes a strong team, and we worked hand in hand to secure it.
Take us through the process and what you believe secured the star.
It is really the whole experience that starts from entering the establishment until you leave it and get into your car. It's the greeting when you enter, the dining room feels, the comfort of the chairs, the art of the table, how it's set up, the designer plates, covers, silver and glasses. It's the service and courtesy and of course the menu. Local products and ingredients are key as well as the sauce, the butter, the bread, the desserts and the grape selection and pairing (not necessarily the big names but also helping the new makers). Every single detail counts and everything must be perfect. Each person in the establishment plays an important role, and the whole team works in synchronization and harmony, into making the customer totally satisfied and live a memorable experience.
Describe your current role and why you have chosen to move to Qatar.
I like new adventures and always like to explore new cultures that will add flavour to my dishes, so I told myself, why not Doha? I'm fortunate to be part of the Hilton family and working in one of the best hotels in Doha. I love sharing my cuisine with the team and learning from them. I am enjoying tremendously discovering this beautiful city, its architecture, lifestyle and culture.