The partnership between IBFI and KSA's leading distributors aims to strengthen the sales growth for both companies
Star Soda, a UAE-based soda brand manufactured by International Beverage and Filling Industries (IBFI), has announced its decision to expand its market share in KSA by appointing Binzagr Company as the exclusive distributor in the Kingdom. Star Drinks and Binzagr Company marked the exclusive partnership with an intimate launch ceremony last month in the presence of Ahmed Binzagr, President of Binzagr Company, and Mohy Eldin Eladawy, General Manager at IBFI, who inaugurated the partnership with an official signing.
"These are indeed exciting times in KSA with the rapid transformation happening in almost all sectors of its economy. And, to have Binzagr as our partner in this market speaks volumes about the importance of the KSA market for Star Soda, IBFI and the Albatha Group," said Mohy Eldin Eladawy, General Manager at IBFI. "We are therefore confident that through Binzagr Company's long heritage, extensive footprints and expertise across KSA, we will achieve our aspirations to further reach out to its consumers and remain as the number one soda brand in the hearts and minds of every consumer in KSA."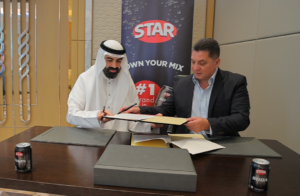 Launched in 1992, IBFI is a subsidiary of the largest and oldest business holdings in the UAE – Albatha Group, boasting a dynamic presence in FMCG manufacturing, distribution, pharmaceutical, automobile, engineering, real estate, healthcare, home and personal care, retail and home products; with products exported to over 35 countries worldwide.
Visit website.