Chef Grégoire Berger was recently named the 10th best chef in the world, at the international Best Chef Awards and Seafood Speciality Chef of the Year at The Pro Chef Middle East Awards. The chef de cuisine at Ossiano seafood restaurant in Atlantis The Palm discusses sustainable fishing and suppliers in the UAE.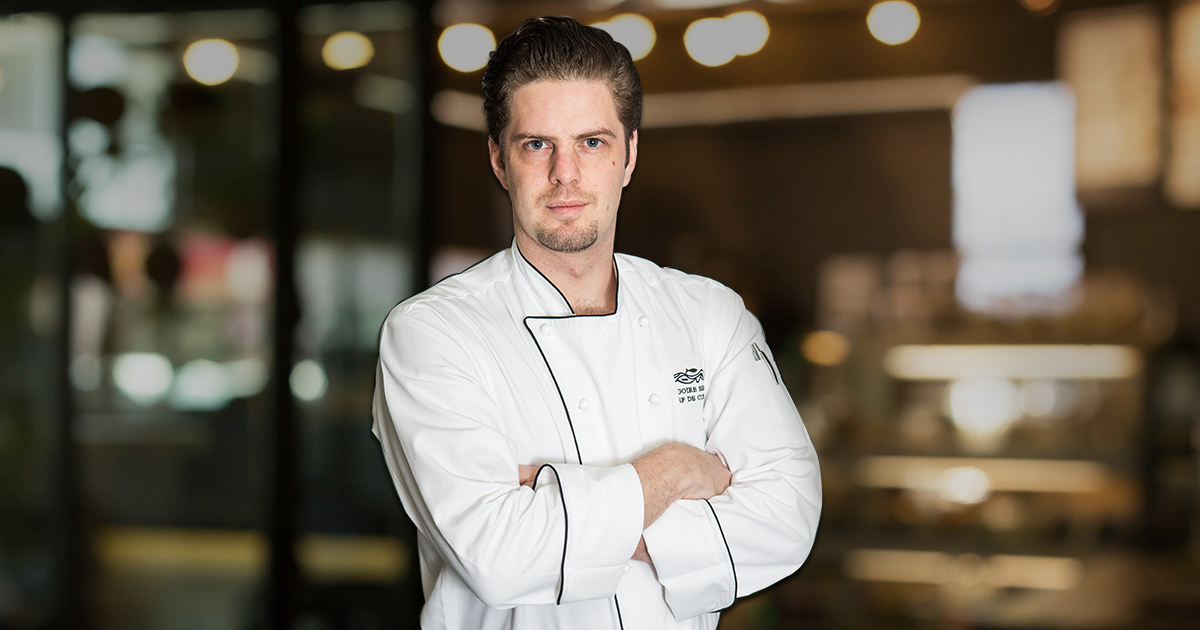 As a seafood and fish-led restaurant, how do you ensure that Ossiano supports sustainable fishing?
Over the last decade, restaurant diners and chefs like myself have become more sophisticated and understanding of the need for sustainable fishing. Seafood chefs are taking on the mission of sourcing fish carefully, to not encourage overfishing or to threaten certain species in any way. Here at Ossiano we are very careful about traceability and only use sustainable varieties of the local and international species, which are found on our menu. We achieve this by working with local fisherman and small suppliers in various locations, who know and love their seas and have an affinity with that location. For example, our seabass is live caught from a small town in France, and some of our fish are supplied by France Ikejime, a company who use the more humane Japanese ikejime method of processing their fish. The company pride themselves on using small boats and knowing the fisherman who catch their fish.
Which suppliers are you able to source the best in quality ingredients from?
We only source the very best ingredients from across the globe. I tend to try and find the most reliable and strong suppliers initially and then work with Classic Fine Foods to import them into Dubai. Whilst my seafood is most specific, I get my truffles from Gaillard in France, my olive oil comes from Xavier Alazard from Les Baux, Provençe, and I get the most amazing asparagus from Sylvain Erhardt, who harvests some 30 ton­nes of the delicious produce every year in France.
What are some of this year's 'in' flavours and ingredients that you've been focusing on recently?
Whilst I constantly read about new trends and what's going on in the culinary world in terms of innovation, I tend to steer away from cooking 'on trend' food and rely more on telling a story with my dishes. All of my dishes are inspired by a particular moment or event in my life and I like to bring this to life for the diner in a non-verbal way, through taste and smell. Some of our most powerful memories all involve taste and food and I want our diners to leave Ossiano with their own memory, that hopefully they can recall for years to come. For example, in the height of the hot Dubai summer I always miss Morocco, which is where my wife is from. So currently all I want to do is bring the smell, taste and sounds of Morocco to life through my dishes, this means I am currently cooking with Agrum a great deal.  This is my 'on trend' ingredient right now.
On the back end of winning various awards last year, how is it that you stay on-trend?
As mentioned above whilst I don't think there is anything wrong with using 'on trend' products or methods of cooking, it's simply more reliant on what's rare or unusual rather than what's creative or new. For example, everyone wants to use Yuzu at the moment, however in Japan this is everywhere and has always been a popular citrus fruit to use. Creativity and trend setting to me is about not following recipes or tradition but instead questioning everything to create the impossible; pulling together the most unlikely of molecules, and making them fit.
That said, I do of course constantly read books, websites and keep eyes on all the major culinary players on social media. Inspiration comes from everywhere. Nothing in this world is new anymore, but it's how you make an idea, a taste, a dish yours, that makes it so special.
Where do you find your culinary inspiration?
As mentioned I do of course look to the big names in the culinary world to keep me inspired, but if I'm honest 90% of my inspiration comes from my own life and the lives of the people around me. For example, my daughter was eating this delicious looking peanut, banana and blueberry jam sandwich the other week. The flavours and texture just worked so beautifully and she enjoyed it so much, that I came in immediately and set about reworking a banoffee pie to replicate the sandwich. It was an absolute masterpiece, inspired by a 3-year-old child's lunch!
Subconsciously, when you eat something, your brain is always comparing it to what you've had previously; it tries to find a similarity. The more powerful the story behind the food, the more it evokes the memory, which in turn enhances the flavour. As children, we have such a raw pleasure in the smallest of things with most of us fondly recalling our younger years as some of our best. I therefore take the most pleasure in recreating dishes from my childhood and that of my daughters.
What I tend to do is if I think something may work I create the entire dish in my head first, matching flavours and ingredients that come from roughly the same country or location to ensure they suit.  Then I visualise the shapes and geometry to sense how best this will look on the plate. Once I'm happy with it in my head, I then set about making it a reality and 99% of the time it works.
What's the most popular dish on the menu at Ossiano with guests?
My prized floating island. This is essentially a take on my absolute favourite French dish, the Galette de Sarrasin, however the ingredients are not what they seem. The only way to know is to visit us and try it in person. 
Details: for more information visit Ossiano. If you enjoyed this article, you may like this story on The Pro Chef Middle East Award winners.