The five-star Media Rotana Dubai announces the appointment of Idin Asmitha as the new Executive Chef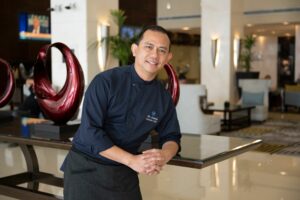 Executive Chef Idin Asmitha will oversee the entire hotel's day-to-day kitchen operations to ensure high-quality food and culinary experiences for diners. His roles and responsibilities include heading restaurants such as Channels, Nelson's, Prego's, The Terrace, and the private catering and banquet unit.
Hailing from Indonesia, Chef Idin kickstarted his career in 1993 at Hilton Jakarta and has over 30 years of experience and knowledge in the hospitality industry. He has worked with renowned brands and establishments in Indonesia and across the Middle East. In addition, he has also worked with Michelin-starred Chefs including Henrik Yde-Andersen, Igor Macchia, Michael Schlow, and Giorgio Locatelli.
"We trust Chef Idin will be a strong asset to our culinary team and we wish him all the best in his new assignment," said Sherif Madkour, the General Manager.