Tom Kitchin and his wife Michaela opened The Kitchin in 2006, and it has held a Michelin star for 11 years, receiving it only six months after opening. This made Tom Scotland's youngest Michelin starred chef proprietor at just 29. Here, he tells us about the lifechanging experience…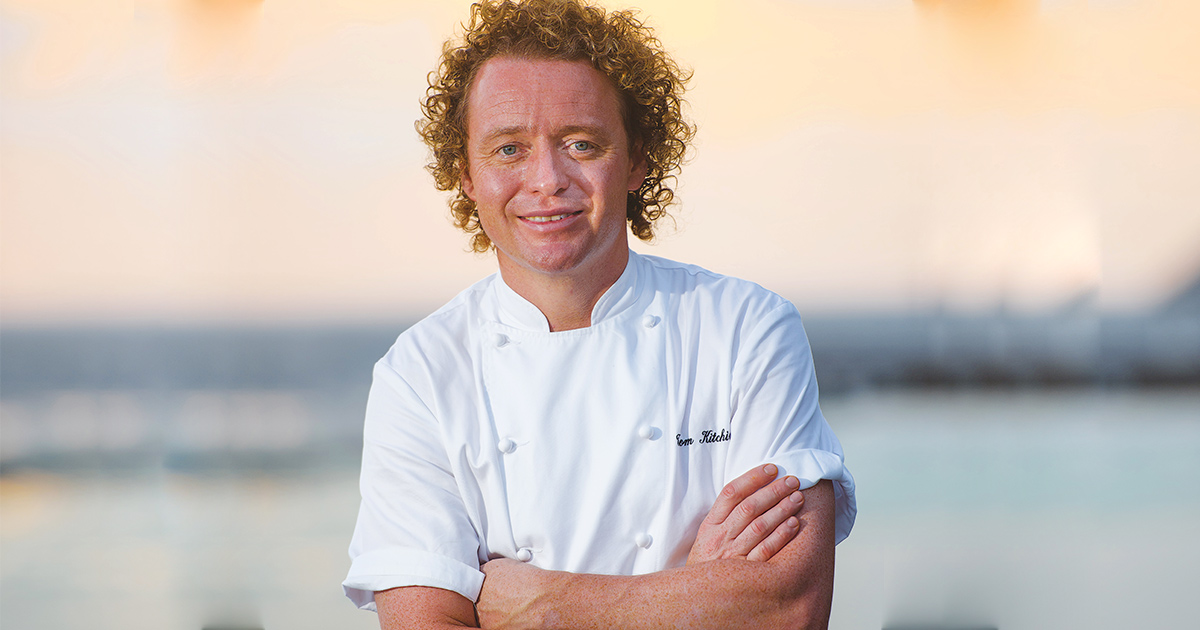 When you started out in the industry, was your goal to achieve a Michelin star?
My first job was washing pots and pans at the local pub where I grew up, and I never imagined I would be where I am today. One of my proudest moments was the day my wife Michaela and I opened our first restaurant, The Kitchin back in 2006. Our goal has always been to offer each and every diner an enjoyable and memorable dining experience, and to cook from the heart using the very freshest, finest, seasonal produce we possibly can.
How did it feel to earn your Michelin star at just 29 years of age?
I'm very proud of our Michelin star and all the other awards we've received, but I've never cooked for accolades and awards. I just continue to put my head down and work even harder. I just want to cook food that I enjoy eating and hopefully other people enjoy it too.
In your opinion, what are the key ingredients to a successful dining experience?
Quality, freshly sourced, seasonal ingredients, excellent service and of course, a warm and welcoming setting.
As a chef working your way through the ranks, what's the funniest blunder you've ever made?
I once used sugar instead of salt in a risotto, and only discovered my mistake as it was about to be served. It had to be re-made completely for the guest.
It's no secret that being a chef is a stressful job. How do you overcome the pressure?
The key is being prepared to work hard. For me, it's been a lot of hard work, listening and learning to some of the greatest chefs, taking everything on board and constantly pushing myself to learn new things. I have a great deal of genuine passion and love for what I do. I also try hard to achieve a good work-family balance. I love nothing more than spending time with my family but I also love going to the gym to keep fit and watching football. The key to managing a stressful job is to find a balance in life and not burn yourself out.
What would your words of advice be for chefs starting out in the industry?
As a chef you're going to face so many 'bridge' moments in your life, by which I mean, moments where you think you can't continue, that it's easier not to go to work, not to continue what you're doing because you're under so much pressure. You have to stay hungry, stay focused and continually push yourself to be better every day. Being a chef has allowed me to gain so many incredible experiences and opportunities and a chance to travel the world. I consider myself lucky to work in hospitality and to do something I love every day.
Do you often host events at and collaborate with resorts on an international level as you did in October with Coco Bodu Hithi in the Maldives?
I'm pretty fanatical about being in my kitchen in Edinburgh for each and every service when possible, so it's not often I get involved in a collaboration like the one with Coco Bodu Hithi. Our restaurant closes for one week in October, so it was an opportunity I just couldn't miss – a real once in a lifetime experience to learn about new cuisines and techniques from local Maldivian chefs – what a stunning place and such a wonderful resort to stay in.
When writing new recipes, where do you find inspiration?
A lot my inspiration comes from the ingredients and produce I receive from my local suppliers to my restaurant, The Kitchin. I am inspired by many things; cookbooks, speaking to fellow chefs and through my travels. Many recipes just come to me when I least expect it but mostly when I find a minute of peace and quiet to reflect. Working fanatically with the seasons also means we are always evolving our dishes and trying new things – we never sit still and are constantly experimenting with dishes and flavour combinations.
I never stop thinking about food – even when I'm on my days off or on holiday! It's rather the opposite and our holidays almost always revolve around food one way or another. I'm constantly thinking about new ideas, new recipes and taking inspiration from places I visit, like our visit to the Maldives – quite the place to get inspired!
Of all the places you've worked in the world, where was your favourite and why?
 I spent 13 years working for some of the very best chefs in the world, learning as many techniques and skills as I could. For me, my time working for Pierre Koffmann at La Tante Claire in London was one of the hardest yet most inspiring experiences of my life. From the start, Koffmann inspired me to truly cook from the heart. To this day he's still a mentor and a great friend and has helped to shape the chef I am today.
Details: for more information visit The Kitchin. If you enjoyed this article, you may like this story on Yannick Alléno.