As the chef who oversees and heads two of Dubai's leading Indian restaurants Trèsind and Carnival by Trèsind under the Passion Group umbrella, Himanshu Saini is a chef spearheading the local evolution of Indian cuisine. In a one-to-one with The Pro Chef Middle East, he talks progression and trends in the Indian kitchen, the re-launch of launch Trèsind and the opening of Tresind Studio.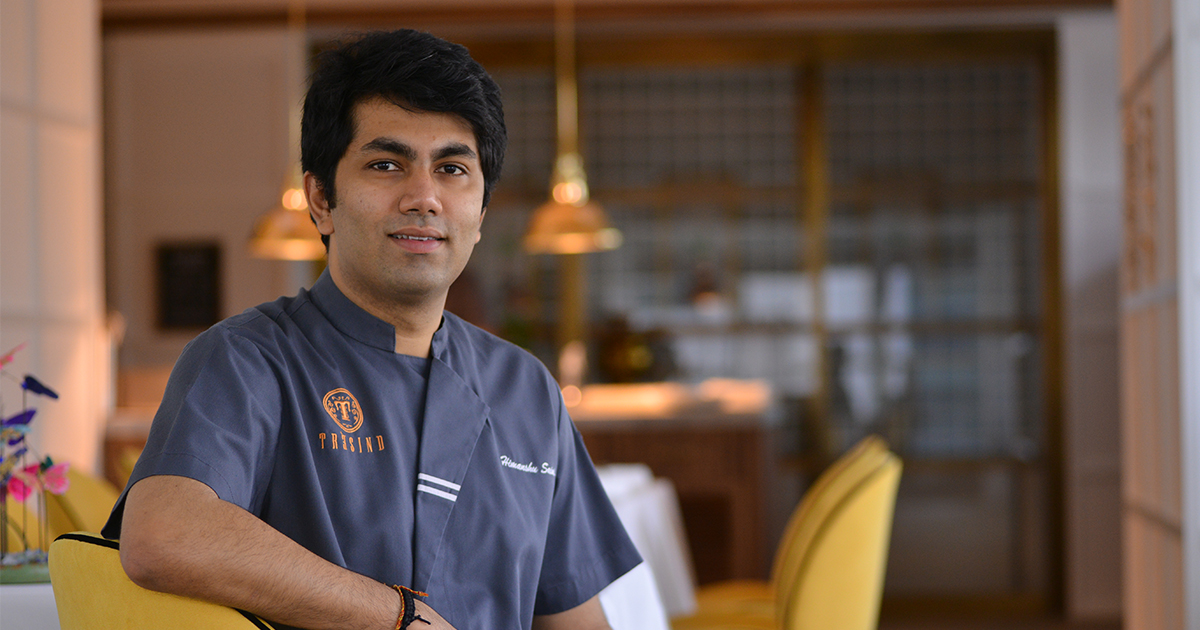 Tell us about your journey so far as a chef – how did you get started in the kitchen?
Growing up, we used to live in a joint family in Delhi, where I saw my aunts and mother cook three meals a day for almost 25 people every day, without a day off, and each time not only did they manage to make delicious food, what amused me most was that every time the flavours of the dishes were consistent. This was a unique experience as the entire family used to sit together simply enjoying the vast spread prepared by the ladies of the house over personal and professional conversations.
Interestingly my journey into hospitality wasn't by choice, but out of necessity. Contrary to popular belief, I wasn't an A grade student, so the usual professions popular and most sought after in India those days (medicine, engineering or IT) were not something I aspired for. Hospitality in those days wasn't considered at the top of anyone's priority and not something that would build a long-standing career. With no choice at hand and not wanting to do a simple graduation course, I decided to give the entrance for my bachelor's in culinary studies. As luck would have it, and to my utter surprise, I got through! With a little interest in kitchen, which developed as a child, I discovered my passion for cooking over a period of the culinary course. After college, I did an 18 months training program at Indian Accent in Delhi under the mentorship of Chef Manish Mehrotra. Thus began my journey in the field of hospitality. I continued working at Indian Accent for the next five years, post which I opened two more modern Indian restaurant concepts in Delhi and Mumbai. Along the way I also won the all-India Chef's competition conducted by Ms. Rohini Dey in search of her next Chef, which gave me the opportunity to work at Vermillion, New York for a few months before I moved to Dubai to commence the journey with Passion Group and build dining concepts such as Trèsind and Carnival by Trèsind.
Tresind recently underwent an extensive refurbishment, tell us about the interior changes and why they were made…
We, as an organisation, strongly belief in the adage that change is the only constant. Thus, after having served guests for over four years, Trèsind Dubai went under a major revamp of its menus along with a complete changeover of its interiors in April, 2018. After almost three months long renovation, we introduced guests to The Evolution of Trèsind, Dubai which offers three experiences comprising of the Trèsind Lounge, Trèsind Restaurant and the recently launched Trèsind Studio, under one roof, offering a unique culinary affair. Presenting freshness of space, the new look is a combination of warm blues and vibrant creams and classy whites to give the restaurant a sense of warmth and space, while offering enough privacy while dining. Done in an efficient manner, the restaurant offers a luxurious dining experience without taking away from the delectable and dramatic dining experience, with lighting playing an essential component in the overall design.
How has the menu changed for the re-opening?
The new Trèsind experience not just assures guests of a higher level of culinary excellence and hospitality, but will also boast of a rare experience of the Trèsind Studio. Complimenting the elevation of space design, the dynamic, young team of Chefs, have worked tirelessly over the past eight-nine months to skillfully craft a new culinary experience that engages all the senses.
Inspired by, and credited with reviving, the unique concept of guéridon service incorporated with some elements of molecular gastronomy (where it truly adds value), the menu showcases traditional dishes from the sub-continent presented with a modernistic approach. We have emphasized considerably on the concept of guéridon service, where many a simple as well as complex dishes are finished on the table-side, creating an interactive dining and immersive experience. Embracing various regional culinary influences that have woven its way into the cuisine, the new menu is sophisticated, imaginative and highly visual. Ideations like modernist chaat trolley, wild mushroom chai, avocado galouti kebab, the popular kosha mangsho, cedar-wood smoked tandoori chicken, chicken khurchan and birbal ki khichdi, among many others, not only reflect the uniqueness of its food but also give a refreshing experience of this legendary cuisine to our discerning guests. The new menu is inspired by the rustic traditional Indian cuisine, with our aim to go back to our roots, while elevating and bringing the cuisine into the 2020's, from its erstwhile avataar.
Where do you source ingredients from for Tresind and what suppliers do you use to get them?
We use only the highest quality ingredients in the kitchen across all our restaurants. With Dubai being an international hub and center-point between the East and West, the finest ingredients and produce are at our disposal, but many ingredients are handpicked and sourced from India to maintain the flavour profile of many of our dishes.
Tresind is known for its creativity. Where do you look to for culinary inspiration when creating new dishes?
Culinary inspirations at Tresind are not just restricted to culinary world, we take inspiration from life experiences, Indian culture and traditions, artists, magazines and books. Inspiration can be taken from anything or everything in life depends how one can perceive what they see it.
In your option, what's the most innovative dish on the menu at Tresind and why?
Wagyu satay, peanut salan, chili and eggplant pickle. Satay is an Indonesian dish but at Trèsind we make it with Indian flavours. Salan is groundnut curry made with chili and eggplant and it is usually served with Biryani. Instead of serving peanut sauce with satay, we serve salan curry, which has a dominant peanut flavour. While skewering the satay we roll burnt chili and eggplant pickle with the wagyu to complete the infusion, thereby cohesively bringing together different elements to create a single dish offering traditional Indian flavours.
What do you predict as the next big trend in Indian cooking?
One of the biggest trends taking shape in Indian food now, with us incorporating at our restaurants as well, is that of artisanal butchery. Unlike before, where restaurants used simple curry cuts for most of the preparations in Indian food, we work with specific cuts like ossobuco (or osso buco) and are now getting meat tailor cut as per preference of the chefs and requirement of the dishes. Another key trend which a few have already started work on, is using sustainable ingredients which are not just healthy, protecting biodiversity taking in consideration natural resources, but also reduce impact and contribution to global warming.
Another interesting trend, that actually has been prominent mostly across European cuisine and regions but is taking shape and in its formative years in regard to Indian food, is farm to table and foraging. While Indian food has always used the freshest of ingredients and spices owing to their presence locally within the geography of India, the opportunities available in Western countries has always curtailed for concepts like foraging and farm to table to take shape in Indian food. Having said that, we are looking at this concept becoming extremely prominent and prevalent even in India food in times to come. Another very interesting and personally intriguing trend, which seems to be coming up is that of vegan Indian food.
Can we expect to hear any other new and exciting happenings from the Tresind brand in the coming future?
Of course. Like I mentioned earlier, "change is the only constant" and that's at the very core of our beliefs at Passion Group. One of the most exciting news is that we are in the process of taking Trèsind brand global, with its first stop being our homeland – India. In terms of other news, though still in works and under wraps, is that we are in the process of launching our third dining concept, which while will have some elements of Indian food; its menu will be primarily global and very innovative.