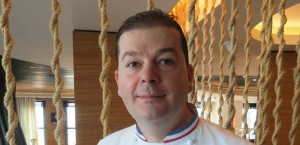 "The problem today is that everything is too complicated and over the top. Nobody makes things simple, but take a typical Parisian sandwich – bread, butter, ham. Perfect!"
You don't work for Paul Bocuse for two decades and rise to be Executive Chef of the 3-star l'Auberge du Pont de Collonges without being a highly skilled perfectionist. That's Christophe Muller – internationally renowned for his precision, speed and innovative methods.
In the capital for Gourmet Abu Dhabi, Christophe Muller had a four day residency at the La Mer seafood outlet in Sofitel Abu Dhabi Corniche. According to Executive Chef Franz Paul Wieser, Muller hit the kitchen running and demanded perfection from the very start. "It will be a privilege to cook for the UAE's food aficionados and to share a bit of what I love with them," Muller had said before arriving and he wasn't going to disappoint, with dishes such as Lobster cooked in Pouilly-Fuisse and toast with caviar, Black truffle soup VGE, Royal foie gras and crawfish, Red mullet dressed in crusty potato scales and rosemary sauce and the classic Truffled chicken breast cooked in a bladder on offer.
Soup VGE is Paul Bocuse's classic from 1975, served for French President Valery Giscard d'Estaing in the Elysée Palace. Crowned with a pastry dome to retain the truffle flavour, its broth is light but fully enhanced by the aroma of truffle and diced foie gras, duck meat and carrot. It is typical of Bocuse's style in that combines elegance and an artisanal feel. Muller continues that spirit and is rooted deep in French culinary soil. His passion and perfectionism made him one of the few culinary recipients of the coveted Meilleurs Ouvriers de France, which honours the finest craftsmen in the Republic.
Growing up in small village close to Mulhouse, Muller found himself early on working at chores including cooking at home from the age of 12.
What are your childhood memories of food?
I loved it but we were a poor family and so I had no real opportunity to eat anything more than simple food. I had thought of working with food but it didn't seem possible. My father's work was as a gamekeeper and so we had game and fish of all sorts. We had no garden so he used to forage in the woods – he taught me that and I used to gather herbs and things. My grandfather had, in fact, been a grand chef moving from the Hotel du Paris to New York in 1946. I loved my grandfather more than anything.
Did he teach you?
Yes. I dreamed that I could cook and he taught me so much. I was so proud that he taught me the skills and doing so gave him pleasure. So I gained the passion and, age 15, I took an apprenticeship at Paul Haeberlin's l'Auberge de Ill in Illhausen. My grandfather saw me evolve and his passion made to want to strive for the best which, in France, means of course Paul Bocuse. At that time my father suffered cancer and was given just a few months to live. Age 21, I moved to Paris and worked at a 3-star. We cooked for the Prime Minister, people like that. Then in 1987, I was accepted as one of the Meilleurs Ouvriers de France, the youngest ever at that time and the first Alsatian.
And your move to Bocuse?
That came when I was 27 and I have stayed with him ever since. I fact, I am also his personal chef!
It has always surprised me that he has an outlet in EuroDisney…
Well, why not? That doesn't worry me. It's in the French Pavilion and at least americans will have something good to eat when they go to the park!
I appreciate that you have been busy in the kitchens here, but what is your impression of Abu Dhabi?
This is my first visit to the region and I am really surprised that you can source any produce from anywhere in the world. You're right, I have not had much spare time but although I've been busy I have managed to get out and see the market.
What's the biggest lesson you've received from Chef Bocuse?
'Are the dustbins full?' If they're full, then the food has not been good!
Have you felt limited by the menu at the Auberge?
You may think that nothing changes but the market offers new things. Our menu may still be the same – it's like a marriage but with the same dishes and the same tastes. Sometimes the biggest change is not to change.
What is the future of gastronomy?
I think people will eat more at home and they will try their hand at gastronomy, but it will never be as good as a restaurant. Look, it is all to do with the ingredeints and the skill of the chef. Give ten chefs the challenge to make a sandwich with the same ingredients and you'll end up with ten different sandwiches. The problem today is that everything is too complicated and over the top. Nobody makes things simple, but take a typical Parisian sandwich – bread, butter, ham. Perfect!
What do you see as the key trend in food today?
I think traceability. People want to identify where things come from, both chefs and diners. One can then imagine what's in the mouth.
Finally – and we hope this is some time away – what happens after Paul Bocuse?
After Monsieur Bocuse? I hope maybe I can take over.