Executive Pastry Chef Abel Vieilleville of Address Boulevard, Dubai, talks of return to tradition in the pastry kitchen, the rise of more nutritious and less artificial cakes, the influence of Instagram on dessert demands, and shares a few of his recipes to prepare for the nearing festive season.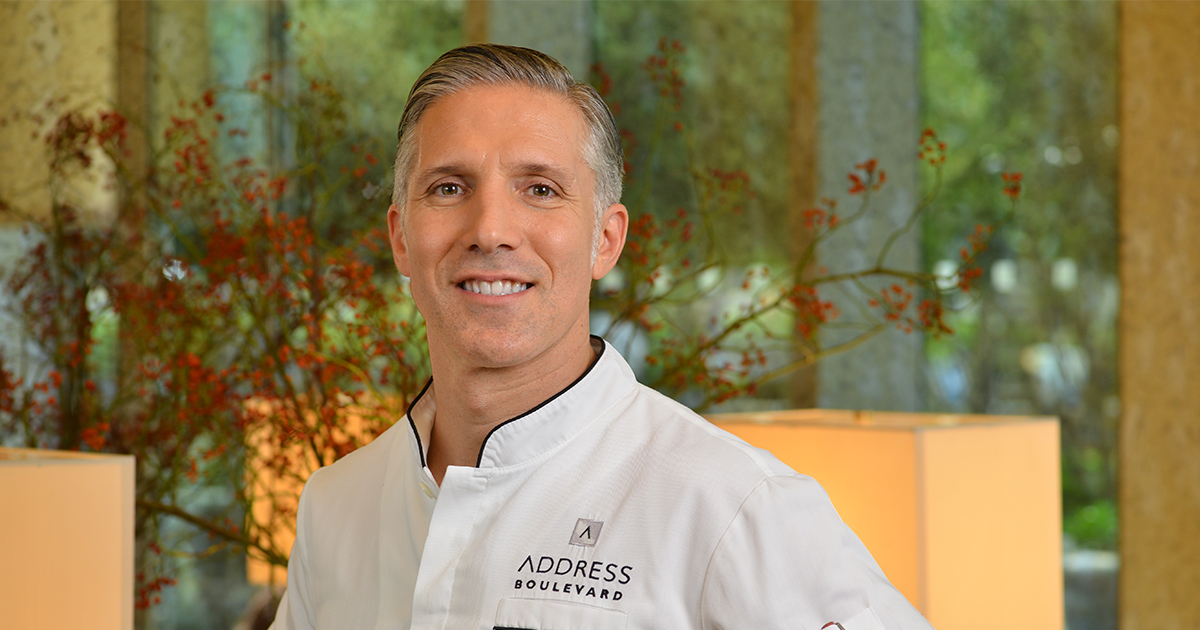 Tell us a little bit about your role…
As an Executive Pastry Chef, I am responsible for developing and creating dessert menus and signature recipes for the hotel's restaurants, lounge, rooms and events. I manage and oversee the creative and quality aspects of all pastries, desserts, cakes and breads served in The Lobby of Address Boulevard and throughout the hotel.
Moreover, I am involved in the designing and production of novelty cakes, bread and pastries for VIP guests and for special occasions including weddings, gala dinners, annual ceremonies, Ramadan Iftars and Suhoors, and fairs, and catering for events outside the hotel.
Other responsibilities include recruitment and training of junior pastry chefs, maintaining an inventory of ingredients and equipment while striving to achieve cost-efficiency across the pastry department.
Where did you learn your pastry skills?
My parents ran a restaurant business in the South of France, so I grew up in the hospitality environment, serving customers. I was always passionate about food and it played a huge role in deciding my future career. Later I worked under the wings of several popular Michelin star chefs in France and London where I improved my skills and acquired knowledge about industry trends.
Over the years, how have you seen the patisserie market evolve?
In the recent years, pastry chefs have become very health-conscious, using organic and artisan products. Nowadays, desserts tend to be less artificial, they are lighter and more nutritious. The use of vegetables, grains and cereals is now on the increase; I have seen new dessert and chocolate launches containing purple sweet potato, beetroot, pumpkin, edamame, quinoa, granola, rye, muesli and popcorn.
In terms of trends in pastry, what are you witnessing the consumer of today wanting when they visit the hotel?
Yes, I have witnessed several new trends in our industry. For example, the manufacturers of confectionary and chocolate are experimenting with flavours, both savoury and sweet, and we are seeing more elaborate variations – products with citrus and exotic flavours, seeds and nuts, peppers, spices such as thyme or basil, smoked or pink salt, charcoal and various flavours such as wasabi, crème brulee, crème caramel, tiramisu and amaretto.
Also, gaining customer's attention is now a top priority in this age of Instagram. Therefore, the trend today is back to colourful mirror glazes as the final finish for cakes, eclairs and individual petits gateaux. Another catchy element are interesting shapes of the desserts. Pastry chefs around the globe are now using new moulds imitating fruits and vegetables such as mango, piquillo pepper, lime, tangerines, asparagus, tomato and olives.
It's been said that there's a strong return to traditional when it comes to pastry. Would you agree with this?
I think chefs have come to a realisation that classics are still and will remain the backbone of the pastry industry. Shiny glaze is beautiful but tasteless, funky moulds are interesting but lacks creativity. Traditional recipes have not yet been fully explored.
Everything needs to have a balance and one must offer both the choices to the customers – contemporary creations and classic desserts for them to pick.
When hiring your team at the bakery, which four main qualities did you look for from the pastry chefs and bakers?
Politeness, attitude towards work, creativity, and willingness.
For pastry chefs just starting out in the industry, what word of advice would you offer to them for progressing in the pastry industry?
Learn and practice the basics before getting into intricate designing part of things. One should taste and train their palate to understand the use of various ingredients.
Moving into 2018, which pastries do you think will be most 'on trend'. Are you witnessing the comeback of any patisserie in particular?
Silicon moulds are now quite popular and available in a wide range of forms and shapes allowing pastry chefs to create interesting features on the desserts. Use of exotic and exclusive ingredients is also gaining interest.
If you enjoyed this article, you may be interested in reading this interview with Chef Izu Ani as he talks all things patisserie.