Chris Naylor is Executive Chef of the Michelin star Restaurant Vermeer at The NH Collection Amsterdam Barbizon Palace Hotel.  At this year's Global Restaurant Investment Forum (GRIF 2018), he spoke alongside Maarten Markus, NH Hotel Group's Managing Director Northern Europe, about how hotels can succeed at creating a dining culture that allows for creativity and gastronomy to become part of their brand DNA.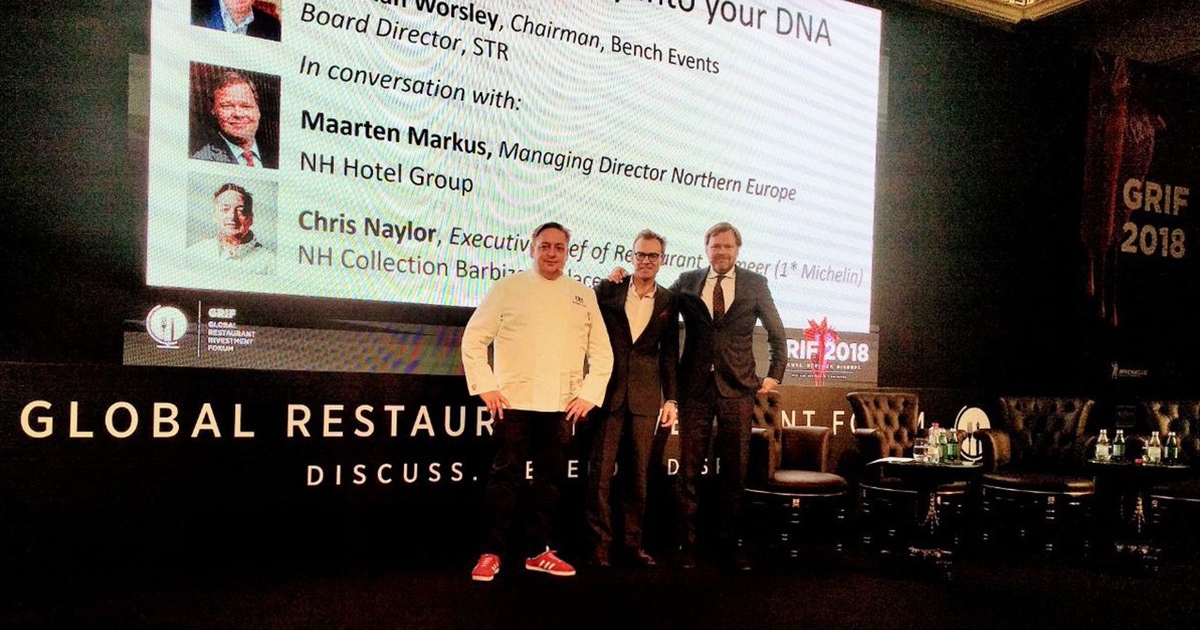 Do you have any daily rituals/habits?
Every morning I get up to have breakfast with my kids at 7.00. For me, spending this quality time with my family is the most important thing in my life.
Besides daily breakfast together, Sunday is the day that we do homework together, go to hockey, go out, meet up with friends, prep a meal together. Work is one thing in life, but family makes it a life worthwhile.
What qualities do you look for when hiring staff?
To me the most important thing when I hire someone is that this person is compatible with the team. I always ask them to come in and work for a day as a test. Afterwards, I ask the guys in the kitchen if they would want to work with this person. In the end, my team decides.
What qualities do you have (aside from being a great chef) that you believe have contributed to your career success?
I think part of my success lies in the fact that I am a good people manager, and that I am able, and willing, to listen. Furthermore, I always make an effort to try to be nice, not to be a monster, listen to people's views and respect them – you get so much more from your staff this way. 
What advice would you give to young chefs just starting out?
Be yourself – but listen to and learn from the chef you are working for. Try to create your own identity when you are chef of a kitchen not before. 
What do you think of the Dubai food scene – do you have any favourite restaurants here?
My visit was way too short unfortunately, I was only here for 2 days during GRIF, but I would definitely love to go back. If somebody is willing to invite me, I'd love to come back.   
What inspires you?
I get truly inspired by following the seasons – I am always waiting for the next available product.
Currently, we are already busy in our heads with white asparagus and thinking of ways to prepare them.
You work at a very high level in the culinary industry. You must have down days too. When you lack motivation, what do you do to get yourself out of that rut?
Once again, I go back to my family – with them I can take a break and get away from it. I try not to be busy with it 7 days a week, to not forget what is important. Take a break every once in a while.
What has been your proudest moment in your career?
Winning the Michelin star and more recently opening the new Vermeer.
Who or what inspired you to become a chef?
When I was a student in London, I met Albert Roux. I was going to start a job at the time, when he asked if I wanted to work in the kitchen with him for a while. I thought I would work there for a few months and then leave, but I never did. So, Albert Roux made me want to become a chef.