World-renowned French chef Yannick Alléno sat down with The Pro Chef Middle East to discuss sauce extraction and his Dubai restaurant STAY by Yannick Alléno at One&Only the Palm.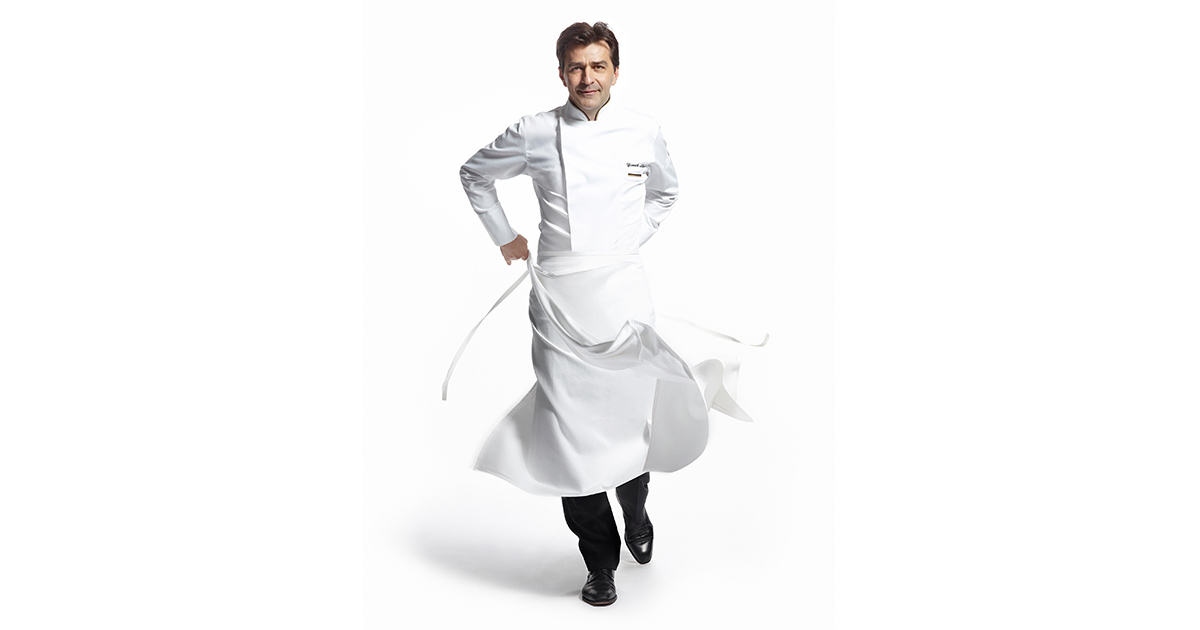 How would you describe your cooking style?
If you want to speak about modern French cuisine, you have to think about modern French sauces. At STAY, our food is based around the evolution of sauce, and the process that it's made. In 'old' French cooking, you put ingredients in the pan on the heat, when it's cooked, you do a filtration, and a reduction through heat again. But my view is this: if you're reducing food down on a cooker for 12 hours, what happens? It loses all nutritious value. So, my way of cooking is a new way of creating the base sauce without losing nutrition from ingredients. I cook all elements one by one, according to their individual requirements, in a low-heat environment. Then, you have a fantastic liquid that needs reducing to make it concentrated – however, if you do this by using heat, you wipe out the success of retaining nutrition at step one. So, my next step is to chill the liquid, and the ice needs to crystalise to push out unwanted water. This involves taking the extracted liquid and adding it to ice, where it's the liquid is spun quickly and excess water freezes. The remaining liquid is drained and the unwanted liquid stays behind in ice form. It's basically the opposite of removing liquid through steam evaporation in traditional heat reduction.
Tell us about the concept behind STAY…
It's a French restaurant offering great food. We operate practicing new ways of cooking – especially with making sauces in healthier, more flavoursome and nutritious ways. French gastronomy is all about sauces. Sauce is at the base of everything we do in the kitchen, and we pay a lot of attention to getting that right using a method I call 'extractions'. It's a method that drastically reduces the traditional use of lots of butter, fat and salt because the natural flavouring of the extracted sauces are so high in nutrients and minerals.
Where do you find culinary inspiration? 
Travel, perfume…everything really! Even grape beverages, there are so many types I've tried that have given me menu inspiration through the different notes that come through.
At your restaurants, how do you see today's consumer evolving?
They are more informed. They know about food and it's really impressive. They challenge kitchens now and that's how it should be. People are much more connected these days, and this shows through in their knowledge of food. It pushes us to always strive to be better.
Which chef do you look up to and admire for their work?
 So many. It's very difficult for me to name one specifically. We are lucky to have so many amazing chefs all over the world. So much talent, it's a wonderful industry to be in.
How did you feel when you were awarded your first Michelin star?
 I was very excited, of course. When I received my second star I was extremely surprised and didn't expect it. It was marvelous. Once awarded, you just want to keep progressing to make the customers happy and always give real excellency and consistency to represent French gastronomy the correct way.
What would your advice be to aspiring chefs?
 When you know sauces, you know how to cook – that's my advice to young chefs!
When did you know that you wanted to be a chef?
 From the age of eight, I knew that I wanted to be a chef. My parents had brasseries in Paris and my mum would make fantastic food. My grandmother had 13 children, so I come from a big family where food was a big thing, so it's always been a part of my life.At the age of 15 I started to work in the kitchen – if truth be told, I wasn't the greatest student at school (laughs) – but my passion was always in the kitchen. Making sure being a chef was the right direction for me, my father found this first job for me by asking Gabriel Biscay, who secured a role at Relais Louis XIII with Manuel Martinez. The rest is history – I loved it!
How did it come about that you opened your restaurant here in Dubai?
 The opportunity came when I met Olivier (Managing Director of One&Only the Palm) and he asked me to come over to take care of the F&B solutions at the property. Excited by the idea, I immediately said yes.
What are your thoughts on Dubai's culinary industry?
I think the growth here is positive! Looking ahead – very far ahead into the future, I think Dubai has the possibility to develop as strong a culinary offering as France. Reason being, is that if you look at the history of French culinary development, back in the beginning France became the hub of Europe, and because of its metropolitan nature, France's culinary sector was influenced by many different cuisines and cooking methods. France is so rich is culinary history because of the people who travelled there years back, and now the same thing is happening in Dubai – it's becoming a major hub in the world. It's just the beginning of the food journey for Dubai, I personally believe. Give it some time…
Do you have any favourite spots to dine at when you're in Dubai?
I always love going to Zuma, La Serre, and Le Petite Maison – the level there is always exceptional and consistent.
Details: for more information, visit Yannick Alleno.  If you enjoyed this article, you may like this story on the Yannick Alleno's international ranking.