Spearheaded by the Technical Committee for Traffic Safety under the umbrella of the Joint Committee for Traffic Safety, this pioneering collaboration with talabat, introduces the region's first solar-powered rest areas.
Embracing a holistic approach to rider welfare, the "Summer Together" campaign aims to offer delivery riders easily accessible stations for rejuvenation and rehydration during the summer months. At the heart of this initiative are three solar-powered rider rest areas, designed to run on renewable energy. Crafted locally by Smart Energy Solutions (SES), these self-sufficient smart boxes serve as a testament to Abu Dhabi's commitment to domestic production and feature vibrant graffiti art by local talents, reflecting the city's dynamic urban culture.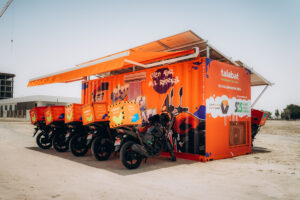 Operating round the clock, these innovative smart boxes are equipped with rechargeable batteries, obliterating the need for fuel consumption while significantly reducing CO2 emissions. Riders can enjoy noise-free, air-conditioned spaces, complete with water dispensers and mobile recharge stations. The design even incorporates a shaded parking area for bikes and an air pump to monitor tire pressure, further enhancing rider convenience.
Engineer Abdulrahman Ali Al Shizawi, Head of the Technical Committee for Traffic Safety, emphasised the positive impact of such initiatives on road safety: "The implementation of such initiatives that provide a safe and comfortable work environment for delivery riders positively impacts traffic safety for road users. We encourage community members to be patient and kind when dealing with delivery riders on the roads, especially during summer."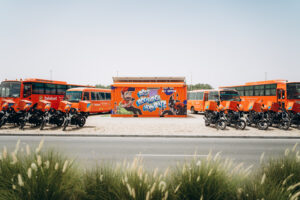 Susanne Stulemeijer, Vice President of Communications, Public Affairs & Corporate Responsibility at talabat said: "With the UAE spearheading sustainability efforts in the region, we are grateful to build on our ongoing collaboration with the Joint Committee for Traffic Safety and become the first movers to explore and adopt sustainable solutions for rider safety and wellbeing.
"It is through such joint efforts between the public and private sector that we can set the benchmark and introduce innovative and eco-friendly alternatives. At talabat, we believe that creating shared value for our communities is a collective responsibility, that is why our rest areas and summer buses are open to all delivery riders."
View this post on Instagram
The "Summer Together" initiative boasts a hybrid approach, blending stationary smart boxes with mobile air-conditioned buses. The dynamic strategy ensures adaptability by relocating the buses based on shifting rider concentrations across the capital. In an era where innovation and sustainability intertwine, talabat's "Summer Together" campaign exemplifies the power of collaborative efforts between the public and private sectors.