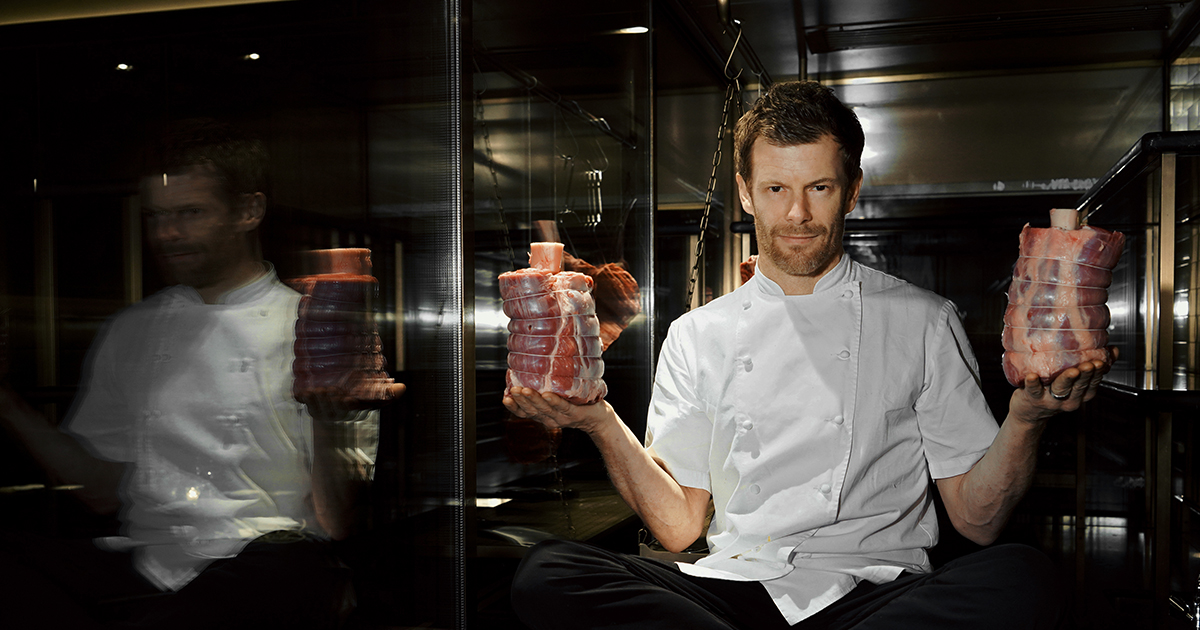 One of the UK's most acclaimed British chefs, Tom Aikens recently broadened his culinary scope in the UAE, with the opening of three restaurants at the newly-launched Abu Dhabi EDITION.
Tom, who already has a restaurant at Dubai's beachfront destination, Jumeirah Beach Residence called Pots, Pans & Boards, is now the chef who oversees Oak Room, Alba Terrace and Market in Abu Dhabi.
Outside of the UAE, Tom's career so far has been incredibly accomplished in the culinary world – seeing him become the youngest British chef to earn two Michelin Stars. He's worked at David Cavalier's in Battersea, Pierre Koffman's La Tante Claire, Joel Robuchon in Paris, Gerard Boyere's in Riems, and the famed Pied-à-Terre before going on to open his immensely successful eponymous restaurant, Tom Aikens (2003-2014), which won a Michelin star and rising 2-star in 2009.
Tom currently has three Tom's Kitchen sites: the Chelsea original, which opened in 2006, Canary Wharf (2013), and the first UK site outside of London opened in Birmingham's The Mailbox in December 2016. There are also two Tom's Kitchen Delis, adjacent to the restaurants in Canary Wharf, and Birmingham.
In addition to being a cookbook author and regular guest on Great British Menu and Great British Bake Off's The Extra Slice, Tom is dedicated to serving only the highest quality, ethically sourced ingredients and continually supports The Environmental Justice Foundation to raise awareness of illegal 'pirate' fishing and diminishing fish stocks.
Here, he tells The Pro Chef ME editor, Sophie Voelzing, how his journey in the kitchen got started, and how it brought him here to the Middle East…
How did you become a chef?
For as long as I can remember – probably the age of 8 or so – my twin brother and I would help my mother out in the kitchen. She would involve us in making cakes and home baking, or just weighing things out – we were always on hand to help to lick out the occasional sticky raw cake mix that was left in the bottom of the bowl! I have a very real memory of her making milk bread. Sometimes I think it was just a dream as the smell was so incredible.
Living in Norfolk we had a large back garden where we grew a lot of our own fruit and vegetables; so from an early age I understood a little about seasonality and that great produce does not grow all year around, but is very much predicted by the weather and season. We grew lots of soft fruits (strawberries, gooseberries, blackberries) for making jam although most often we wanted to see how much my twin and I could stuff into our faces without my mother seeing.
There was a lot of toing and froing from the garden to the kitchen and back. I loved digging in the garden for fresh vegetables and seeing things grow and come to life, it was a very blissful time. I must have been approximately 13 years old when I seriously decided to become a chef. I was terrible at school and knew that I did not want to be stuck in an office behind a desk. As a result, I left school at 16 and enrolled at Norwich City College Hotel School. An Advanced Catering Diploma later, I went straight to London and sent my (small) CV to about 30 different hotels and restaurants. Everyone came back with the same answer "sorry not enough experience, try again in three years' time". Finally, David Cavalier was the first one to give me a commis position in his Michelin-starred restaurant in Battersea, London. I had to work for free for the first six months before he would give me a job so I had to prove that I was good and hungry enough for it. I then went onto work with a whole host of different chefs in London and France, including Pierre Koffmann in London, Joel Robuchon in Paris and Gerard Boyers in Reims. At the age of 26 I had the great honour to become the youngest British chef to be awarded two Michelin stars.
How would you describe your cooking style?
Being proudly English but having been trained by amazing French chefs, I tend to cook a mix of seasonal traditional British and also some French classics with creative twists, but always with seasonality at the forefront.
During your years in the kitchen so far, in which ways have you found most beneficial to bettering your skills as a chef?
It takes a lot of determination, hard work and self-belief to be a chef. Being tidy, a perfectionist and very well organised are key qualities in this profession. It also requires to be creative and open-minded in order to be able to come up with new concepts in different countries with different cultures, and to adapt my cuisine to different crowds and tastes.
You have to have a game plan and set goals for the future. Be patient and persevere –sometimes working as a chef involves taking steps backwards and forwards to get to where you want to be, always take advice and listen.
How many restaurants do you have in the Middle East, and how often do you visit each outlet?
I have the three at the Abu Dhabi EDITION, each of the restaurants are very different from one another. Alba Terrace is Mediterranean-inspired. The informal yet informed British rock 'n' roll steakhouse is called Oak room. Then the all-day dining restaurant, Market, is an outlet focused on wellbeing and healthy eating. I also have my sharing-style concept in Dubai at The Beach, named Pots, Pans & Boards. I visit each of these outlets around four times each year.
With so much travelling, are you able to get hands on in the kitchen often?
Yes, all the time! I love cooking more than anything and would rather much be at the stoves than the desk.
On a global level, which chef or chefs do you look to for inspiration and why?
The two chefs that really shaped my career and who inspired me are Pierre Koffmann and Joel Robuchon; both very different chefs. One was all about the flavours and tastes on the plate and the other was really about the precision and details, and of course tastes as well. They both also focused on amazing produce. My style is a bit of both of them to be honest. I love the intricacy, but a dish has to have great flavour too.
What's a new ingredient that you're enjoying cooking with at the moment and how do you utilise it in your dishes?
I love sumac as it's a lovely mix of spice and herbs that can be added to anything from yogurt, to fish or meat.
For chefs reading who would one day love to join your kitchen brigade – what four main qualities do you look for in a chef when hiring? 
To stand out as a chef is very difficult. In 1993, when I was at the beginning of my career, it was very unusual to leave your own country. I took the initiative and went to France for two-years, which was my way to stand out. Today, the world is much smaller and young chefs should travel the world to get better experience, even within the English-speaking world – for a time, and push themselves to the limit.
Working more than 16-hours a day in a country where you do not understand the language is a very hard thing to do, but it forces you to discover if you really love the profession enough to make a career out of being a chef, plus you will meet like-minded chefs. I have sent several chefs abroad – chefs I know that can push themselves and chefs that have a dream. The dream is a story like mine; they must have goals, dreams, ambition and be driven. My first pastry chef, who worked for me at Tom Aikens for two years, wanted to open a small pastry shop in his local village. I said, "no way, are you mad, I know that you can do better than this" and I sent him to Thomas Keller. That was ten years ago and today he is Head Pastry Chef for The French Laundry and Per Se. When you see a bright light in a chef, it very rewarding to help them improve and guide them along the right road. I can tell very quickly whether a young cook has the character to become a good chef. Skills are not everything; it is the ability to work hard and to organise. They must have initiative, keep their eyes open and most importantly, listen. You can tell by the way people speak and how they organise their work life and tools, whether they will get through the rough times. If they do they will most assuredly be on their way to becoming a great chef. I always timed myself when I was a commis chef see how long it took me to do a particular job. No one told me to do this, I did it because I knew it would make me better than the others.
What do you consider to be your biggest success as a chef?
When you see other chefs that you have trained and helped become amazing chefs themselves.
What do you predict as the next big trend in cooking and in the restaurant industry?
It's fascinating to watch the development of new trends and ideas in food and restaurants. I'm never one for following a craze but I always make sure we keep ahead. I read a lot of different articles on food development via the magazines and various blogs. New ideas come and go very quickly, and it takes a lot to make one single idea into an actual reality.  Therefore, it's very important to surround yourself with creative influences and stay true to your own style.
To find out more about Tom Aikens, follow him on Instagram @tomaikens. For more information about Abu Dhabi EDITION, call 02 208 0000, or visit editionhotels.com/abu-dhabi/ or e-mail restaurantreservations.auh@editionhotels.com.