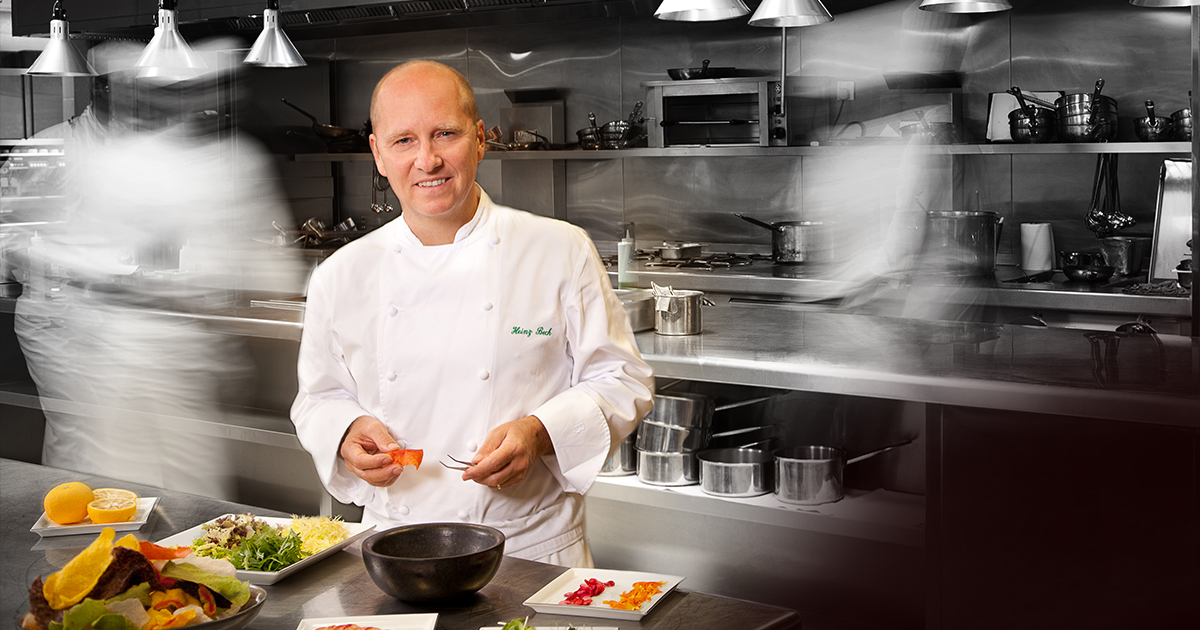 With three Michelin stars under his belt, over 30 years' experience, and nine restaurants worldwide including Dubai-based Social by Heinz Beck at Waldorf Astoria The Palm Jumeirah, Heinz Beck is an extremely highly respected chef in the culinary world.
In Dubai recently to oversee menu updates at the Palm Jumeirah-based restaurant, here's what the accomplished chef shared with editor Sophie Voezling…
How did your journey in the kitchen begin and why did you take the Mediterranean route?
I wanted to become a painter as a child, but my father didn't support that. He believed that painting was just a hobby and not a job. So, I turned to cooking, because it was something I believed that would still allow me to express myself – and it does.
I've always really been interested in healthy cooking, and once I moved to Italy, it was only natural that my interest towards Mediterranean food strengthened, and has continuously in the 21 years following.
What is your signature dish is at Social?
The menu is varied and so this changes quite often. At the moment, it's amberjack with pomegranate snow and yuzu.
Which suppliers do you work with in the UAE to source ingredients for the restaurant?
I am lucky to work with the best professionals in the UAE food industry. When choosing suppliers, the most important factors are that we share the same values and care for high quality and service.
Are there any ingredients you'd love to offer on your menu, but struggle to source here in Dubai?
None. Until now, I've not had any problems in finding the ingredients I require.
For chefs reading who would one day love to join your kitchen brigade – what four main qualities do you look for in a chef when hiring?
When hiring a chef, I look for humility, tenacity, passion and a constant desire to keep learning about ingredients and techniques.
Do you create your menus around seasonality and availability of produce?
Of course. In Dubai it's slightly more difficult than in my other restaurant destinations because availability of fresh produce isn't as good. But, I am very selective about my products. In Italy for example I have a man who supplies pigeons to me from his small farm. He has just three clients. So you can imagine the scale of the operation. But his product is of an extremely high standard and I've not found anything else that compares, so as and when he has the pigeon available, I'll put it on to the menu.
Looking ahead, do you have any exciting happenings upcoming at the restaurant in terms of new ingredients, special events or menus?
Yes! We always offer a series of seasonal menus throughout the year (such as spring time and truffle season). We also curate special menus for events such as Waldorf Astoria Dubai Palm Jumeirah's recent 5th anniversary celebrations. To honour five years since the opening of the property, and Social By Heinz Beck, we have created a series of special menus that will roll out across 2019, including a dedicated caviar-infused menu and a five-course set menu, with complimentary sixth course for the ultimate gastronomic journey.
Tell us about the new 'blind tasting menu' launching at Social this season and the inspiration behind it…
The concept was inspired by a service that we often provide with our regular customers. Our guests like to rely on our expertise, giving us only a few indications in principle on what they like to eat and asking us to choose their meal. We have thus thought of offering this option to all customers, resulting in the launch of the blind tasting menu. Guests can choose from 3-5-7 or 10-courses and we simply ask them to advise us of any allergies, things that they don't like eating and preferences for meat cooking, to help guide us. This means that customer will not know any detail of the courses that will arrive at their table until the time of the service.
How do you see the world's culinary landscape developing in the coming years? What does today's diner want from a culinary experience?
As far as we see, customers now look not only for food, but for a complete dining experience. Nowadays there is a lot of attention towards the kitchen: TV programs, books, cooking schools, events and food festivals; our customers today are more educated in terms of food, wines and cuisine than in the past and their expectations are therefore set very high. For this we always do our best to surprise guests and with menus designed to evoke emotions as well as unforgettable memories.
Have you ever had to deal with unhappy customers?
Well, you're never going to please everyone, so I have had my fair few encounters over the years. I once had a woman at La Pergola requesting pigeon, which was unavailable at the time due to short supply. Speaking to her she told me that it was unacceptable to come into a 3-Michelin star restaurant to not have what she wanted. My response was that it was unacceptable to serve a customer a product of lower quality because our exclusive supplier didn't have stock at the time. The pigeon that I buy is 100% high quality, so that fact that it is of such quality in a demanding market, it sometimes happens that we are unable to get it. I can apologise, but I won't serve anything but high quality. So if that means running out of stock, then so be it.
How do you spend your free time?
I don't really have spare time. With nine restaurants globally, I'm working seven days a week. I used to have various hobbies back in the day, that I now don't have time to do anymore. Who said anything about slowing down when you get older! I can't complain though, because I'm doing what I love and what I'm passionate about.
Looking back on your career, what would you say has been the most monumental moment of your journey?
When I earned three Michelin stars for La Pergola in Rome – I really didn't expect it or see it coming. It was an amazing experience.
Details: For more information about Social by Heinz Beck, call 04 818 2222.