In response to recent tragic events in the region, talabat has taken the initiative to facilitate the UAE customers' contributions to the Emirates Red Crescent's "Tarahum for Gaza" relief campaign through its app.
This campaign, led by the Emirates Red Crescent, has garnered support from several private-sector companies, all coming together to collect aid for those affected in the region.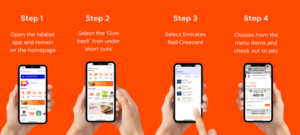 In line with its commitment to utilising technology for positive impact, talabat has established a partnership with its trusted and officially licensed local charitable organization, the Emirates Red Crescent (ERC), allowing app users to make safe and secure donations.
Here's how you can make a donation to the Emirates Red Crescent through the talabat app.
Step 1: Clicking the 'Give back' option under 'Shortcuts' on the homepage
Step 2: Selecting Emirates Red Crescent (ERC) from the list
Step 3: Adding a menu item of their choosing then pay at checkout.
Visit website.