With the support of the Culinary Art Commission, Riyadh is all set to host the inaugural edition of Salon du Chocolat et de la Pâtisserie at the Riyadh Convention & Exhibition Center on November 27, 2023.
Salon du Chocolat et de la Pâtisserie promises to bring together internationally renowned figures in the chocolate and pastry industry, including chocolatiers, pastry chefs, food bloggers, and major brands, providing an unparalleled opportunity for visitors to share their passion for chocolate, discover innovative products, engage with celebrity chefs, attend captivating workshops, and participate in thrilling competitions.
Originating in Paris in 1994, the exhibition has expanded internationally, with events spanning 17 countries, establishing a notable presence in Lebanon since 2014 and further extending its reach across the Middle East, encompassing destinations like Dubai, Jeddah, and now Riyadh.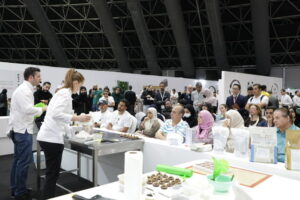 The inaugural edition will feature exciting attractions such as the renowned Chocolate Fashion Show, seamlessly blending the realms of chocolate and fashion, the Choco Démo, and the Pastry Show, where celebrated pastry chefs will conduct exclusive workshops for pastry enthusiasts. Additionally, the event will host various competitions, providing talented chefs with a platform to showcase their culinary expertise. There will also be a dedicated area for kids to enjoy chocolate-related activities at the Salon du Chocolat Junior.
Salon du Chocolat et de la Pâtisserie Riyadh anticipates welcoming over 40,000 visitors during its first edition, spanning three days from November 27 to 29, 2023, at the Riyadh Convention and Exhibition Center.
Visit website.