Situated on Marjan's flagship archipelago island, framed by the scenic beauty of the Arabian Peninsula and embraced by the Yanas and Jais Mountains, W Al Marjan Island is poised to further enhance the allure of this vibrant leisure haven for global travellers.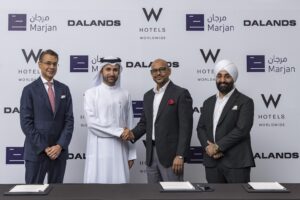 Comprising a selection of 300 luxurious hotel rooms and suites boasting expansive sea views, this remarkable establishment is also set to feature signature spaces including the Living Room, WET deck, W Lounge, AWAY Spa, and FIT fitness center. In addition, three restaurants and retail areas are anticipated to grace the property.
In addition to signifying Marriott International's second foray into island hospitality, this establishment will also serve as the inaugural property under the esteemed W Hotel brand in Ras Al Khaimah. This introduction will encompass the brand's hallmark distinct design, exceptional service standards, and dynamic programming, enriching the offerings available to the northern emirate.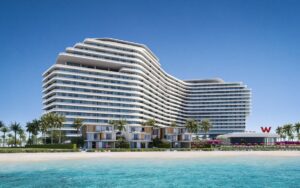 Abdulla Al Abdouli, Chief Executive Officer, Marjan, said: "As Ras Al Khaimah rightfully solidifies its position on the global tourism landscape, we take pride in our significant contribution to enhancing its credibility and attractiveness among international investors. This commitment has led to a myriad of prestigious projects, as exemplified by the launch of W Al Marjan Island. We are confident that this addition to our portfolio will not only raise the bar on regional hospitality but also set a new global benchmark, further reinforcing the northern emirate's destination appeal."
"We are excited to work with Dalands Holding to bring W's invigorating energy and dynamic design to Al Marjan Island," said Saahil Lalit, Vice President – Development, Middle East, Marriott International. "Ras Al Khaimah continues to be a sought-after leisure destination attracting global travellers to its idyllic beaches and attractions. We look forward to continuing to support the growth of the tourism sector in the Emirate."
As Ras Al Khaimah gains momentum as a prominent tourism hub within the region, the forthcoming debut of the first W Hotel stands as a pivotal step in solidifying its stature as a sought-after global destination for investment and hospitality.