Under his guidance, Ascott aims to elevate its F&B portfolio throughout its 13 regional properties, emphasizing novel offerings, heightened quality, and elevated service standards.
The Ascott Limited (Ascott), a prominent player in the global lodging industry, has announced the appointment of Maximilian (Max) Rauch as the new Head of Food and Beverage (F&B) for Middle East, Africa, and Türkiye (MEAT). Bringing with him more than a decade's worth of experience in the hospitality realm, Rauch is poised to steer Ascott's ambition to magnify its F&B offerings for both proprietors and patrons.
In his newfound role, Rauch is set to share his proficiency with Ascott's roster of proprietors and restaurant operators spanning the UAE, KSA, Qatar, Bahrain, Oman, Türkiye, and Kenya. This will involve the creation of dedicated training programs, the implementation of personalized service solutions, and the fortification of industry-specific partnerships to fortify the group's F&B propositions. Equipped with a comprehensive background in culinary management and an unwavering zeal for delivering exceptional dining experiences, Rauch is poised to play a pivotal part in elevating Ascott's F&B offerings to unprecedented heights.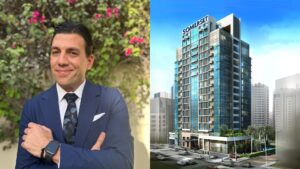 Vincent Miccolis, Managing Director for Middle East, Africa, Türkiye and India at The Ascott Limited, shared, "We are delighted to welcome Maximilian Rauch as our new Head of Food and Beverage for the region. His expertise and proven track record in the industry make him an invaluable asset to our team. With his strong leadership skills and passion for culinary excellence, we are confident that he will contribute significantly to enhancing our F&B offerings and creating memorable dining experiences for our guests."
During his tenure as the Restaurant Manager at Madinat Jumeirah Al Qasr, Rauch was responsible for launching iconic events such as 'Feria de Abril,' Flamenco, and 'Spanish Nights.' What's more, in his capacity as the Head of Operations for The Emirates Academy of Hospitality Management, Jumeirah Group, Rauch effectively managed extensive multi-departmental operations encompassing 434 keys. His trailblazing creative growth strategies yielded revenue upswings and the optimization of underutilized spaces.
Moreover, his proficiency enhanced service quality for operating cafés while concurrently launching two coffee shops. His astute insights also fueled growth within the Group's events department, leading to a noteworthy 10% year-on-year (YoY) revenue boost, thereby earning him the esteemed title of Director of Operations.
Before his tenure with The Ascott Limited, Rauch commanded procurement and business development operations at Taaleem Group, overseeing procurement for over 26 schools. Here, he outperformed expectations by bolstering the education management group's ancillary revenue by a commendable 15% while simultaneously curbing contractual costs by 5% through the enhancement of client-supplier partnerships.