The number of UAE food brands opting to enter the Dark Kitchen multiverse has been steadily increasing, especially over the last year. Also known as virtual kitchens, ghost kitchens, cloud kitchens or delivery-only kitchens, they all operate with the same concept in mind, albeit varying business models, selling food only through delivery systems
Over the past year, several internationally renowned F&B concepts launched in the UAE through dark kitchens. For example, the renowned American brand Nathan's Famous, and Bondi Sushi, set foot in the market via Kitopi. And this is just the beginning.
Research from management consulting firm RedSeer, shows that the UAE online food delivery industry is expected to grow by a CAGR (Compound annual growth rate) of 23 per cent with the rising penetration of dark kitchens post COVID tailwinds. The number of dark kitchen brands and locations have also increased, with over 400 brands and more than 80 locations in the UAE.
A LOOK INSIDE
To gain further insight into dark kitchens in the UAE, we spoke to two brands – Kitopi and Kitch, each unique in their own way and operating with different business models. There could either be one brand in a single dark kitchen or across multiple dark kitchens; multiple brands in a single dark kitchen; a takeaway dark kitchen; an outsourced dark kitchen; or an aggregator-owned dark kitchen.
Kitopi is a managed cloud kitchen platform that partners with restaurants to grow their business and expand their delivery reach. The brand provides delivery portals through which orders for various restaurants are received; ingredients are then sourced, and dishes cooked by Kitopi. Ultimately, delivered through last mile partners.
Kitch on the other hand is a hybrid, delivery-focused cloud kitchen and a storefront operator that encourages and enables food brand owners to transform, with their innovative cloud kitchen model. It comprises fully optimised and modern kitchen spaces, where orders are received online and displayed in each restaurant's station, whose staff cook and package the food; with Kitch finally providing dispatching solutions.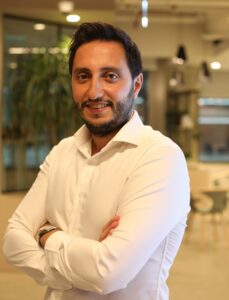 Jihad Bou Nasr, Country Manager, Kitopi UAE
When asked about the recent surge in brands signing up as dark kitchens, Jihad Bou Nasr, UAE Country Manager at Kitopi, listed out several reasons. First, the number of brick-and-mortar restaurants wanting to explore the delivery-only cloud-kitchen model as a way to expand coverage and customer reach has increased. Secondly, with the ease of international travel restrictions and the comeback of global trade, international F&B concepts have begun to explore cloud-based kitchens as an avenue for cross-border expansion; and finally, a wave of new "amateur" players have entered the space as a life-long dream or side-project. Walid Hajj, Co-founder and CEO at Kitch explained how the appeal of lower overhead costs and lower risks of dark kitchens, along with the increased demand for food-delivery has made the concept a favoured.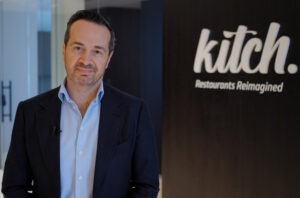 Walid Hajj, Co-founder and CEO, Kitch
As for how dark kitchens stand out from other F&B business models, Jihad Bou Nasr states that this system is closest to the F&B franchising model, where a brand provides the cloud-kitchen operator the license to function on its behalf. However, unlike traditional F&B, the customer journey of ordering food online or through an aggregator, differs. Walid Hajj added that the advancement of industry-specific technology and the increase in delivery aggregators, along with convenience offered, are prompting dark kitchens to disrupt the F&B scene.
As with every industry, there are pros and cons. The benefits in going down this road are expanded coverage and increased revenue with lower capex than a traditional model. "This would also allow brands to focus their resources and efforts on menu curation and customer acquisition. The complexity and costs of operations would be handled by a licensed third party," says Jihad Bou Nasr. "Because of the low barriers of entry, drawbacks can appear mostly if the brand is not fully invested in making it work."
Walid Hajj further states that with limited customer interaction, dark kitchens might find it difficult to build their brand and attract a dedicated customer base at first. When asked for advice as to what brands should keep in mind before joining a dark kitchen, Jihad Bou Nasr states that the process requires significant investment in attracting customers, especially in the UAE. "If the brand is new, then it needs to consider how it will stand out from the crowd. There needs to be something unique about what it is offering customers, whether that is the food options, the quality of ingredients, the value for money, etc." Walid Hajj also believes the product has to deliver well, have quality consistency, innovate, brand and market itself and have the ability to build a following of repeat customers.
On forecasts, Jihad Bou Nasr predicts that with the continuing flow of players entering this space, it will become congested with the multitudes of offerings. Eventually, players with the least commitment will close, and those that thoroughly understand the business will remain.
Interested in launching your own dark kitchen? Reach out to Kitopi or Kitch.
OPEN FOR DELIVERY!
Two delivery-only dark kitchens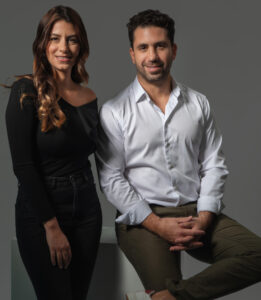 Ziad Kamel, CEO & Rowan Kamel, Chief Brand Officer, Cloud Restaurants
Cloud Restaurants is the team behind many successful, delivery-only brands such as Go! Greek, Go! Healthy and Lotsa! Lazy Cake. The company launched unique online restaurants, offering distinct cuisines, and their strategy involves operating their Cloud Restaurants in successful dark kitchens. Ziad Kamel, CEO and Rowan Kamel, Chief Brand Officer at Cloud Restaurants explain that it is a formidable challenge to create, operate and market a successful delivery-only, online brand. The benefits are plentiful though and restaurants can scale to new cities and countries rapidly.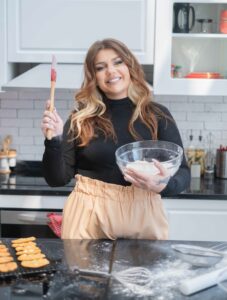 Emiliya Petrova Ninova, Founder, Managing Director and Creative Director, Keto By Foxxy
Emiliya Petrova Ninova, Founder, Managing Director and Creative Director at Keto By Foxxy agrees. The UAE-based one-stop destination for all things Keto explains that the dark kitchen concept gave the brand flexibility when starting out, as they did not have the investment required to set up a physical store. Through kitchen partners and delivery networks, they were also able to cater to a larger audience throughout the city. Keto By Foxxy is currently looking forward to further expansion plans.
Visit Cloud Restaurants and Keto by Foxxy.