Chef Reif Othman has recently launched the highly anticipated restaurant, Hoe Lee Kow, at Dubai Hills Business Park, offering a fresh take on the Korean BBQ experience
Hoe Lee Kow aims to be the ultimate destination for Korean BBQ enthusiasts, providing a trendy and inviting atmosphere for friends, family, and food enthusiasts to come together and enjoy delectable dishes with great vibes. Located amidst the bustling Dubai Hills Business Park, the restaurant serves as an ideal lunch spot on weekdays and a cosy dinner option on evenings and weekends.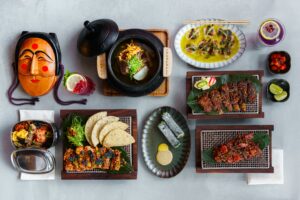 Chef Reif Othman shared his inspiration for Hoe Lee Kow, stating, "This concept was born from my extensive travels, where I immersed myself in various cultures, ingredients, and flavours. As a newcomer to Korean cuisine, opening a non-traditional Korean BBQ venue was a bold move, showcasing my personal interpretation of Korean culinary delights, inspired by my love for Korean BBQ. It's my way of infusing unconventional twists into everything I create."
Hoe Lee Kow is currently open, offering a limited launch menu with beverages.
Contact +9714 255 5142.