On July 19th and 20th, Mohamad Orfali from Orfali Bros. Bistro in Dubai and Deepanker Khosla from Haōma in Bangkok collaborate for a limited two-night event
Food enthusiasts in Bangkok can anticipate an extraordinary gastronomic event as Chef Mohamad Orfali from Orfali Bros. and Chef Deepanker Khosla from Haōma come together to offer a remarkable 10-course menu. This exclusive dining experience will feature Chef Orfali's innovative culinary creations complemented by Chef Khosla's contemporary Neo-Indian cuisine, available for a limited time only.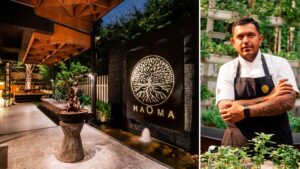 Both Chef Orfali and Chef Khosla are highly regarded in their respective culinary fields, seamlessly blending tradition and heritage with their groundbreaking techniques. Their commitment to providing personalized and heartfelt experiences to guests shines through as they craft dishes that boast intricate and occasionally explosive flavours. This extraordinary collaboration between these two culinary visionaries is set to deliver a dining experience that Bangkok has yet to witness.
"We're in the business of growing world-class, sustainable cuisine cooking Neo-Indian food," said Deepanker Khosla. "Balance with nature is just as important as pleasing our diners. We are super honoured to host Mohamad and we look very much forward to showing the best of 'our Bangkok' and cooking up some magic, with him, for our guests in our garden."
July 19th and 20, from 6pm and 9.15pm. Visit website.