Nakheel, the globally renowned real estate master developer, presents its exceptional developments at Harrods
From now until July 29, 2023, Nakheel will host a pop-up stand on the fifth floor of Harrods, in collaboration with Harrods Estates. Additionally, Nakheel's projects will be featured in seven window displays on the ground floor until August 3, 2023. Nakheel's portfolio includes landmark projects comprising mega-developments and master communities with residential, retail, hospitality, and leisure facilities. These projects offer unmatched lifestyle experiences and amenities, playing a pivotal role in realizing Dubai's future vision.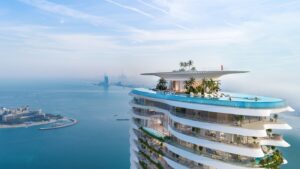 Nakheel's waterfront projects, including the renowned Palm Jumeirah, have significantly expanded Dubai's original coastline, creating hundreds of waterfront homes, resorts, hotels, and attractions. Nakheel is also known for developing The World and Dubai Islands, along with 18 master communities that accommodate nearly 700,000 people in Dubai.
Their diverse portfolio includes five-star luxury hotels like The St. Regis Dubai, as well as popular shopping malls such as Nakheel Mall and Golden Mile Galleria on Palm Jumeirah. Notably, Nakheel has also introduced attractions like The View at The Palm, located on the 52nd floor of The Palm Tower, offering breathtaking 360-degree views of Palm Jumeirah, the Dubai skyline, and the Arabian Gulf.
This collaboration marks the second time Nakheel has showcased its projects at Harrods, recognizing the store's popularity among visitors from the Middle East. Nakheel's presence at Harrods enables them to showcase their pioneering projects to prospective investors while highlighting Dubai's growth and future development.