With his expertise and culinary mastery, Chef Sakamoto will take charge of the kitchen at this homegrown Japanese restaurant, marking an exciting milestone for the UAE's first ramen house
Chef Toshiyuki, originally from Tokyo, Japan, brings a rich and diverse background to the culinary team at YUi. With extensive global experience and a profound love for Japanese cuisine, Chef Toshiyuki has honed his skills at renowned restaurants, embassies, and the residences of esteemed CEOs. With over three decades of experience, Chef Toshiyuki is a true master in the art of authentic Japanese cuisine and the craft of ramen making.
Taking charge of YUi's kitchen, Chef Toshiyuki, accompanied by a team of passionate and ambitious chefs, is dedicated to upholding the authenticity of Japanese culinary traditions. The restaurant's menu will feature a range of dishes, including ramen, bao, yakitori, gyoza, and more, all staying true to the essence of Japanese cuisine.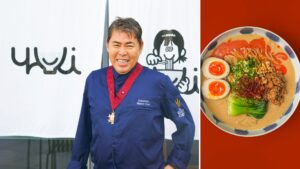 In his new role, Chef Toshiyuki will go the extra mile to enhance the restaurant's culinary offerings and support the brand's commitment to six key quality pillars. These pillars encompass YUi's commitment to excellence and involve crafting their signature dish with fresh, in-house-made noodles using 100% Japanese flour. Additionally, the signature broths are prepared by simmering 100% halal, locally sourced chicken for 16 hours daily, ensuring the development of robust flavours.
Chef Toshiyuki embarked on his culinary journey in 1983, starting as a Commis Chef at Lamp Post, a popular Tokyo-based restaurant. From 1985 to 1988, he ventured into the glamorous gastronomy scene of Beverly Hills, Los Angeles, serving as a Junior Sous Chef at Aqua Blue. This experience in the vibrant culinary landscape of LA allowed him to refine his skills and techniques. In 2009, he embraced an exciting opportunity as the Executive Head Chef at the residence of the CEO of Abdul Latif Jameel Co. in Jeddah, Saudi Arabia. This role involved catering to a discerning clientele, creating bespoke menus, and leading a diverse kitchen team. His ability to craft exquisite dishes earned him recognition and appreciation from his clients, subsequently leading to similar roles in Dubai, London, and Istanbul from 2016 to 2022.
Visit website.