Impossible Foods and VOX Cinemas have joined forces to offer a nutritious range of snacks, just in time for the release of the new Mission: Impossible film
Savour the incredible flavours of Impossible™ Chicken Nuggets Made From Plants, Impossible™ Beef Burger, and Hot Dog made with Impossible™. Compared to traditional beef, Impossible Beef uses significantly less water, generates fewer greenhouse gas emissions, and requires less land. Similarly, Impossible Chicken Nuggets have a lower environmental impact compared to their animal-based counterparts.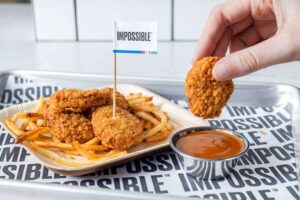 Head to VOX Cinemas to enjoy the highly anticipated Mission: Impossible – Dead Reckoning Part One and indulge in a flavourful and nutrient-packed meal made entirely from plants. Impossible Foods offers a delicious alternative for meat lovers while contributing to the fight against climate change.
Don't miss out on the opportunity to relish these plant-based delights while immersing yourself in the biggest franchise release of the year.
Visit website.