In Dubai to host an exclusive eight-course tasting menu experience at his Palm Jumeirah production, Massimo Bottura talks us through his life, passions and classic cooking style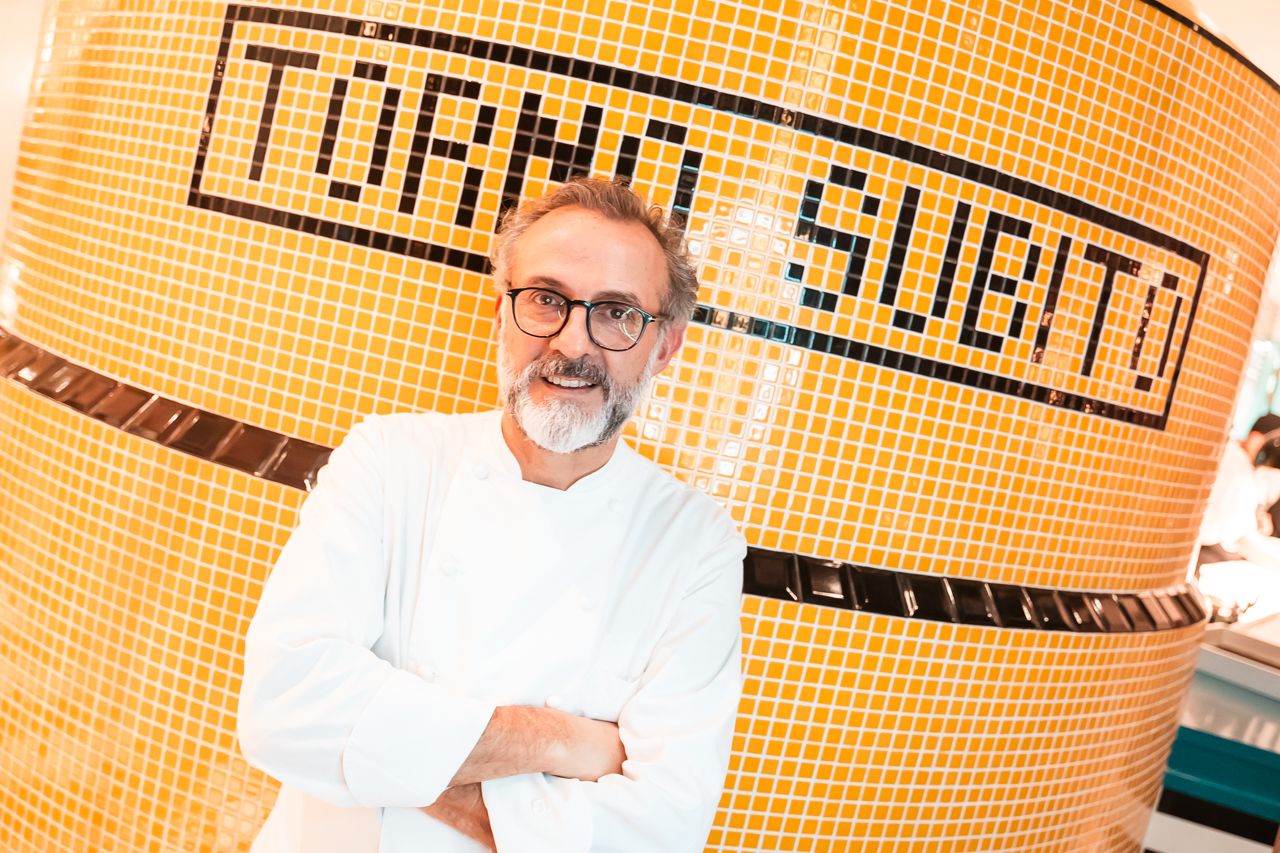 Born and raised in Modena, Italy, Michelin-starred chef and restaurateur Massimo Bottura was recently in town at his restaurant Torno Subito. The Italian restaurant set within W Dubai – The Palm, is where the creative genius, his brilliant hand-picked protégé Chef Bernardo Paladini and culinary crew constantly surprise with innovative, breath-taking edible works of art.
This slideshow requires JavaScript.
Here, the Chef patron at Osteria Francescana, a three-Michelin-star restaurant in Italy which has been listed in the Top 5 at The World's 50 Best Restaurants Awards since 2011, discusses how he almost pursued a different career path, his relationship with food, The World's 50 Best in the MENA region, favourite go-to music and upcoming endeavours.
Is it true that you almost pursued a career in football?
Ah yes, I did. When I was 15 years old, the Modena team decided to move me into a semi-professional part of the training session. My grandmother convinced me not to give everything to soccer but to keep studying; so, I gave up. That was my grandmother's suggestion and I followed it. My mama convinced my father, six years later, to let me do whatever I want and not become a lawyer. You know, I always listen to the women close to me in my life. I trust them so much.
When did you first realise your passion for cooking?
I don't know, I didn't realise that. The door of the unexpected is always open with me; and in that moment of my life, when I was in the second year of law school, the gastronomy door was open. I walked in and never left.
How has growing up in Modena influenced your cooking style?
My cooking style is the expression of my culture. In everyday life, I compress my passion, music, art, food, even fast cars, in edible bites sitting on centuries of history, because my cooking is deep Italian filtered by contemporary mind, never nostalgic. So, I'm breaking tradition to re-build tradition. Growing up in Modena, it's a big challenge for someone with this kind of mind, because it's the most traditional place in the world. Imagine how crazy it was in the beginning. It took seven years, from 1995 to 2001 to be accepted.
Do you plan your day?
No, that's not my life. My life is always open. That is the secret of success. Do what you have chosen to do. Of course, I have obligations. I wake up in the morning, before talking to people, or even turning on the phone. I have my espresso, then I start communicating. That's one of the most important things, because if you do things and you don't communicate to the world, what is the purpose of doing things. Specially in cultural projects like Food for Soul*, how can you be the agent for change of fighting food waste if you don't communicate. Once you've changed the minds of the people, they won't waste food in their homes.
Has your style evolved with Torno Subito?
My food is my food, it's the expression of my soul. It's not that I've got influenced from here or there. Of course, if you want to be contemporary, you have to travel with your eyes and ears open. And at that point, absorb culture. Italy is in the middle of the Mediterranean with thousands of years of culture. How can you not be influenced by that? But it's been there since forever. It's not that now I'm opening Torno Subito, I have new influences. When I'm here, I'm trying to give back something to Dubai, as Dubai is giving to me. I brought my happiness, my state of mind, the moments I want to share with people, the way I was growing up in Rimini, and Torno Subito is that kind of expression. I'm playful, colourful, joyful. The power of hospitality: buongiorno, benvenuti, that is a classic approach. So that's how it is.
What was your inspiration behind the menu here?
The menu of Torno is deep Italian because I've travelled many places in the world and seen and tried many degenerate Italian cuisines everywhere – from Los Angeles to Cape Town, from Tokyo to Mumbai – the first thing I said to all my team was, I don't want that. If we are coming here, we want to share with the world real Italian cuisine, because Dubai is the world as there are people from everywhere. But real Italian cuisine as an expression of the mind of the chef. Bernardo is the Chef here and he is part of my family. As a family, we share ideas, prizes, losses, we share everything. The cuisine is deep Italian but with Bernardo's touch, in Dubai.
Osteria Francescana has been a constant in the top 5 at The World's 50 Best since 2010. What do you think sets it apart from the rest?
I think, probably the way I think, the way I see the world. It's contagious and people love the passion, the emotion. In Osteria Francescana or Maria Luigia (my country inn, the farm that we have), I split the experiences in two. Half of the team is here, half of the team in Maria Luigia. In Maria Luigia, we serve iconic dishes, in Osteria Francescana, the contemporary. I think that is the most important thing. We are not serving food just to eat. We're serving food to create experiences, to transfer emotions. When we create, the creative exercise is very similar to the art process, the creative process that artists use. With a simple, simple difference – the artist is free to do whatever he wants, the chef has to cook good food.
What are your thoughts on The World's 50 Best now being in the MENA region?
I think it's a great opportunity for the whole region, because 50 Best is giving a lot to places and suggesting where to go; and that's the most important thing.
Get to know the Chef
You're stranded on a deserted island. What's the one ingredient you would want and why?
The most important ingredient is my mind. My mind is the ingredient that I travel with everywhere in the world. I can say balsamic vinegar, Parmigiano Reggiano, if you want a real ingredient. But, in a poetry way of thinking, I'm on an island, I don't have anything. I have my mind. I can imagine and create something.
Top 3 artists on your music list.
First of all, Bob Dylan – the most important artist of the century. The lyrics, the poetry, it's completely out of this world. So much bigger and greater than the others. He is such a great artist. The second can be Billy Holiday – the way imperfection transforms into a voice – she transforms emotion every time she sings. I would say Thelonious Monk, because in the beginning his journey was very similar to my career. People didn't like him at the start because they didn't understand what he was doing. And then, wow! Thelonious Monk is the man, the way he plays piano. Yeah, probably those three.
What does the year 2022 hold for Massimo Bottura?
Oh, it's full of surprises and new projects. We're going to open immediately a refettorio in the beginning of 2022 in Geneva. It's going to be super cool. We're going to open a new Osteria Gucci in Seoul; and for the rest, we're going to wait till I come back [to Dubai].
Any advice for young chefs?
Study as much as you can to develop your way of thinking. Always remember that this job is all about hard work and not being a Rockstar. Travel with your ears and eyes open, to absorb several different cultures. And never forget who you are and where you come from.
*Food for soul is a non-profit organization founded by Massimo Bottura to promote awareness about food wastage and hunger.