In a joint venture, Emirates Flight Catering (EKFC) and Crop One will co-invest US$40 million to build the world's largest vertical farming facility near Al Maktoum International Airport at Dubai World Central.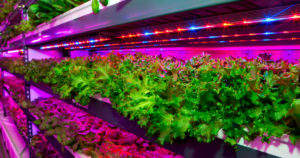 When complete, the vertical farm facility will cover 130,000 square feet, but have a production output equivalent to 900 acres of farmland. At full production, the facility will harvest three US tons (2,700 kg) of high-quality, herbicide-free and pesticide-free leafy greens daily, using 99% less water than outdoor fields.
The proximity of the farm to the point of consumption also substantially reduces carbon emissions associated with transportation. It will also ensure the quick delivery of the fresh products, reaching customers within hours of harvest, maintaining high nutritional value.
The construction of the facility is scheduled to start in November 2018 and will take approximately one year to complete. The first products are expected to be delivered to Emirates Flight Catering's customers, including 105 airlines and 25 airport lounges, in December 2019.
On a daily basis Emirates Flight Catering's 11,000 employees prepare an average of 225,000 meals.
If you enjoyed this story, you might be interested in reading about how chefs are ranking environmental sustainability and local sourcing as key areas to develop in the Middle East.