Well-known in Lebanon and Kuwait, the Babel brand has opened its first Dubai-based restaurant at La Mer.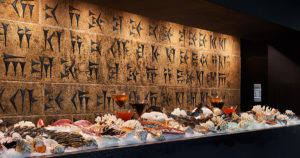 Famed for its progressive cuisine since 2009, Babel serves a contemporary fusion of Lebanese flavours, with an array of seafood specialities.
The restaurant extends over two levels of different indoor and outdoor spaces, including a spacious terrace section. The interiors are chic and minimalistic with hints of history. The highlight of the room stands a seafood bar with sandstone walls etched with ancient Mesopotamian writings which lend the room a dramatic but welcoming atmosphere. The second floor features a prominent bar area, and shisha terrace for the cooler months.
To find out more about new restaurants that have launched at La Mer this summer, check out this story.