These state-of-the-art machines offer benefits such as product testing, high-speed performance, volume flexibility, and SIG's Drinksplus capability, providing new opportunities for innovation in the F&B industry.
SIG, a prominent provider of systems and solutions for aseptic packaging, has launched advanced filling machines, the SIG SmileSmall 24 Aseptic and SIG CleanPouch 25 Aseptic, in the UAE, available for both established F&B leaders and startups at SIG's Technology Center in Dubai Silicon Oasis.
The centre also features the SIG Accelerator, which supports customers and startups in bringing innovative F&B products to market quickly. The SIG SmileSmall 24 Aseptic filling machines can fill 24,000 carton packs per hour at different volumes, ranging from 180 to 250ml, catering to various applications.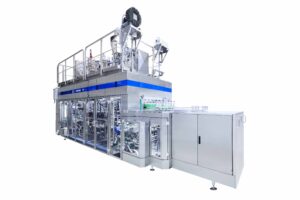 Commenting on these new developments, Abdelghany Eladib, President & General Manager IMEA at SIG stated: "We are delighted to unveil these cutting-edge filling machines, marking a milestone for food and beverage manufacturers in the region.  F&B leaders and startups can now utilize our Technology Centre at Dubai Silicon Oasis for testing and innovation through an expanded range of packaging options."
SIG's Technology Centre in Dubai, as a part of its Innovation Hub, is dedicated to fostering innovation and excellence in the region's F&B industry. It includes the SIG Reliability Center, which utilizes digital innovations to address industry challenges, and an Innovation Customer Centre that supports customers through accelerators and workshops for new product innovations, testing them in the Technology Center.
This integrated approach showcases SIG's dedication to utilising cutting-edge technology and providing customer support for pioneering solutions throughout the entire process, from ideation and design to piloting and promotion.