Founder and executive pastry chef consultant of RH Consultancy, Ryan Harris lends insight on how to get the most from working with a pastry consultant, consumer demands and patisserie trends of today, and the return of classics that evoke the feeling of nostalgia in the pastry kitchen.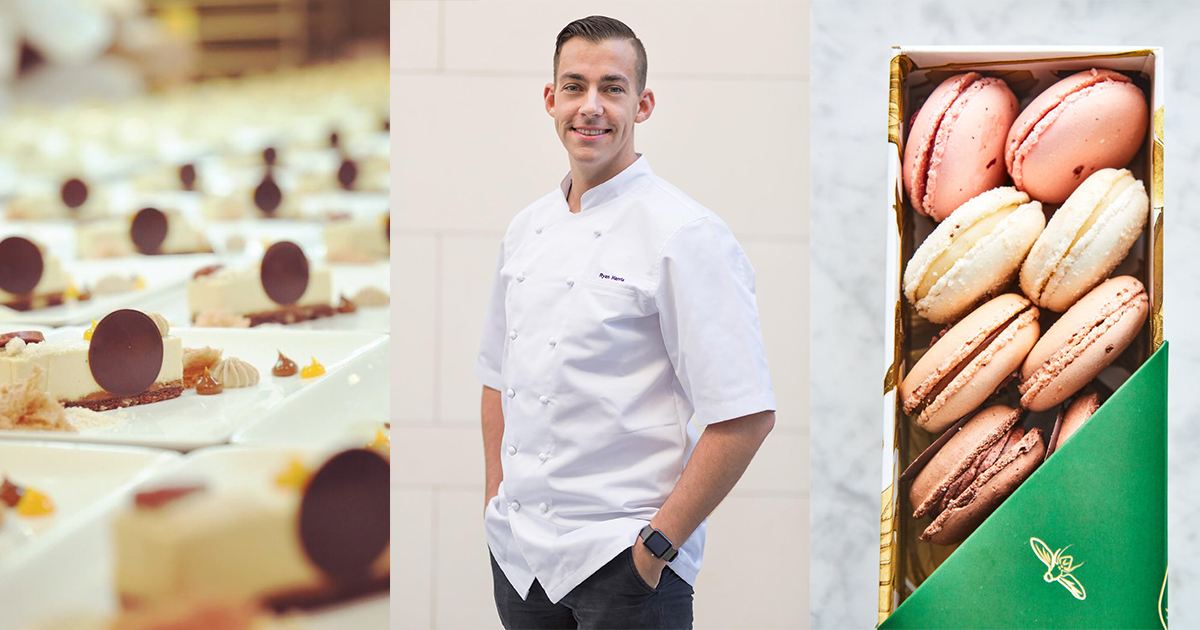 Chef Ryan's culinary journey began in his grandmother's kitchen, where he recalls helping her to create the best pastries he can remember eating. With an interest in all-things patisserie sparked, Ryan went on to become professionally trained in Classical French Pastry at Le Cordon Bleu Institute of Culinary Arts.
His professional journey continued in prestigious hotels in the United States and Bahamas, which eventually led him to Dubai's vibrant F&B industry, which is where he experienced a taste of the consulting life, lending support to develop newly opened restaurants' pastry programs.
Speaking on launching his own pastry consultancy company, RH Consultancy, Ryan said: "A few LinkedIn and Instagram enquiries later, it was only a natural step for me to work for myself. Today I help entrepreneurs and organizations achieve their vision, making my varied experience their very own. It's been a great journey so far, am I am still inspired by the hope and dreams of my clients."
Here, Ryan shares more about his new company and gives insight into the sweet side of the kitchen…
Tell us about RH Consultancy and the services that you offer…
My primary goal is to express the client's brand in the pastry program it puts forward. Then it's about value addition beyond pastry creations: anything from helping chefs to organize their work, manage wastage, develop menus, manage and roster their team, upgrade skills and team building, manage budgets and costings, source suppliers and equipment, advise with kitchen layouts and an access to community of chefs for recruitment options.
Over the years, how have you seen the patisserie market evolve?
The world is an even smaller place with the rise of social media. I feel our work has been showcased even more and it pushes chefs to be more creative to create the next big thing. Today we see variations on a classic like doughnuts and deconstruction as well as desserts that revolve around an interesting ingredient. I also see the part Dubai has to play in the rise of Arabic pastry with a modern interpretation.
Moving into 2020, which pastries do you think will be most 'on trend'. Are you witnessing the comeback of any patisserie in particular?
I like to think that consumers are divided: I see a tendency towards healthy, low sugar, diet specific (like keto) and allergen free desserts. At the same time I see that consumers take their desserts seriously as this is their "cheat" meal. I think 2020 will see an influx of traditional desserts from many countries in Dubai with Expo on the horizon, where you'll be able to go around the world with your tastebuds. I also see potential in grab-n-go and delivery-friendly desserts.
It's been said that there's a strong return to traditional when it comes to pastry. Would you agree with this? Please tell us why.
Fads have come and gone, but the one trend that is making a big comeback is classical pastry. I have been seeing this a lot, clients brief simple flavour profiles designed to evoke the feeling of nostalgia. I guess it's like having a slice of home right here in Dubai. And it's not easy to do, making classical recipes takes experience, great ingredients and passionate people.
Which suppliers do you work with locally for sourcing pastry ingredients?
The longer I have been in Dubai, I have found myself working with more and more suppliers. It's great to have such a wide variety of options for my clients. Personally, I am partial towards high-quality ingredients and products that are innovative, sourced ethically and sustainable. My go-to suppliers are Chef Middle East and Classic Fine Foods.
For pastry chefs just starting out in the industry, what word of advice would you offer to them for progressing in the pastry industry?
Never stop learning and adopt a sponge mentality to learn from fellow chefs, this will keep your keep your finger on the pulse of the industry, the city and the consumer trends. You can even take the additional step to find training programs to improve your hard skills.
To get in touch with Ryan at RH Consulting, contact +971 55 325 2511, email ryan@chefryanharris.com or visit ChefRyanHarris.com.