Call him a cooking virtuoso, Rocco DiSpirito was born with a gift – the ability to deliver great food, almost instinctively. To watch him is to see muscle memory in action – he doesn't just cook a dish, he is the dish. Shades of Bruce Lee or Star Wars' famous injunction here – he is the Force.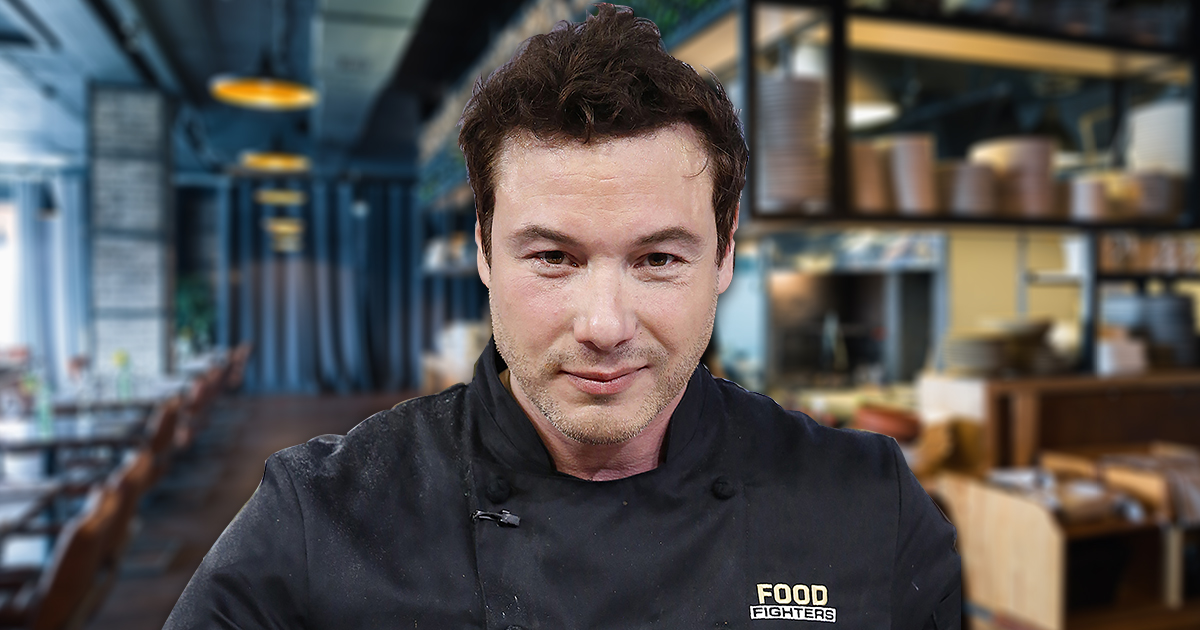 He started cooking in his teens and many consider him the most talented American chef of his generation. Now in his early 50s, however, there is something different about him: he hasn't cooked in a restaurant kitchen for a dozen years or more.
That's not to say he's disappeared. On the contrary, he's now a media 'personality', equally at home on Top Chef or Dancing with the Stars, even selling frozen foods for Bertorelli's or Kraft meal-starter kits. He has, in other words, made the shift from golden boy of the US restaurant scene to perpetual C-list food celebrity who's available to rent. A long way from the day, some two decades ago, when he launched his restaurant Union Pacific which, with its take on modern American cuisine, propelled him into the limelight to become one of the first TV-driven celebrity chefs in the States. Now, of course, with Twitter and Instagram, YouTube channels and obscure cable TV shows, we can hardly move for Z-list celebrity chefs and home cooks, but DiSpirito was amongst the first to go for the money and lose credibility amongst the profession. Want to hear what Anthony Bourdain said about him? No, seriously, you don't…
Of course, it's possible to be a credible chef and retain your kitchen chops – Bourdain is a perfect example of a chef who branched out into writing and documentary work, as well as chat shows, but is always, without doubt, about the food and keeping it real. The other side of the ocean, Britain's Gordon Ramsay seems hardly ever off our TV screens, but nobody doubts the quality of his restaurant empire. Even more so, perhaps, is 'cheeky chappie' Jamie Oliver, whose food empire delivers what the public wants even as he's the front guy for TV shows, a food magazine and licensed products from olive oil to herbs and spices.
DiSpirito could have been one of the greats – after all, he gained fame just as the F&B world was maturing fast. Instead, he chose easy celebrity and, once you're on that treadmill, how do you get off?
He could've contributed, perhaps significantly, to the art form. But he didn't. He came into prominence at the exact moment mainstream celebrity became an option for chefs, and he chose celebrity. Rocco DiSpirito hopped on fame's hamster wheel, and Rocco DiSpirito has been running on that wheel ever since.
Born in Queens in the mid-1960s, he was already making money working in a pizzeria by the age of 11, moving to a professional kitchen a mere four years later. This schooling in fine dining prepared him, a scant year later, for the Culinary Institute of America where he was top of his class. A stage in Paris at Le Jardin des Cygnes followed by Boston University's school of hospitality, paid work as a chef de partie and then a stint as a personal chef. Not a bad grounding.
After graduation, he worked at one of the biggest New York City restaurants of the 1990s, Lespinasse, under Swiss chef Gray Kunz, followed by two executive chef jobs but, unfortunately, both restaurants failed under him even though legendary food critic Ruth Reichl's review of Annabelle said that "the restaurant's chef, Rocco DiSpirito, is someone to watch".
A year later, Union Pacific opened and DiSpirito was installed as the executive chef, changing the owners' original concept of Asian fusion to his own vision. Again, Reichl recalls: "Most of the time, you're eating copycat food and you can tell the influences right off the bat. But eating Rocco's dishes, I thought, 'He's cooking from some other place, out of his head.' The food was shockingly unique. As a critic, you're dying to find chefs like him." Her review gave the place three stars.
And fame followed. Food and Wine named him America's Best New Chef. Gourmet named him the Most Exciting Young Chef in America. He was a James Beard finalist for best chef in NYC three of the next four years. Julia Child insisted on going to Union Pacific to try the food.
By 2003, with the publication of his James Beard award winning cookbook, Flavor, DiSpirito had the culinary world at his feet. He made a decision: with the irresistible rise of reality TV – remember Big Brother and American Idol? – he would shake up the TV culinary world with a series about opening another restaurant. For a food-TV culture largely made up of staged studio programmes with Emiril Lagasse, Paula Deen or Bobby Flay, The Restaurant could be a game changer.
It followed the opening of Rocco's, a casual Italian place DiSpirito wanted to create in tribute to his heritage, with even his mother making meatballs in the kitchen. Just one problem: the villain of the piece, the money man restaurateur Jeffrey Chodorow. From the start, the show became a train wreck with DiSpirito losing the fight to have an intimate Downtown space to Chodorow's insistence of a massive restaurant at 22nd and Broadway. According to William Grimes of The Times, "Every chef who opened a restaurant in that location, the restaurant died quickly".
By the second season of the TV show, the tensions were front and centre. DiSpirito is criticised for never being in the kitchen, not answering phone calls or e-mails, even not delivering full financial information. It took its toll on the chef and matters came to a head in 2004 with the end of the show and an injunction preventing DiSpirito from entering his own restaurant. He never worked in a restaurant again, instead following the book writing path, with frequent stops along the way for TV spots and product hype on the QVC shopping network.
So the restaurant chef slipped away and, in its place, stepped the kitchenware and pasta promoter, the cookbook author – Rocco's Five Minute Flavor, Fabulous Meals with 5 Ingredients in 5 Minutes and Now Eat This!: 150 of America's Favorite Comfort Foods, All Under 350 Calories, for example – the TV presenter, the triathlon runner and, finally, health food crusader, promoting everything from organic protein powder and raw vegan organic dark chocolate bliss bars to so-called choco-nocco butter.
Welcome to the celebrity world. Unfortunately, it's not a world were talent has much effect. Instead everything is about branding, or promoting, or whether you can claw your way up the celebrity pile by becoming a Kardashian tweet buddy and so on. In a perfect example of American capitalism at its rawest, you have become the product. Back to Reichl: "With Rocco, I get the sense he didn't control his own destiny. He was young and hungry and he didn't have anyone looking out for him. And so he just moved onto the next thing."
So, should we blame him? Do chefs have an obligation to use their talent to make people happy? As much as I would like to say 'yes', the answer is 'no'. A chef's life is hard. Offers may only come once and it's rare to have good advice to hand and so, with no savings and no serious pension plan, a chef will think 'I need to go for it', if only to make the crazy hours, hard work and doubtful futures somehow worthwhile. The irony of a chef's life being that if they do take care of themselves and have time off, then they're not in the kitchen creating the next great thing…
New York magazine restaurant critic Adam Platt sums it up: "A lot of chefs who get early adulation go through this process. They have about eight or nine years of talented cooking before they burn out and need to figure out something else. It's a brutal profession, so it's hard to blame Rocco for picking the celebrity angle over the chef angle. He just happened to come along during this tear in the dimensional fabric where everything changed."
But what's DiSpirito's take on all this? We don't know. He's insulated by his PR people and the rest of his new world. However, there's a telling section near the end of the first season of The Restaurant, on voiceover, he says: "I realised if I was going to turn it around, it needed to start here in the kitchen, the one place I knew I would get it right. I'd forgotten how good it feels to be in the kitchen again. This is my art. This is my game. This is what I know." Let's hope he finds that feeling again.
Details: For more information visit Rocco DiSpirito. If you enjoyed this article you may like this story on Atul Kochhar.