Sponsored: Following the successful launch of WHOLEFRUIT chocolate in the Middle East, Romain Renard, Director at Chocolate Academy Dubai – MENA shares his insights on the pioneering chocolate under the Cacao Barry franchise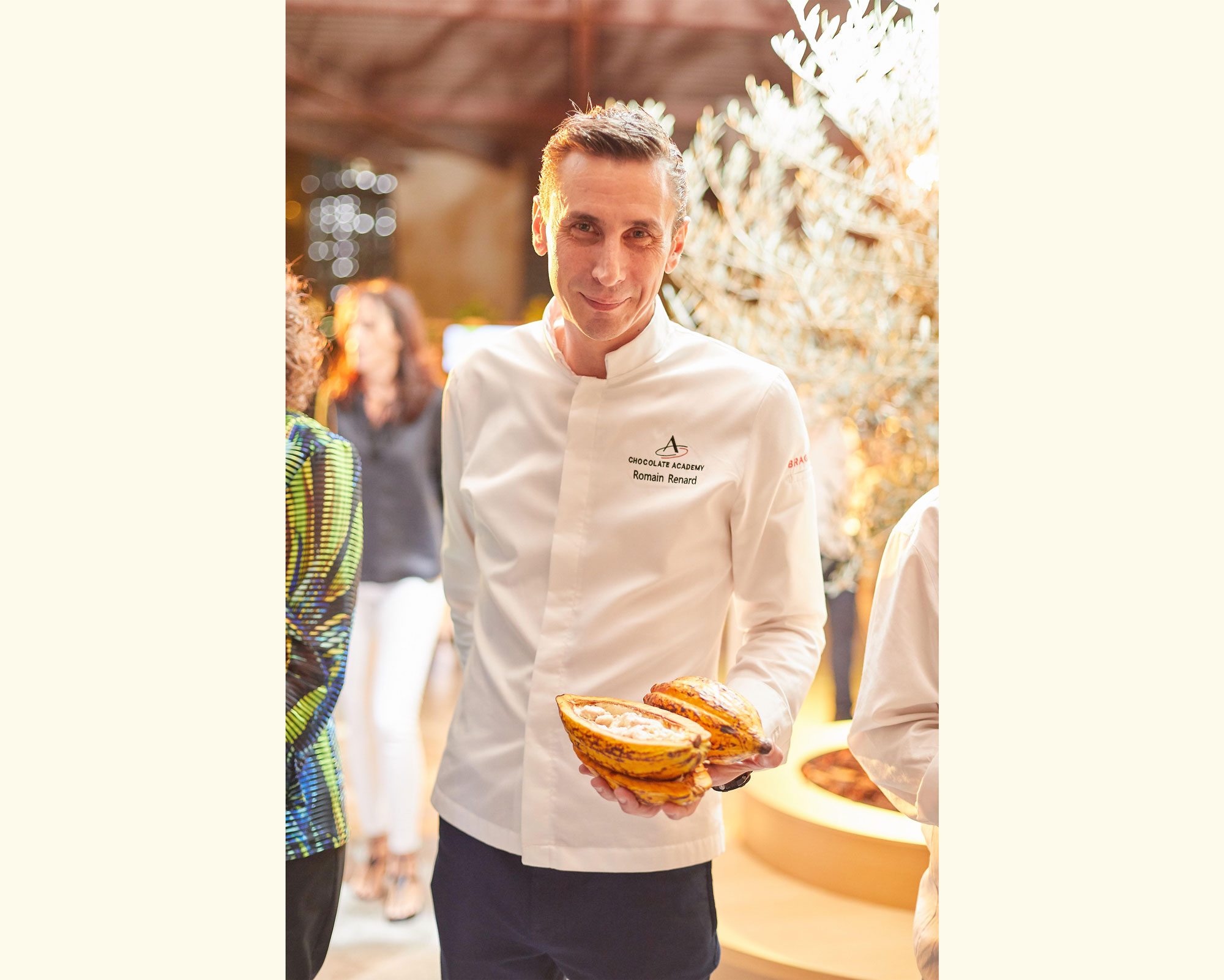 The year 2021 witnessed the successful global launch of a ground-breaking type of chocolate, called WHOLEFRUIT chocolate. This remarkable revolution has now been brought to the Middle East by Barry Callebaut, the Swiss cocoa processor and chocolate manufacturer.
WHOLEFRUIT chocolate is an inimitable and innovative chocolate under the Cacao Barry franchise, created from 100 per cent pure cacao fruit especially for artisans, chefs and chocolate enthusiasts. The decadent delight is also apt for sustainability-conscious consumers who yearn for treats that are luscious and nutritious, yet friendly to the environment.
Speaking to its immediate triumph upon entering the Middle East market, five renowned chefs, namely Romain Cornu, Abel Vieilleville, Dilip Kumara, Romain Castet and Charles Azar, successfully crafted signature desserts with WHOLEFRUIT chocolate at the inaugural event at the Chocolate Academy in Downtown Dubai earlier this year.
Here, Romain Renard, Director at Chocolate Academy Dubai – MENA speaks about WHOLEFRUIT chocolate from a chef's perspective, attests to its full potential in the kitchen and elaborates on why WHOLEFRUIT chocolate is here to take over the F&B industry.
Cacao Barry has launched WHOLEFRUIT Chocolate in the Middle East. Tell us about this revolutionary type of chocolate?
For centuries, the cacaofruit has been harvested mainly for its beans in order to craft chocolate. However, in this process 70 per cent of the fruit is discarded as waste. Now, Cabosse Naturals upcycles the delicious pulp and peel into a range of 100 per cent pure cacaofruit ingredients, which is revolutionary and has never been done before. WHOLEFRUIT chocolate is entirely made from 100 per cent pure cacao fruit – no refined sugars, no vanilla and no lecithin.
Where did the idea for WHOLEFRUIT Chocolate stem from?
The idea of WHOLEFRUIT Chocolate stemmed from our ongoing commitment to reduce waste and transform the chocolate making process to be more sustainable. After years in the making, we figured out how to valorise the cacao fruit. By upcycling the leftover pulp and peal, we have not only reduced waste but have produced a superior product like no other.
How did WHOLEFRUIT Chocolate come to be created?
In my view, every creation is a result of great collaborations and out of the box thinking. The birth of WHOLEFRUIT Chocolate is a result of 30 plus leading chefs and Cacao Barry coming together through an exciting creative process and embarking on the WHOLEFRUIT revolution.
What makes WHOLEFRUIT Chocolate special, even different from other chocolate?
I would say WHOLEFRUIT Chocolate is uniquely pure expression of the cacaofruit. The new WHOLEFRUIT Chocolate is made from 100 per cent pure cacaofruit and offers chefs with the opportunity the get creative with the true essence of chocolate.
In your professional opinion as the Director at Chocolate Academy Dubai – MENA, what can WHOLEFRUIT Chocolate be used for in the kitchen? Can it be used to replace every creation where a Chef might require the use of chocolate?
Yes, it can be used just like any other kind of chocolate and can be substituted in any recipes.
Could you describe the taste experience of WHOLEFRUIT Chocolate from a diner's point of view?
If there is one word, I can use to describe WHOLEFRUIT Chocolate, it would be 'unique'. This chocolate boasts zesty and fruity notes, which will offer diner's a natural burst of freshness. Quite honestly, WHOLEFRUIT Chocolate tastes like no other chocolate in the market and can be used to amp up any dessert or sweet treat.
We understand that WHOLEFRUIT Chocolate is an environmentally-friendly and sustainable product? Please elaborate.
Well, our entire brand ethos is "Good for me, 100% natural, clean label and Plant base". This simply means in everything we do; our aim is to do good for the planet and people by ensuring that our products are sustainably and responsibly sourced and we are upcycling leftovers and reducing waste. Moreover, another aspect we focus on is actively improving farmers quality of life. In the WHOLEFRUIT chocolate context, the environmentally friendly and sustainable aspect comes from the fact that 100 per cent of the cacao fruit is utilised, with no wastage, making it 100 per cent sustainable.
Where can we find WHOLEFRUIT Chocolate in the region?
WHOLEFRUIT Chocolate is currently available at EMF Trading Ltd. Middle East, which is the official agency for Barry Callebaut in the UAE. Later this year, we do plan on expanding our wholesale vertical to other parts of the region.