The St. Regis Dubai, The Palm, in partnership with Nakheel, has introduced a brand-new culinary destination St. Regis Gardens 
The St. Regis Gardens will be home to five renowned restaurants including Trèsind Studio, Chez Wam, Aretha, Signor Sassi, and LEÑA – Las Brasas x Dani Garcia. Spanning across the expansive garden, these dining destinations will offer an extraordinary gastronomic journey for residents and visitors alike.
The innovative open-air concept is easily accessible through a dedicated welcome lobby at The St. Regis Dubai, The Palm. As guests stroll along pathways adorned with bonsai trees and diverse flora from around the world, they will be guided towards the captivating array of on-site restaurants.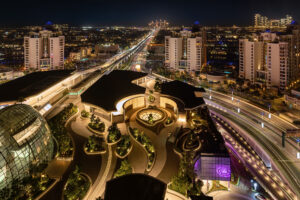 Embark on a culinary adventure at Tresind Studio, a Michelin-starred Indian restaurant that immerses guests in the rich and diverse flavours of India. Chez Wam, led by Chef Hadrien Villedieu, is set to debut with a refined dining experience and sophisticated bar concept that perfectly complements the luxurious atmosphere of the Gardens. In addition, Aretha, a stylish restaurant and lounge inspired by the vibrant Roaring Twenties, will open in September, offering live entertainment reminiscent of the Jazz Age, along with plush seating, opulent gold accents, and sparkling chandeliers to create an enchanting dining experience.
Adding to the allure of St. Regis Gardens, Sunset Hospitality Group and San Carlos Group present Signor Sassi, a renowned London-based Italian restaurant. With an interior seamlessly blending with the surrounding gardens, Signor Sassi provides a seamless transition between indoor and outdoor spaces, evoking the ambience of an authentic Italian summer. Having first opened its doors in 1984, Signor Sassi has become an institution in London, and the forthcoming venue in St. Regis Gardens, launching in September, will mark its third location in the Middle East, joining its successful counterparts in Riyadh and Doha.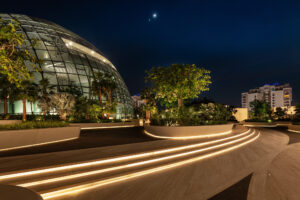 Completing the extraordinary culinary lineup, St. Regis Gardens will proudly introduce LEÑA Las Brasas in September, a renowned grill house hailing from Spain and led by the esteemed 3 Michelin Star Chef Dani Garcia, in collaboration with Addmind Hospitality. Recognized as the most beautiful restaurant in the world in 2021, LEÑA seamlessly blends tradition, innovation, and premium ingredients to offer diners an authentic and immersive experience.
The venue will also showcase its exclusive 2 Michelin Star SMOKED ROOM – Fire Omakase, an intimate fine dining experience for 14 guests, where smoke and embers serve as a central theme. Inspired by the award-winning interior design, LEÑA at St. Regis Gardens will feature a captivating blend of wood, stone, and rich finishes. Moreover, a stunning outdoor bar and lounge area will offer panoramic views of the Palm Jumeirah skyline.