HRH Prince Khaled bin Alwaleed Al Saud and Celebrity Chefs Marco Pierre White and Manal Al Alem, are set to address a three-day F&B exhibition in Riyadh from October 29-31
In partnership with the Saudi Ministry of Environment, Water & Agriculture, InFlavour, the world's latest food and hospitality show, is set to debut at the Riyadh International Exhibition & Convention Centre. The conference's esteemed speakers include His Royal Highness Prince Khaled bin Alwaleed Al Saud, CEO of investment group KBW, renowned celebrity chefs Marco Pierre White and Manal Al Alem, and a lineup of industry leaders from notable companies such as Big Idea Drinks, Ossiano, and Kitopi, the world's leading multi-brand restaurant and tech unicorn.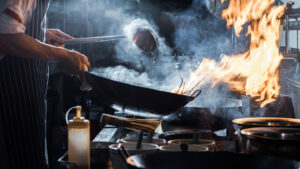 Some other prominent speakers from various sectors who will be sharing their expertise throughout the three-day event include Mo Ballout, the visionary behind Kitopi and serving as its Founder & CEO; Bjorn Oste, the creative mind behind Big Idea Drinks and a Co-Founder of OATLY, also serving as its Founder & CEO; Gregoire Berger, the highly accomplished Executive Chef at Ossiano; Lou Cooperhouse, the trailblazing Founder, President, and CEO of Bluenalu, a global leader in cellular aquaculture; Vonnie Estes, the Vice President of Innovation at the International Fresh Produce Association; Varun Inamdar, an independent hospitality chef and respected consultant; and Supreet Raju, the Co-Founder of OneRare, the groundbreaking metaverse catering to the F&B industry, being the first of its kind in the world.
InFlavour acts as a platform connecting these manufacturers with industry buyers and consumers not only within Saudi Arabia but also across growing markets in Africa, Asia, and Europe. The launch of InFlavour has attracted renowned F&B industry leaders from countries such as the United Kingdom, Germany, United Arab Emirates, India, Pakistan, and Bahrain, as well as prominent brands including Balland Messe, Nomu, Talabat, Iscon Foods, Ottonomy Inc., Healthy Foods Supplements, Al-Malaz Company for Trade and Industry, and I Food Exports WLL.
Visit website.