Organisers KAOUN International and dmg events announced the launch of the highly-anticipated Saudi Food Manufacturing show
With the growing market demand in the region, the first-ever Saudi Food Manufacturing exhibition aims to propel the Kingdom's rapidly expanding food manufacturing and processing sector to new heights. Affiliated with The Saudi Food Show, the largest F&B business event in the Kingdom, as well as Gulfood Manufacturing and Gulfood, the world's largest food and hospitality business event, Saudi Food Manufacturing is poised to make a substantial impact.
Scheduled to be held in Riyadh from 22nd to 24th April 2024, the inaugural edition of Saudi Food Manufacturing will be backed by influential ministerial stakeholders in Saudi Arabia, with The Saudi Authority for Industrial Cities and Technology Zones (MODON) announced as the event's strategic partner.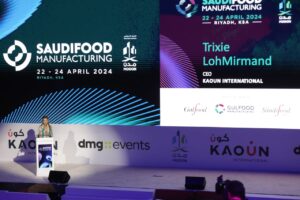 Saudi Food Manufacturing is set to unite various segments of the F&B manufacturing industry, including processing, packaging, ingredients, supply chain solutions, and control & automation sectors. Moreover, the Saudi Food Tech Summit will provide international F&B manufacturers in these sectors with valuable insights into the immense potential for innovation and investment in the Saudi Arabian food and beverage (F&B) manufacturing industry.
With nearly 1,000 existing food and beverage production facilities and over 200,000 individuals employed in the sector, the Saudi food manufacturing and processing industry is experiencing continuous growth. It is projected to reach a size of 50 billion SAR (approximately USD 13.3 billion) by 2025, with an additional investment of USD 70 billion expected by 2030.