Taking place throughout September, the month-long culinary celebration unveils an enticing gastronomic journey, inviting diners to indulge in specially curated menus from a selection of esteemed venues at irresistible prices.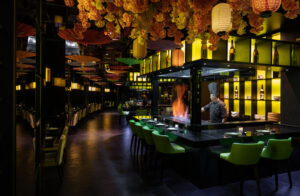 Prepare to be amazed by a lineup of renowned establishments, including celebrated celebrity chef destinations such as the Michelin-starred Torno Subito with its specially crafted menu at AED125 per person, as well as culinary gems including Akira Back, City Social by Chef Jason Atherton, Indego by Vineet, Indya by Vineet, and the iconic steakhouse Rhodes Twenty10, all at a value-packed AED245 per person. More Cravings' Restaurant Month also showcases unique concept venues such as Above Eleven Dubai, Buddha Bar, and Jones the Grocer at Delta Hotels Jumeirah Beach.
For those seeking an exquisite dining experience, the More Cravings app presents a selection of fine dining restaurants offering signature three-course menus, featuring innovative creations and time-honoured classics. The app also includes a series of casual dining restaurants, where diners can explore specially curated menus or scrumptious buffets at select venues at AED125 per person.
Marriott Bonvoy® members can further elevate their experience by earning 10 Marriott Bonvoy points for every eligible USD1 spent on dining at participating venues, even without hotel stays.
Available on the App Store and Google Play, download the More Cravings dining app.