RASPOUTINE Dubai has unveiled the arrival of renowned Chef Panagiotis Achamnos, the visionary behind the all-new menu 
Harnessing his exceptional culinary prowess and expertise in Mediterranean gastronomy, Chef Panagiotis' latest culinary opus offers an expedition through an array of dishes including a selection of chilled appetizers such as house-made French foie gras, Beef carpaccio, and Tuna tartar.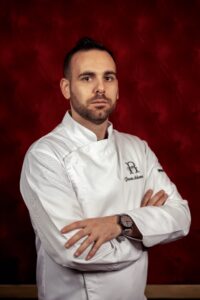 The menu continues to impress with offerings such as Grilled octopus, Orzo pasta, Whole lobster, Ricotta gnocchi, and Mediterranean sea bass. An opulent Caviar Selection further enriches the dining experience, presenting a luxurious assortment of options paired with blinis, toast points, and accompanying condiments. Revel in the indulgence of Baeri Kaviari, Oscietra Prestige Kaviari, Beluga Kaviari, or the intricate and sumptuous Oscietra Royal Sea House.
Renowned as one of the world's most coveted premium entertainment destinations, RASPOUTINE Dubai radiates opulence and sophistication, encapsulating an unmatched fusion of gastronomy and nightlife.
Contact +9714 272 5373.