At the forefront of modern Indian cuisine internationally, chef Atul Kochhar of Rang Mahal by Atul Kochhar at JW Marriott Marquis Dubai, explains why there's no strict methodology when it comes to cooking and educating diners about ingredients is the key to helping them understand the complexities of Indian cuisine.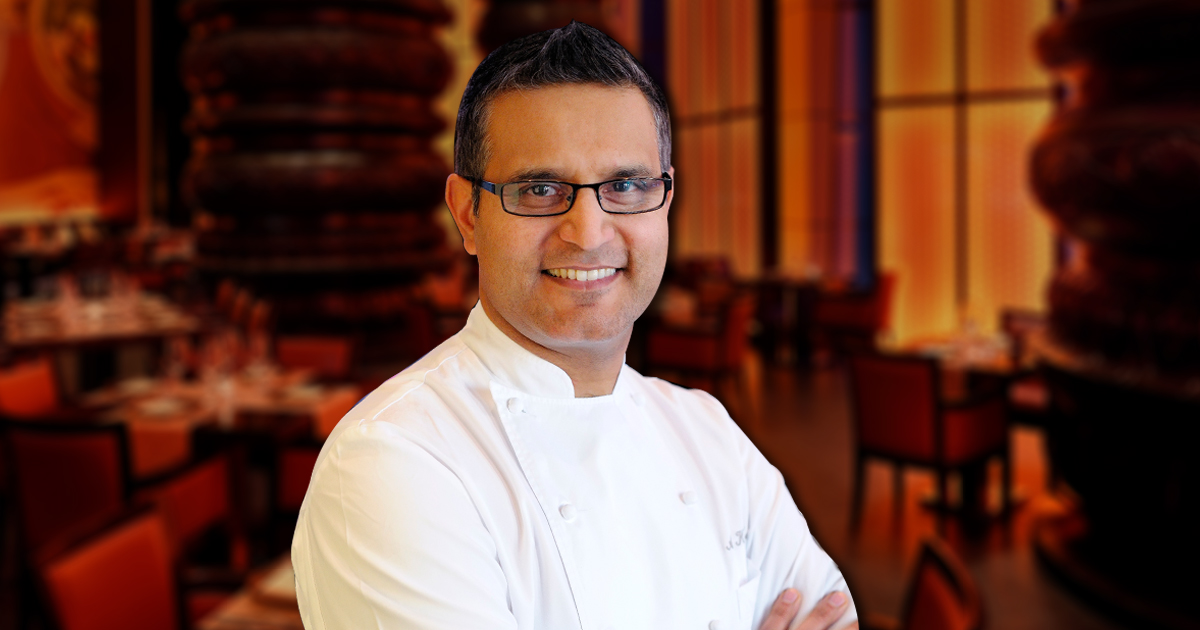 During your career so far, you've revolutionised Indian cuisine, making it more contemporary. Is this something you set out to do at the start?
Every person has their own individual style. It's very much like fingerprints. Every person has their own fingerprints which are their very own and it's different from anyone else's. In the same context, the way that you would use your ingredients and the way you would make a concoction from them, would be your own unique way of doing it. When you read a recipe or when you see a chef cooking you only get the general idea of what they're trying to do but when you cook the same thing yourself, you do it with your own hands. In India there is a saying, "It's all in the hands". There is no strict methodology when it comes to cooking. I always tell my cooks, pour your heart into it and the more you love what you're doing, the better the end product is going to become.
Do you feel international diners of today understand the complexities of Indian food – or are at least getting better at understanding?
I think education on Indian cuisine is important but I don't think it needs to be emphasised more than any other cuisine. I think education on developing the understanding of ingredients in general is probably the most important aspect and that understanding develops over time. For example, if someone has never used parsley before, the first time they try it, they may not like it and think it's awful. But then, over time, they may try it again and start using it and they may begin to find that it works well with different ingredients –they might find it works well with butter, or that it works well with garlic and after experimenting like this, before they know it, they will be using parsley like they have been using it for ages. It's the same thing with spices. There are no boundaries, rules or regulations. Once you start experimenting, you will learn to know what works and what doesn't work. And then it gets easier and people will start to use them in their everyday cooking. I think people are already quite aware of Indian food but I feel that food education on understanding ingredients and learning how to experiment with them to create new flavours is important.
You trained with Oberoi Hotels in India, tell us about that experience…
I trained at Oberoi Hotel Management and worked for Oberoi hotels in India. During the process, I picked up the knowledge to cooking with different cuisines. I worked in different principles. I was posted in French fine dining and then Italian. I also did Chinese and Japanese and Thai cooking. Then I decided I think now I've learnt everything I could have and I would like to do my own food and that's where the Indian cuisine came along.
With restaurants internationally, how do you manage your schedule to ensure consistency across all of your outlets?
It is imperative to put in place effective strategies so that each outlet offers the same level of service, quality and consistency that guests have come to expect from them. This is possible only by personal intervention. Hence, I oversee all concept and design plans and work closely with the team to ensure that standards are kept at a high always. My quality assurance manager works with other staff to establish procedures and quality standards and to monitor these against agreed targets. It does mean that I travel a lot, interacting with our guests. However, I believe that listening and reacting to feedback always gets results. There must be a manager who can manage the staff efficiently and build a successful team, be it in the kitchen or on the restaurant floor. To me, it boils down to good training and hard work.
India itself is a melting pot of varied cuisines and specialities. Which region is your favourite in Indian for its culinary offering?
I travel to India at least three to four times a year for both social and professional reasons. Every time I go there the country doesn't stop to amaze me – for good and bad reasons. There is so much to learn from India because each and every state is a country by itself and each has its own cuisine. There are lots of things to learn about the different cuisines, it just amazes me. I try not to label a city in India as being my favourite as I would find myself going there again and again. I keep my mind open and like to explore different places and pick up different influences as I go along. I don't actually think that there is a single state in India that I haven't visited. I've been to each and every state.
If you could open a restaurant in any location around the world next year, where would you choose and why?
New York, it's very cosmopolitan and there is an upward trend for Indian food there.
When writing new recipes, where do you find inspiration?
Keeping the menu fresh with innovative dishes and my re-interpretation of some of the great Indian classics provides a dining experience that both delights and entices in equal measures. Sometimes the changes are a gentle and other times a more radical overhaul; my inspiration is mostly an evolutionary process, a gentle nudge from where I live, it could be something I have seen or an exciting new chef that inspires me.
For chefs looking to climb the ladder, what's the secret to successfully balancing an expanding business and family life?
The work/life balance is something I always and have always struggled to juggle. I want to spend more time with my family, but the opportunities of expansion puts a lot of pressure on anybody's personal life.
What are your thoughts on restaurants that tone down authentic Indian cuisine to suit varied palates?
This is something that all restaurants do, and maybe not even notice they do it. Particularly, Indian restaurants are serving food that has been adapted, but not authentically Indian.
You've mentored and continue to mentor chefs coming through the ranks. As a leader in the kitchen, what legacy do think is most important to leave chefs with?
1) Love your food. 2) Keep your head down, by being honest and doing what you're told. 3) Learn to respect ingredients. 4) Learn to respect people who are already in the industry because there's a lot you can learn from them – a lot of young kids learn a few things and become very arrogant, you should never stop learning. You learn every day.
Details: for more information, visit Rang Mahal by Atul Kochhar. If you enjoyed this story, you may like this article on David Myers new expansion in Dubai.