Chef Batuhan Piatti has a wealth of experience within the F&B sector, including starring in his own travel and cooking TV show, Hayat Batuhan'a Güzel (Life is Beautiful for Batuhan) and being one of the first judges on Turkish MasterChef. Here, he takes us through his latest role as Cluster Director of Culinary at Raffles The Palm Dubai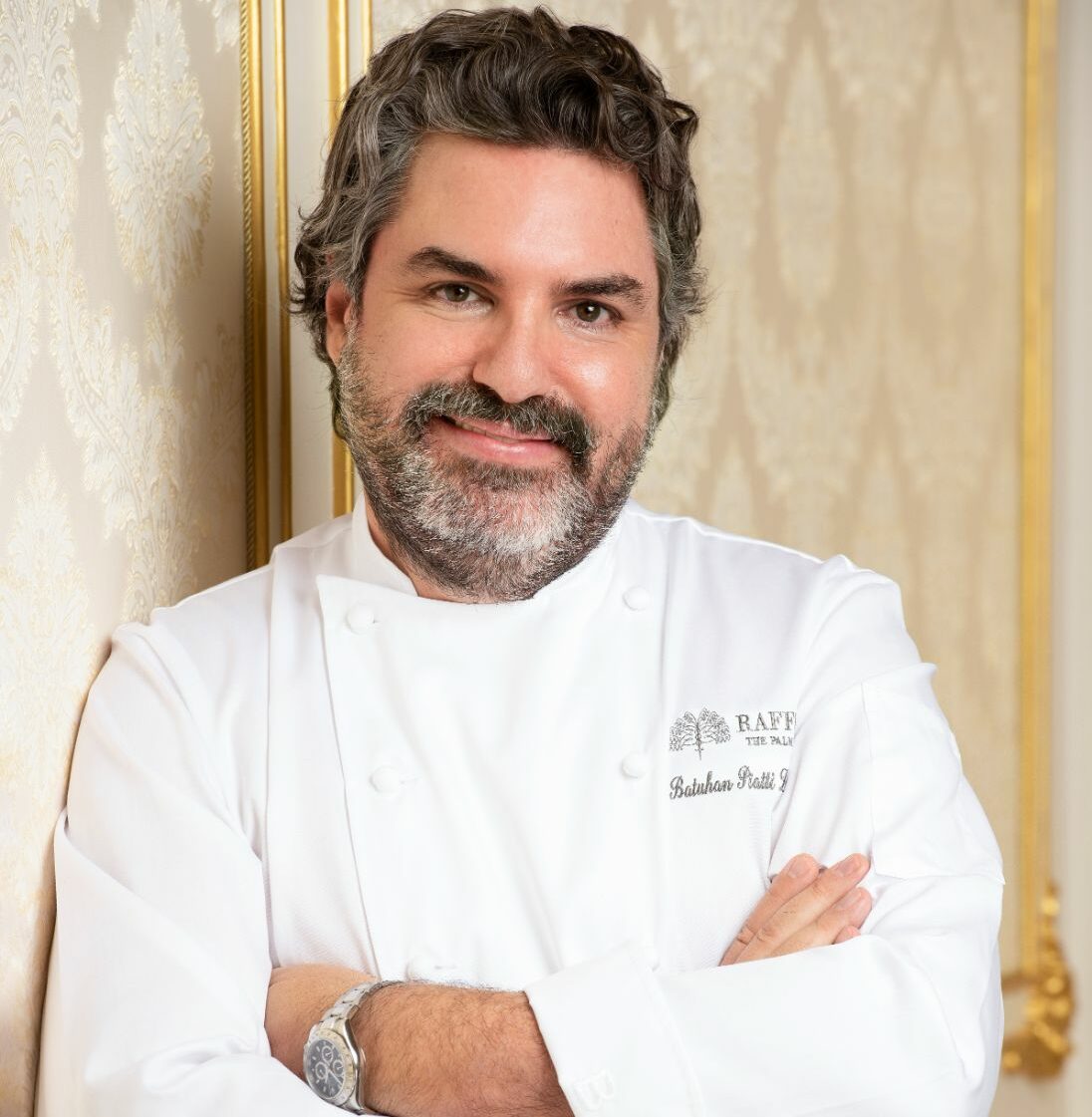 Inspired by his Turkish father and Italian mother, Chef Batuhan expertly shaped the culinary direction of international venues operated by the Billionaire Life Group at locations including Sardinia, Dubai, London, Monaco and Riyadh.
Expect an eclectic range of menus at Raffles The Palm Dubai's, where the chef will oversee all culinary experiences at Matagi, the Itameshi fusion restaurant, SOLA, Le Jardin, Raffles Club Lounge, the high-energy beach restaurant PIATTI, and Raffles Patisserie – where Chef Batuhan will be supported by his protégé Chef Gianluca Guinzoni, from the renowned Pasticcerie Cova in Monte Carlo. Batuhan is also leading the food and beverage scene at the newly opened Hyde Hotel Dubai.
This slideshow requires JavaScript.
How did you get into the culinary field?
I was not really a student made for a scientific high school. When I realized it, I decided to move to culinary at a very young age as I always had an interest in spending time in the kitchen. I had a chance to start my career at Four Seasons Hotel Milano back in 1999, where I was trained by one of the most famous chefs, "Golden Spoon" award winner chef Sergio Mei. Besides my idol, he became my mentor and guided me through my career. With his assistance and reference, I had a chance to open and work in five-star hotels and the most prestigious restaurants in Italy and around the world.
How would you describe your cooking style?
It's quite simple. I focus on freshness, taste and simplicity.
Tell us more about your vision for Raffles The Palm Dubai.
Raffles The Palm Dubai is probably the most important project that I have taken, ever since I started my career. We are talking about 750 million dollars investment, 389 rooms and 8 villas on the most prestigious area of The Palm Jumeirah Dubai, where we have to reflect the service and quality understanding of the most iconic hotel brand in the world. My vision is to create a tailor-made, unforgettable culinary experience where the guests will be spoilt by an incredible food journey.
What can diners expect from the menu?
Seasonal, freshest, and most exclusive products from around the world, cooked preserving the authenticity of world cuisines and served in a magnificent location of this iconic palace on the beach.
Could you reveal some of the signature dishes?
Wagyu beef carpaccio, Catalan style lobster, salmon "Tzar Nikolai" sashimi with fennel salad, homemade pizzas, grilled Jumbo langoustines and Carabineros, to name a few.
Where do you source the ingredients from?
I always say that Dubai is a Disneyland for chefs. Working in such a big company gives you the access to reach the most exclusive and precious products from across the globe.
Are there any ingredients you're particularly enjoying working with?
Extra virgin Tuscan olive oil is the sixth gear of my cuisine, which helps to highlight and bring out the character of each product that it touches.
Any special plans in place for 2022?
We would like to add a new "steak and caviar" concept restaurant at our beautiful property, on the top of our existing Italian Amalfi coast, inspired "Piatti" and Japanese fusion Matagi restaurants.
Advice for up-and-coming chefs in the region?
Dubai is the most sparkling, brilliant city for young chefs with ambitions, where they can find an infinite number of occasions to grow their talent in a secure environment. The keywords are hard work and persistence, then success is guaranteed.
Get to know the Chef
Favourite kitchen appliance
The knife for a chef is essential, nothing can beat it.
Top culinary destination
Mediterranean Coast.
Your go-to meal when cooking at home
Spaghetti with fresh tomato and basil – the simplest, tastiest and sincerest meal ever.