Having undergone an extensive renovation at the end 2018, Roberto's in DIFC has now re-opened to unveil its beautiful new interiors and refreshed classic Italian menu curated by Roberto's group executive chef, Francesco Guarracino, who oversees both Dubai and Abu Dhabi outposts. In a one-to-one with The Pro Chef Middle East, chef Francesco talks the return to Italian classics, the re-launch of Roberto's DIFC and staying true to the brand's roots.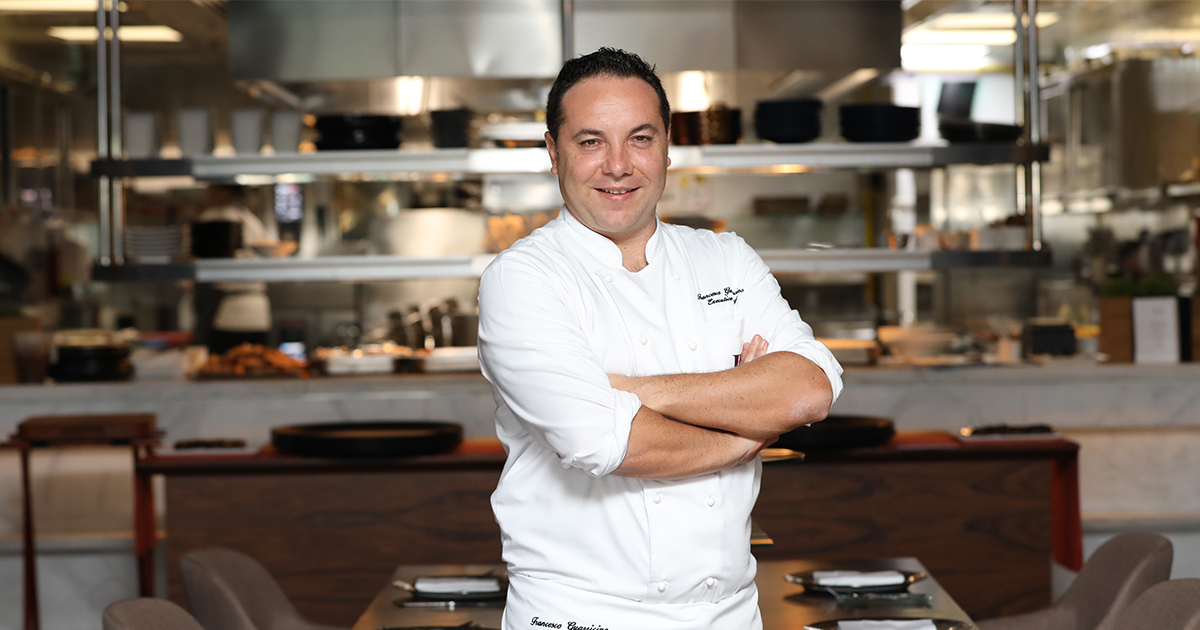 Tell us how your journey in the kitchen started…
It's a funny story – my father was a well-known chef in my village in Italy and wasn't keen on me becoming a chef. However, I'd already found a great love for cooking. I started to work in a local restaurant as a chef's assistant, however I told my parents that I was working as a waiter – to which I had to try and keep up the secret by changing my uniforms before I got home each night. And that's where it all started from.
How did you start working with Roberto's and how long have you been there?
My first day at Roberto's was the December 1, 2015 – I will never forget it. For my training, I worked with our culinary ambassador, Enrico Bartolini of 2-Michelin Stars in Milan – who's been a great support to me throughout my career at Roberto's.
Roberto's Dubai recently re-opened after an extensive refurbishment. Tell us about the new menu you've launched in-line with the re-opening…
Roberto's has been an iconic restaurant in Dubai for so many years and my approach was to be respectful to the fundamental factors that have made Roberto's what it is today. With the new menu, I've kept the foundations of the food and soul and have focused on adding a modern and contemporary interpretation to the new dishes.
How would you describe your cooking style and philosophy?
My culinary style has evolved throughout my career and it's still evolving now – my style is very different to what it was 10 years ago, and it will be very different again in five years' time. However, what remains constant is the fact that in every recipe there is a memory – I create dishes that remind me of happy periods in my life that I want to share with guests. My perfect dish must also have a great balance between all the ingredients, temperature and consistency. I hate a boring dish.
What's your signature dish?
Since joining Roberto's, my signature dish has been the Polpo Cacio e Pepe, Octopus, Artichoke and Cacio Pepe Sauce. It was a recipe that I worked on in Abu Dhabi for a culinary event, when asked to come up with a dish inspired by a writer that wrote a book related to the roman empire. It was one of the most-loved dishes at the event, with everyone asking to try it and it became one of my specialties from there.
What do you believe the diner of today wants from an Italian dining experience? Are there any 'trending' dishes?
Italian food is still one of the most-loved cuisines around the world because it's simple to understand – in each recipe there is only a few ingredients yet it's full of flavour and easy to digest, which means that you can eat Italian food multiple times a week without it becoming too overpowering. Nowadays, traditional Italian dishes are coming back. For a long time, chefs' have tried to over-complicate their dishes – adding products like lobster, caviar and truffle for example. Of course, these ingredients create beautiful dishes however, there's now a pattern of chefs' re-discovering traditional dishes that made Italian food famous across the world. A traditional dish that I love to cook is a 'pasta e patate', a classic pasta dish made with a mix of pastas, potatoes and cheeses. A simple dish that has a lot of history.
Fresh seafood and fish display a major role on Roberto's menu. Which suppliers do you work with to source such high-quality product and where do the ingredients come from?
Yes, fresh seafood is something that we love to work with at Roberto's. We even have a raw bar. We work with multiple suppliers, up to 25 as we like to get the best from each during every season. Of course, most of our fish comes from Italy however we do also use Norwegian salmon, cod and king crab from Alaska and oysters from France.
In fact, our best piece of fresh seafood from our raw bar is gambero rosso from Mazara (Sicily). An amazing and tasty red shrimp which we can use in hundreds of dishes – from raw, to pastas and grilled.
Pasta too, is an important element on Roberto's menu. What's your formula for perfecting pasta?
Pasta and risotto are two of my favourites – I love to cook them! We have more than 14 pasta dishes on our current menu – all unique with different tastes, ingredients and presentations. I especially love pasta cooked 'al dente' style, which doesn't mean raw pasta (as often confused with), it refers to when the pasta is cooked to be firm to the bite. It's the ideal consistency for pasta and involves a brief cooking time and allows you to taste the essence of the pasta. The perfect pasta dish is a marriage between the pasta and the sauce.
Looking ahead, can we expect any further developments from the Roberto's brand?
At Roberto's, we're always thinking of the next dish, presentation or technique. Our business lunch menu changes every week, with 16 different delicious dishes available. We also have a monthly menu, with a specific theme each month according to the season – for February, we'll be introducing our chocolate menu with chocolate incorporated in dishes from starters through to dessert.
Our kitchen is never static, our aim is to always be better than the day before and not only to introduce new dishes but improve the existing ones. In terms of openings – all I can say is watch this space!