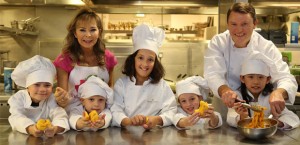 InterContinental Hotels Group (IHG) is launching the first global children's hotel menu designed by a child food expert and an award winning chef. The menu, which launched at IHG properties in early 2014, promises to take children through an exciting journey of food discovery.
Designed specifically for the young IHG guest, the menu has been jointly developed by award winning celebrity chef Theo Randall and leading children's food expert and best-selling international author, Annabel Karmel MBE. The menu will feature delicious dishes which embrace flavours, textures, smells and tastes that will take children on an educational voyage around the world while ensuring an enjoyable and nutritionally balanced meal.
According to Annabel Karmel: "Children are naturally inquisitive and grown-ups are often surprised by the flavours they enjoy. Sometimes it takes a little encouragement and a holiday with the family can be a great opportunity to explore new and exciting foods. Working with Theo, we've created a menu filled with diverse flavours and tastes whilst offering the nutritional balance InterContinental travellers with young families are looking for."
Karmel is best known for her innovative recipes that embody her passion for giving children the very best start in life by inspiring families to cook nutritious, delicious meals that taste great. She started her working life as a musician and one of her early jobs was playing the harp at the InterContinental London Park Lane.
Randall, a celebrated graduate from The River Cafe is internationally renowned for creating simple, authentic dishes using the best and freshest ingredients. "My cooking philosophy is greatly influenced by my parents' love for good food," said Theo Randall, Chef Patron of Theo Randall at the InterContinental London Park Lane. "Growing up, a memorable family holiday was always one with great food experiences. I've found that I learn quickest about different cultures and cities through the flavours of cuisines at each destination I visit and this is something I hope to bring to life for the children who visit InterContinental restaurants around the globe."
With properties in more than 60 countries, IHG executives believe that the new children's menu should excite the junior palate through a variety of classic favourites and truly international delights that reflect the breadth of countries the luxury hotel brand is located in. As part of the menu's development, the two chefs conducted a test and learn tasting session with young guests in October. The dishes on trial proved a big hit and provided the culinary duo with additional insight into the dishes they will roll out as part of the final menu.
Simon Scoot, VPt Global Brands for IHG, claims that "a great dining experience is something our guests expect when staying with us – and we're dedicated to innovating and delivering this across all our brands at IHG. We understand our guests' desire to give their children the best opportunities to learn about the world whilst having fun – and food is a great opportunity to do this. We also want to reassure parents that our children's menus are nutritionally balanced."
IHG began to roll out the new menu from January 2014 and it will be available in all properties globally by the end of June 2014. The menu will be available in InterContinental Dubai Festival City, InterContinental Abu Dhabi and InterContinental Dubai Marina, when it opens in Q3 of 2014.