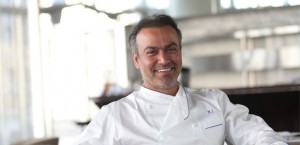 In a Dubai food scene the combines hotel outlets and popular franchises, it's still fairly unusual to find a fine dining standalone restaurant, though things are changing fast. The vision and brainchild of the creator, Chef Mohammad Islam, Atelier M in Dubai Marina is a chef-driven restaurant/lounge that looks set to change a few rules.
The story of Atelier M is intertwined with the story of its owner, chef and entrepreneur, Mohammad Islam. Atelier M sets a precedent in Dubai for originality. It is not just a displaced popular franchise that has been replicated from another city in the world, but the vision and brainchild of the creator.
As the previous driving force behind some of the world's best known restaurants like Chateau Marmont in LA and The Mercer in NYC, Mohammad Islam has created a menu that deconstructs and reimagines French cuisine with modern Asian and Mediterranean twists.
From a Bangladeshi family where traditional career choices were medical, Islam initially studied electrical engineering but it bored him. He spent a summer in Montana intending to learn how to fish but instead found himself helping a friend to open a wine and cheese shop – an experience that made him realise that food was were his future lay. After narrowly avoiding being disowned by his parents for such a risky move, he traveled as far as Switzerland to culinary school before returning to Chicago to seek out the best chefs to apprentice with.
His first big break was with Sara Stegner at the Ritz-Carlton in Chicago, when she won the 1998 James Beard Best Chef award. That led to an offer from Jean- Georges Vongerichten, with whom he shared a similar style and philosophy on cooking, Islam went on to become Executive Chef at The Mercer and then Spice Kitchen, before moving to Los Angeles to overhaul a large group of restaurants between 2001 and 2007 including the Chateau Marmont and those in the Standard Hotel. After overseeing Versace and Capital Club, as well as opening restaurants all over the region, Atelier M represents a personal project that reflects his love of exclusive, artisanal and hard to find producers who preserve old processes to make their ingredients without shortcuts.
Quite a shift from LA to Dubai. What's been the biggest challenge?
The one thing that surprised me the most was the standard of most kitchen staff on offer here. I just couldn't find the people I wanted, so we've brought in chefs from the US, UK and Mexico as well as a pastry chef from France. I've never faced this problem before in the industry – I'm more used to having a list of chefs who want to work with me, here you have to really seek them out. Few of the locally hired chefs even lasted a week with me – we had to teach even the basics like cleanliness.
Were you interested in food when you grew up?
In our family, food was the family forum. I loved it but never considered it as a career. My parents wanted me to have a real career but I refused to go into medicine and compromised on engineering, thinking it would be easy. I did it for two years to make my parents happy, but I wasn't excited by it and I didn't want to be mediocre at my career. So I went off to Montana to learn to fly fish and helped a friend put together a cheese and wine shop – that really got me into the food thing. I went to Lucerne and did a one year course, on the advice of Chef Gabriel Sabino who then told me to work across Europe for good chefs. He then got me the job with Sara Stegner – my four years with her was just amazing training.
How did you come to work for Jean-Georges?
I was looking for a change as I didn't really like working in a hotel, not my kind of atmosphere though by now I was Executive Sous Chef. So I was asked to prepare a eight-course dinner for Jean-Georges and six other chefs – he really liked my food and invited me to go to New York and work for him. I worked with not much money but I was the first non-French Executive Sous Chef and my pay doubled after six months! It really turned my life around. I remember he said to me, "I won't teach you to cook, but how to manage people." He put me in charge of The Mercer – 125 staff and a turnover of $12m a year! A lot of chefs came out of that and won awards later. Anyway, next he moved me to Spice Market but it wasn't really my style. He then offered me positions in China and Paris, but I wanted to stay in the States and I had other offers.
So the move to LA?
Exactly. Jean-Georges didn't want me to leave but he was really supportive when I had the offer from the Standard Hotel group, which also involved opening a restaurant at Chateau Marmont for the first time. The deal I made was that I'd take the restaurants out of the hotels and run them as seperate businesses and Jean-Georges even encouraged me to take some of my team with me – two Sous chjefs, a strong line cook and even a GM. We did really well in LA.
What style of food were you offering?
I was compared to Alice Waters, so really it was a Bay Area sensibility in Los Angeles. Luckily, we got great reviews and we found this big gap in the market. When I first went there I was told to go and eat at Ashton Kulcher's restaurant and I was like, why, I want to go because of the chef not a actor. This was back in 2000 and I think we were among the first to start chef-driven restaurants. At that time, produce wasn't really central to what most people were doing and you'd have small farmers driving for several hours to bring small amounts of produce. I used to visit farmers and create menus from what was growing and for which they didn't make much of a market, things like Golden turnip soup with hamachi.
You'll find Dubai a bit different…
I've actually been coming here for the last ten years, initially to visit a friend. I thought doing something here would be a different sort of challenge and started talking to Emaar in 2004/2005 when places like Souk Al Bahar was under construction. Something was pulling me here, especially as it could be a hub for me for Australia, India, the Middle East and Africa. The negotiations didn't work out at that time but I was back in 2009 working with Versace, for example. Now I have my own restaurant in a location I like and Emaar has been very helpful with the deal we'ver struck.
What is your general take on the restaurant scene here?
Let me say first what we're trying to do, which is 4-star food but at 3-star pricing. The rest of Dubai? At the bottom, of course, you have all the QSR outlets with just too many bad examples. Mid-range, I think there are some interesting plces like Fuego and Butcher Shop. And at the top, I see the produce-driven places like La Petite Maison. There's still a great opportunity to take Dubai to a much higher level.
As a produce-driven chef, do you see supply here as a major problem?
Yes and no. You can bring anything here, not an issue, but what can you grow? Some things don't travel well – just give me a real peach or avocado! But we are sourcing some very interesting thigs – herbs from Al Ain, amazing fruits from Iran such as an apple that tastes like a lemon and local fully organic eggs.