Sponsored: Hosted by renowned Chefs Davide Civitiello and Simone Fortunato at L'antica Pizzeria da Michele, City Walk, Dubai, the masterclass was attended by industry professionals in the region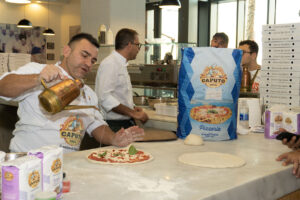 Davide, an award-winning Neapolitana pizza maker, who has opened hundreds of restaurants across the globe, and Simone Fortunato, a third-generation master pizza maker from Naples, are both technical consultants for Caputo who came together to host a unique pizza masterclass in Dubai.
Chefs, restaurateurs, and influencers attended the masterclass, where they were taught to make a Neapolitana and Contemporary pizza from scratch. Working with just Caputo flour – hailed as a pioneer in its category – Chef Davide enlightened attendees with production know-how, the various types available from the brand, and tips and tricks to make the perfect pizza every time.