The partnership aims to help aspiring chefs, artisans, and entrepreneurs with tech expertise.
The MENA region's leading cloud-based restaurant technology and payments platform, Foodics, and the International Centre for Culinary Arts Dubai have joined forces to support the F&B sector with food tech skills, bringing end-to-end digitization to the scene. The partnership coincides with the demand for the food service and restaurant industry to quickly adapt to highly-advanced technology and meet the needs of growing consumers.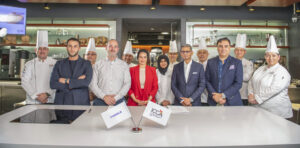 "We are excited to announce this alliance. Foodics is fully aligned with ICCA's vision of effectively training chefs with all that is required for them to seamlessly integrate, effectively deliver, and excel in the hospitality industry," said CEO & Director of ICCA Dubai, Sunjeh Raja. "Together we embark on a common mission to bring the right skill set, and learning methodologies to upskill the sector, ensuring there is an effective and efficient transformation in the way the F&B industry in the region operates across all areas of operations."
Foodics, launched in 2022, will combine its in-depth tech knowledge with the award-winning training capabilities of ICCA to help future trailblazers to learn tech-enabled solutions and tools. From aspiring chefs to artisans and entrepreneurs, the collaboration aims to tackle the community's obstacles.