The brainchild of Emirati restaurateur Mahmood AlKhamis, Moon Slice is the latest arrival at Jumeirah's Dar Al Wasl development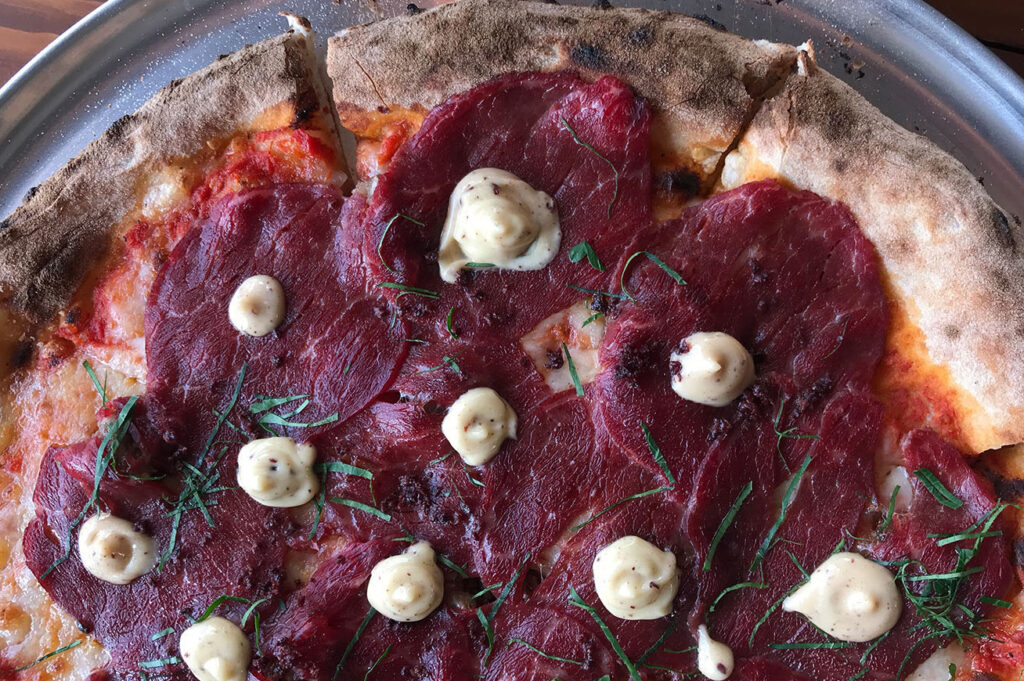 The restaurant's design is inspired by the founder's nostalgia and a childhood passion for pizza, where the oven is front and centre of the space, allowing guests to visually partake in the creation of the pizzas.
To help carry out his vision, Mahmood brought in long-time friend Chef Reif Othman, to consult on the menu. One of Dubai's most renowned chefs, Reif is known for his mastery of modern Asian flavours, although his culinary journey began in Italian cuisine. The result is a fun and experimental menu that is skilfully curated and features mouthwatering dishes.
Addressing the need for quality-driven yet approachable pizza, the menu features a selection of light antipasti and playful desserts. The main focus, however, are pizzas with elevated toppings such as truffle, wagyu beef, octopus and thinly sliced heirloom tomatoes.
Highlights include the Diavola, a pizza with wagyu carpaccio, spicy meatballs and olive aioli; the Frutti di Mare with shrimp and octopus carpaccio, fontina cheese and BBQ aioli; and last but not the least, the delectable MS with pecorino and truffle paste, truffle foam and grated truffle. The main menu will be supplemented by weekend specials, giving regulars the opportunity to try something new every time.
Though the pizza style is close to what most would recognise as Neapolitan, at Moon Slice, there is a key differentiator. Rather than the use of just water, milk is also added to the pizza dough, and left to ferment for 48 hours before being shaped, topped and fired in a custom Italian oven at 380C. The result is a base that has a depth of flavour and is thin yet robust enough to hold up the generous toppings.
Diners can expect to be seated at traditional open-front school desks with hand-written paper menus on the walls, vintage ceiling lamps and leather-bound books, while tucking into a simply decadent pizza.
Dar Al Wasl Mall, dine-in daily from 12-11pm. Pick up from 12-7pm. Call +9714 239 8363.