Sophie Voelzing sits down with Head Chef Dharam Rana at Miss Lily's Dubai, to discuss the evolution of Jamaican cuisine, the difficulties he faces sourcing Caribbean ingredients in the Middle East, and the art of jerking food.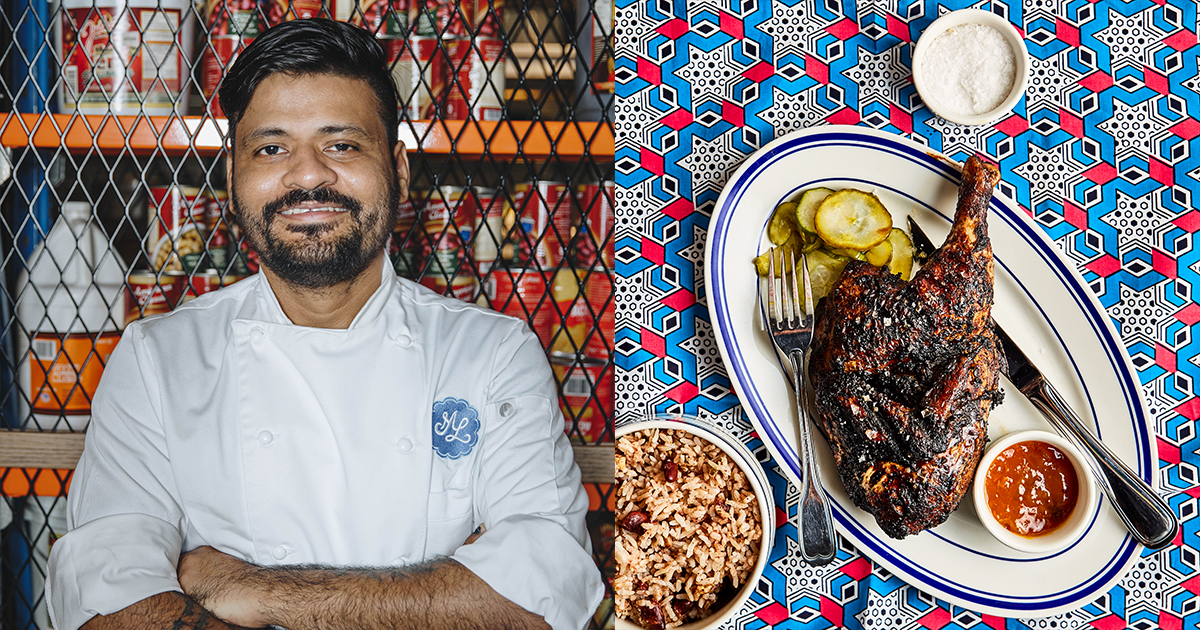 Were you always passionate about food growing up?
Yes, I was always passionate about food while growing up. It all started because of my father. I come from a family of chefs and I've grown up in an environment where everything was all related to cuisine, food, cooking techniques etc. Even at home when my Dad used to have a day off, it was spent tasting new dishes with him and helping in out in kitchen. So for me it all started from there. My passion to learn cooking techniques, my love for knives… I knew then that I was going to be a chef. This was my future. This was going to be my career.
Talk us through the menu concept at Miss Lily's and some of the dishes on offer…
The menu concept is to replicate dishes, smells, flavours, and feelings you would get if you were back in the Caribbean. We use authentic ingredients, such as Scotch Bonnet, All Spice, Callaloo, and Ackee, that can all be attributed to traditional Jamaican cuisines. Some the dishes we offer that feel like home are our world-famous jerk chicken, traditional curry goat, oxtail stew, ackee and salt fish, steamed callaloo, rice and peas, festivals.
What has your experience been like finding reliable suppliers in the region, offering high-quality products required in the Jamaican kitchen?
There are many reputed suppliers in Dubai and the surrounding region as Dubai is now becoming a hub for world cuisine, however specifically Jamaican ingredients can be troublesome. There have been times when we have had to use several suppliers to either find an ingredient or get the correct amount of that ingredient. This was something we understood when we chose to serve a unique cuisine.
What are some of your favourite ingredients used at Miss Lily's?
All Spice Pimento, Picka Peppa, Scotch Bonnet Chilli, ackee, and coconut are some of my favourite ingredients that we used in our kitchen. The range of flavours and spice that some of these ingredients provide really play to my creative side. I can push boundaries and put my own twist on some traditional dishes, for example, by using Picka Peppa or Scotch Bonnet in a way that isn't commonly known.
What is your signature dish at Miss Lily's?
Without a doubt our signature dish the 'world-famous jerk grilled chicken' – it's a must-try dish and is arguably the most recognised dish in Jamaican cuisine.
In your option, what are the most important things to do when Jerking food Jamaican style?
Hands down the most important thing about properly jerking food is a real charcoal grill. Without that, the flavuors just don't come out right. Second is your marinade. Whether it's dry rub or wet rub, it should have all the island flavours and ingredients like Scotch Bonnet, scallions, ginger, pimento, garlic etc. Everything has to soak into the chicken for as long as possible. Lastly, is the homemade jerk sauce for basting. When you add all of these steps together, you are good to start Jerking food Jamaican style.
Are there any Jamaican ingredients that you'd love to serve at the restaurant, but struggle to source here?
Ackee and callaloo are two ingredients we use regularly and though we have suppliers that provide us with high quality product, it must be canned to preserve freshness. Ideally, I would like use ingredients right from the source. Since these products only grow in the Caribbean, travel time doesn't allow us to do that.
Recognition of Jamaican and Caribbean cuisine appears to be on the rise worldwide – why do you think this is?
Jamaican and Caribbean cuisine are multicultural, with influence of Indian, African and European cooking found within. Nowadays, with so many people migrating to different parts of the world, food is also travelling because of this, which is why the world is getting familiar to the island cuisine.
What do you predict as the next big trend in Caribbean cooking?
Caribbean food and its style of cooking comes from a place of love, comfort, and availability. Being on an island created limits on options of ingredients and people had to make do with what was around. Being heavily based in tradition, most of the cuisine will remain the same, however, I can see healthier alternatives presenting themselves in years to come. Access to ingredients and techniques have improved over time and trying to replicate traditional flavours with healthier ingredients might be the next step.
Will Miss Lily's ever further expand in the region?
We've been fortunate to experience great success in this region and many people have asked us about expanding. Anything is possible, but right now we're focused on making our current venue the best we can.
Looking ahead, are there any exciting happenings due to take place at the restaurant, such as new promotions or menu changes?
At Miss Lily's we are making a constant effort to explore island cuisine and trying something different. We have an amazing Friday Brunch (Miss Lily's Blazin' Brunch) menu that's totally different from our regular menu, where we have incorporated more varieties of island cuisine. We have currently special menu that we offer on Tuesday's known as The Rundown Menu. This consists of 8-9 different flavoured dishes in miniature form full of Island delights. We like to keep this menu fresh by switching up some of the dishes periodically to provide get new culinary experiences.