Delve into the heart of Chef Burcu Cracknell's journey, from Istanbul's kitchens to Dubai's vibrant culinary scene, and her vision for the alluring Josette
Born in Istanbul, Turkey, Burcu's entrance into the F&B arena was anything but conventional. A part-time stint as a Commis at a local Istanbul restaurant while pursuing her studies in Industrial Engineering ignited a passion that would shape her destiny in ways unforeseen.
Amidst the rigours of academic pursuits, the allure of the culinary world gradually eclipsed the path of industrial engineering, prompting Burcu to change the course of her life. "During my second year of college, I realized that engineering wasn't aligning with my passions. In Turkey, there's a societal expectation to pursue careers like engineering, medicine, or banking, and though my family valued engineering, I didn't want to pursue it," she said.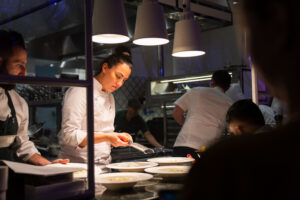 The decision to follow her heart led her to the renowned Zuma Istanbul's pre-opening team in 2008, marking the inception of her expedition. As the years unfolded, Burcu flourished through diverse roles and invaluable experiences at renowned Istanbul restaurants. A significant turning point arrived in 2011 when Dubai beckoned with its vibrant gastronomic landscape. Joining La Petite Maison (LPM) as a Demi chef, her career in Dubai began to take shape. Collaborations with celebrated chefs, including Timothy Newton and Izu Ani, paved the way for her pivotal role in the opening of La Serre in 2013.
Chef Burcu's journey was not without its challenges, and her dedication was further exemplified during her tenure at II Borro Tuscan Bistro Dubai. Four transformative years played a pivotal role in establishing Il Borro's reputation in the UAE, solidifying Burcu's role as a force in the industry. A brief interlude at the newly opened Arts Club Dubai in 2020 added another layer of experience to her vibrant gastronomic palette.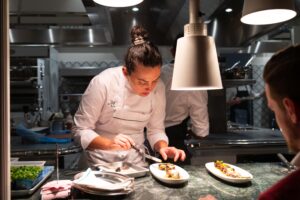 The journey comes full circle as Chef Burcu rejoins Orange Hospitality, poised to lead the charge as the head chef of Josette. In an interview, Chef Burcu shares the pivotal moments, challenges, and triumphs that have defined her journey – one that is rooted in the pursuit of excellence and a dedication to creating memorable dining experiences.
What motivated you to take on this role?
I joined Orange Hospitality back in 2016 as a junior sous chef. I was part of the Il Borro opening team under the guidance of Chef Mauricio. After a year, I was promoted to Sous chef and later promoted to Head chef. The experience at Il Borro holds a special place for me. It emerged as one of the top Italian restaurants in Dubai and gained immense popularity. Then the pandemic hit, and I had a little breakdown because of the uncertainty.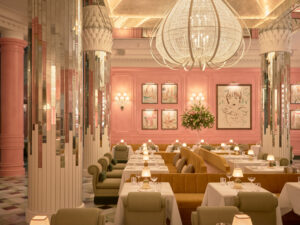 Luckily, Dubai's robust response allowed us to adapt quickly. We managed to reopen Il Borro for takeaway, through delivery services, a move I wouldn't have anticipated a few years back. The crisis tested our limits, especially as chefs who can't work remotely. I was also struggling with depression due to the overwhelming situation. A turning point emerged with the opening of Arts Club – I joined the venue to push myself out of my comfort zone. A year later, the founder of Orange Hospitality, Mr Omar Saideh, mentioned that a new venture was on the horizon, and he wanted me to lead it. It felt like a homecoming, a call I couldn't resist.
What are your thoughts on launches now?
I think it's just something that I hate when I'm doing it because it's so hard every single time. It never gets easy. However, it's this very challenge that brings excitement. Being a chef embodies a constant need for growth – even when things seem settled, the drive to improve continues. I don't think I'm going to do an opening again, but I'm sure after a couple of years, you might find me taking on such a venture again.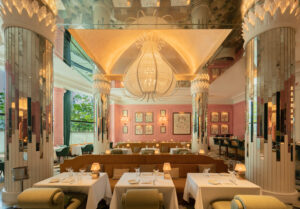 This is where Orange Hospitality comes in; they frequently unveil new restaurants, offering fresh opportunities for us to step out of our comfort zones. Interestingly, it's not a competition against others, but rather a competition with ourselves. For instance, the opening of Il Borro about five to six years ago – I'm now competing with my past self, and I can foresee that in another four years or so, I'll be motivating myself to explore new horizons.
What's your key takeaway from your previous launches?
As I grow older, I find myself striving to better understand people. Not everyone possesses the same capabilities, and it's something I've come to appreciate. In the beginning, especially, I would often wonder why others couldn't do what I could. Everyone has their distinct approach – in their thinking, execution, and training methods. Each new restaurant opening serves as a lesson in understanding this diversity and how to simplify processes for all. It's not just about being a skilled chef; it's about effectively conveying that expertise to others. This is a continuous learning process, involving patience, empathy, and the realization that the younger generations have different expectations.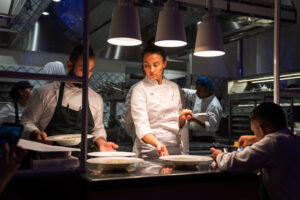 The impact of recent events, like the COVID-19 pandemic, has shaped the generations' outlook. The concept of working long hours for traditional success is being reevaluated, challenging the traditional mentality. It's my role to navigate these evolving perspectives, instilling the idea that becoming an accomplished chef takes time and involves failures along the way. Amid these challenges, my goal is to create an environment where the team feels valued and motivated to stay, despite the competitive landscape. Dubai's gastronomic scene is fierce, with new restaurants emerging every month, retaining a team is vital, and I emphasize the importance of their growth and reputation. I want future chefs to look at my team and recognize the solid training they've received.
These achievements extend beyond merely opening a restaurant; they encompass sustaining consistency. It's not enough for a restaurant to thrive initially; we aim for longevity. Building a family-like atmosphere, especially when they miss out on personal celebrations due to work, is a significant achievement. So, while I am dedicated to our guests, I'm equally devoted to nurturing my team. Our collective efforts have propelled us forward, and I believe that investing in our staff is pivotal to our success.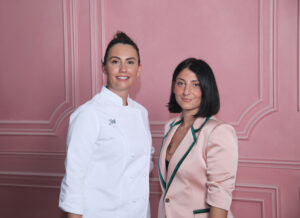 What are your biggest achievements?
Coming to Dubai and working alongside foreigners was a significant adjustment for me. I was so depressed in the beginning. There were countless nights when I called my mom in tears and wanted to return home. The long working hours and intense stress was overwhelming, and the way they operated in the kitchen was very different. However, there's something important to understand about working in a kitchen – dedication is key.
The process often involves breaking you down to rebuild you stronger. They start by making you feel insignificant, essentially rebuilding your ego from scratch. If you can endure this process and stand strong, the rewards eventually follow. But in the beginning, it's undeniably tough. I questioned whether I could handle it and even doubted my decision to leave everything behind and start anew. I grew day by day, especially during my time at LPM where I worked alongside Chef Izu.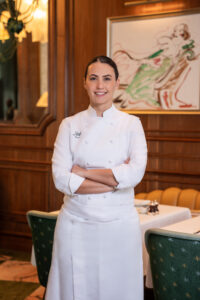 Could you share any insights into the process of curating the menu for Josette?
Some of the dishes require extensive refinement – perhaps around a hundred iterations. Over the span of two years, we fine-tuned several dishes. The most time-intensive dish was the preparation of escargot. For instance, in Paris, the preparation is quite simple – a blend of garlic, parsley, and chilli butter. It's uncomplicated, yet exquisite in its own right.
However, in Dubai, where diners have experienced a multitude of global cuisines, crafting a distinct and unforgettable escargot experience presented a challenge. We went through gradual adjustments – adding, subtracting, experimenting with different herbs, and meticulously building the dish step by step. The process, while occasionally frustrating, was extremely important.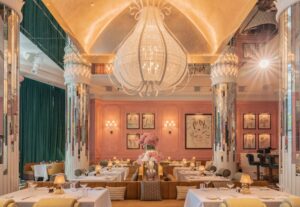 What's your favourite dish at Josette?
I'm really proud of our Rotisserie chicken. I anticipated it might attract attention. Despite not being of French origin, but rather Turkish, the concept of rotisserie was an integral part of daily life in Turkey. Our process involves more than just cooking the chicken; we employ techniques such as drying and cooking that demand substantial time and effort. For me, the dish is a sense of nostalgia. Despite not being particularly fond of chicken, the dish holds an incredibly special place in my heart.
What goals have you set for Josette?
I'm committed to establishing Josette as more than just a fleeting new opening. I envision it as a lasting institution, akin to those revered and dependable restaurants found in every neighbourhood and country, the kind you can visit without hesitation, knowing you won't be let down.
My aspiration for Josette is to shape it into a robust and distinctive Parisian restaurant, renowned for its unwavering quality.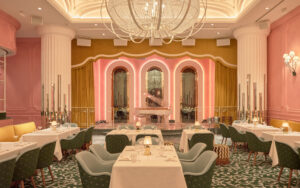 The unexpected recognition from the Michelin Guide, a feat achieved within our first year, has propelled me to set even higher goals. It's a dream come true, encouraging me to ponder, "Why not aim for more?" While I acknowledge the immense effort required, the acknowledgement has infused us with the determination to press forward, setting our sights on new milestones for Josette. Personally, I wish for Josette to transcend mere culinary boundaries and become an institution. Just as there are iconic Parisian establishments where working becomes an invaluable learning experience, I aspire for Josette to be regarded similarly in Dubai.
Anyone associated with Josette, even for a brief period, should carry that distinction with them, a testament to their dedication and skills honed at our restaurant. This echoes the ethos of places like Il Borro, where having worked signifies an ability to craft exquisite pasta or handle high-pressure services adeptly. Admittedly, these aspirations are ambitious and not easily attained.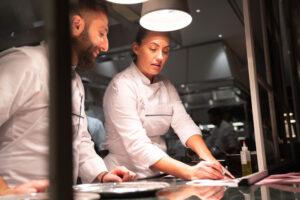 What's next for Josette?
We have a few more dishes in the pipeline to add, continuing to enhance the dining experience. For Petit Josette, our focus has been on catering to the all-day dining experience. We've observed that people are inclined towards quick and easy options – we're introducing a couple more dishes.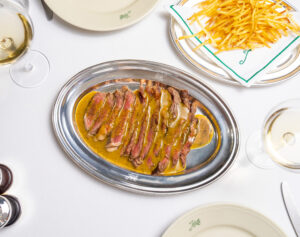 This adjustment is aimed at ensuring we can cater to a wider range of guests. We're also expanding our à la carte offerings, bringing in a few additional dishes. It's a dynamic process, and we're keen on engaging with our guests. When we introduce something new, we actively seek their feedback to understand their perspective. It's an essential part of our growth. As a chef, I sometimes find myself tasting dishes repeatedly during preparation, and this might lead to a certain bias. Thus, our guests' opinions are crucial for maintaining objectivity.