Hilton Dubai Palm Jumeirah is excited to introduce Chef Christian Pedersen as the newly appointed Executive Chef, boasting over a decade of culinary experience.
Chef Christian brings his wealth of expertise and a proven track record to the hotel, with a strong focus on crafting innovative menu concepts and enhancing the dining experience within the property. His responsibilities include overseeing the operations of 11 in-house restaurants, such as Barfly by Buddha Bar, CLAW BBQ Palm Jumeirah, Trader Vic's Palm Jumeirah, Jones The Grocer Palm West Best, and McGettingan's Factory Palm Jumeirah, alongside hotel signature dining destinations like SocialBee, Zing Beach Club, and Mowsem Restaurant.
Chef Christian's culinary philosophy centres on revitalizing traditional cooking styles, emphasizing techniques like fermentation, pickling, and a nose-to-tail approach, reconnecting with time-honoured methods. This approach resonates with the growing trend of embracing artisanal, handcrafted, and sustainable culinary practices.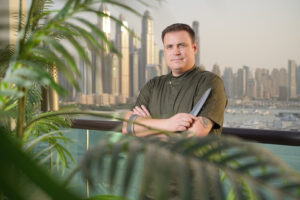 Sustainability and waste management are at the core of Chef Christian's vision, striving to establish the property as a leader in eco-friendly practices by introducing initiatives such as no-waste dishes, live interaction cooking to reduce food waste at Mowsem's buffet, collaborating with local farmers for locally sourced ingredients, and offering regionally inspired amenities reflecting the unique flavours and culture of the area.
Chef Christian, hailing from Copenhagen, Denmark, embarked on his culinary journey from 1997 to 2001, enrolling in a comprehensive four-year culinary program and gaining extensive on-the-job training, laying the foundation for his inspiring career. With extensive international experience in France, Sweden, Denmark, Ireland, and the UK, Chef Christian has held the role of Executive Chef at renowned hospitality brands, including Constance Lemuria, Six Senses Zil Payson, Conrad Rangali Maldives, and Waldorf Astoria Ras Al Khaimah. His exceptional leadership and strategic acumen have earned him accolades, including Manager of the Year in 2015 at Constance Lemuria.