The inaugural edition of Middle East & North Africa's 50 Best Restaurants in Abu Dhabi highlights the top dining destinations in the region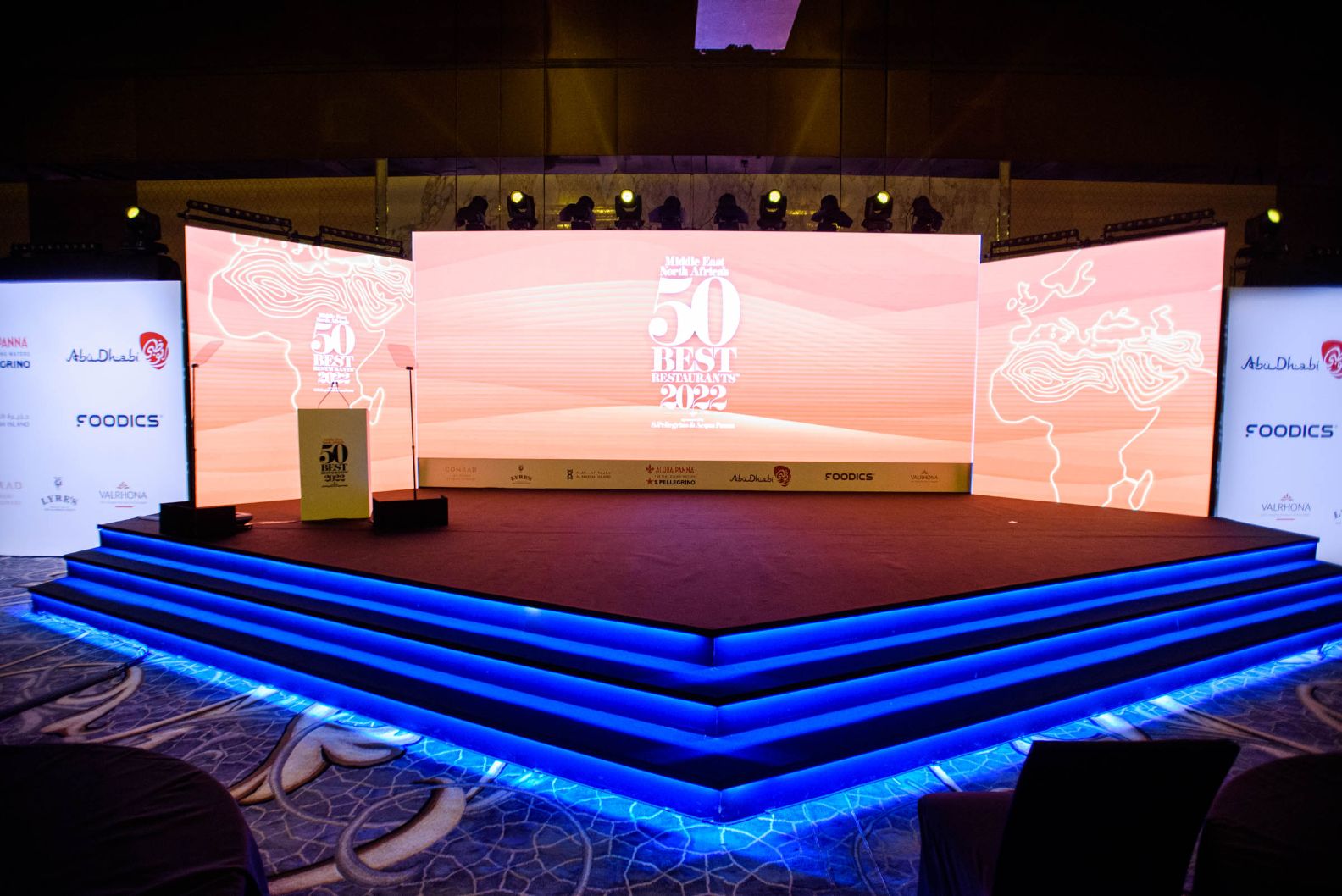 On February 7, culinary stars of the hospitality world congregated at the Conrad Abu Dhabi Etihad Towers for the inaugural edition of the Middle East & North Africa's 50 Best Restaurants awards, sponsored by S.Pellegrino & Acqua Panna. The glittering show, hosted in partnership with the Department of Culture and Tourism – Abu Dhabi, culminated in the announcement of the region's first ever No.1 restaurant by 50 Best.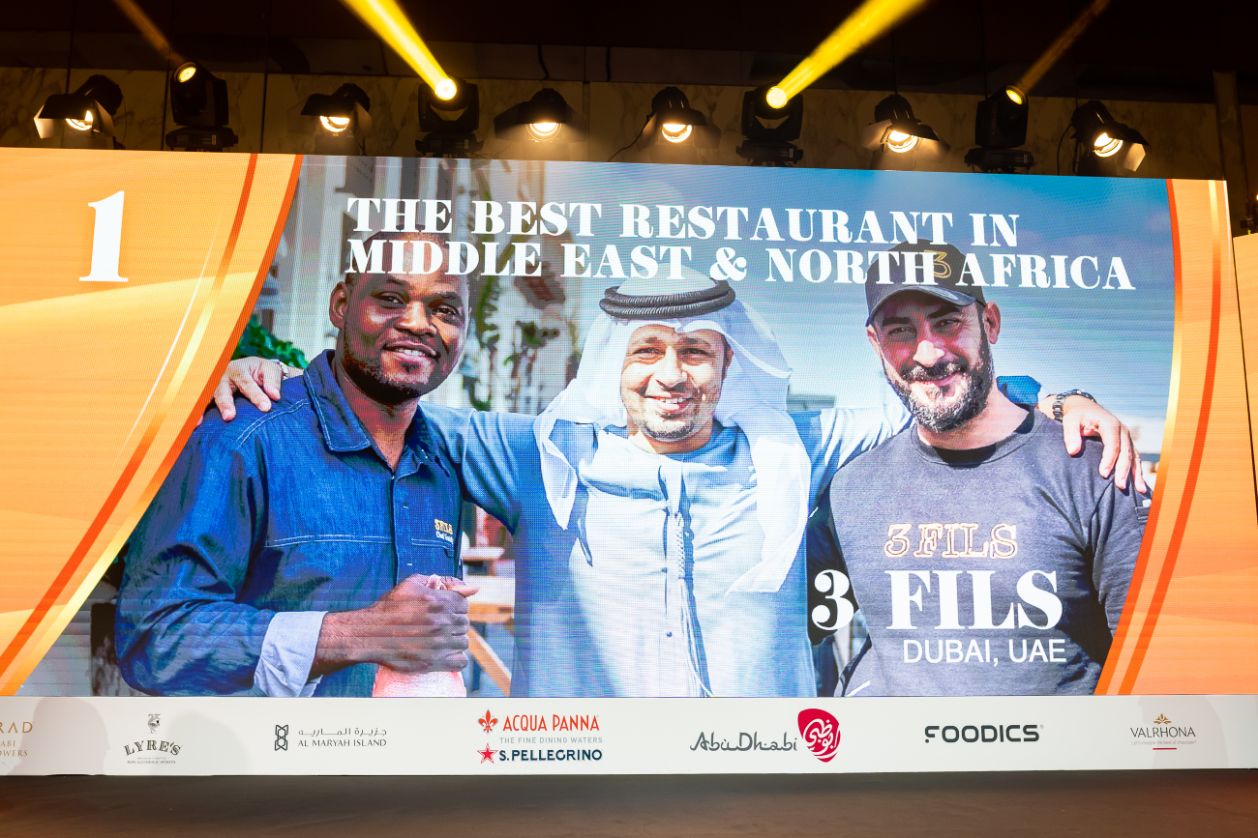 Put your hands together for 3 Fils in Dubai, UAE, named The Best Restaurant in Middle East & North Africa 2022. The casual contemporary restaurant sited in Dubai's historic Jumeirah Fishing Harbour, features a menu brimming with Asian fusion dishes. A visit to the setting will have you tucking into sushi rolls and indomie, as well as king crab salads, marinated lamb ribs and matcha chocolates with tea crumbs and milk foam from its dessert bar, Brix, located next door.
Winners from No. 2 to No. 50 comprised restaurants from across 11 countries across the MENA region, from Morocco and Tunisia to Kuwait and Qatar.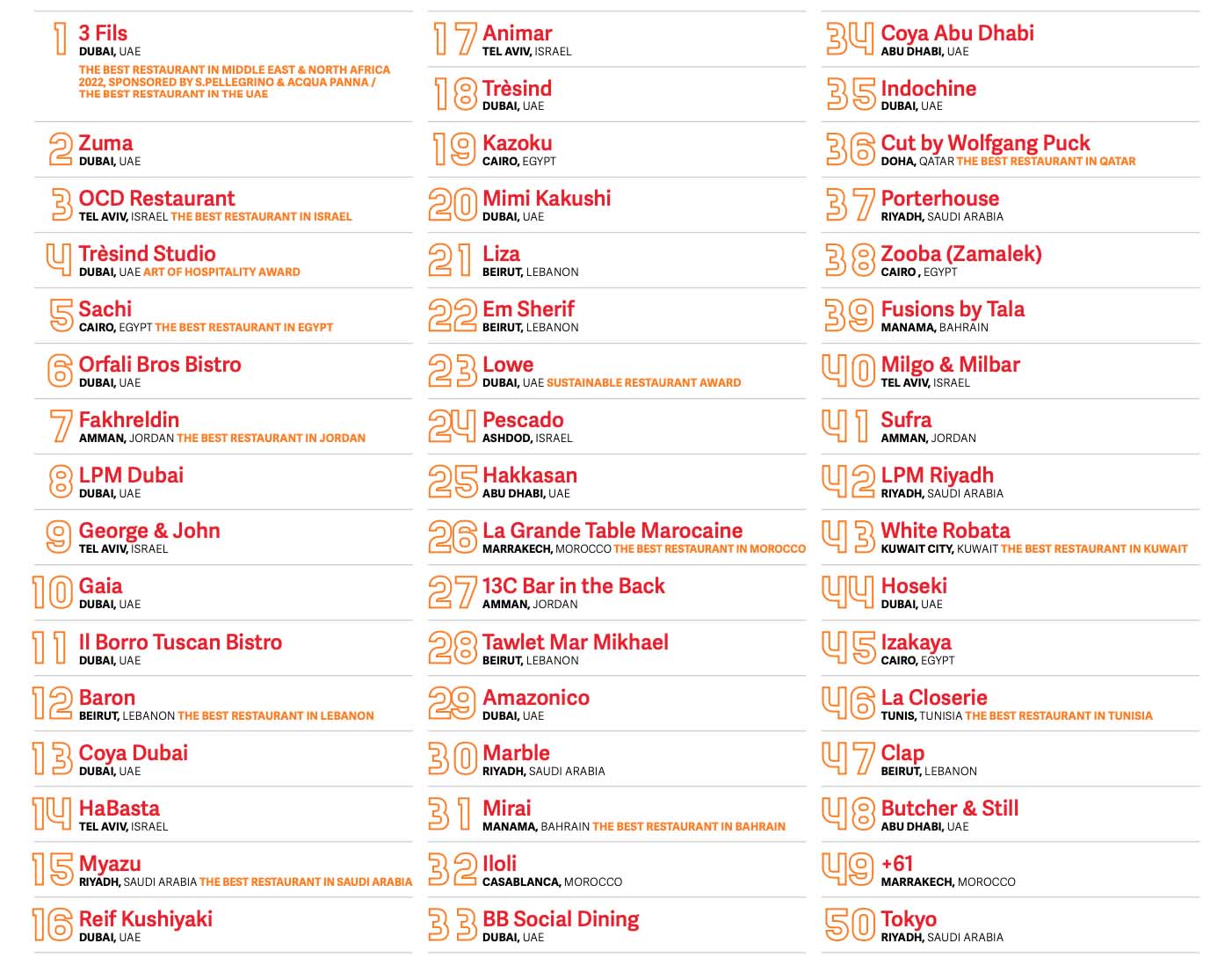 Some of the other notable mentions include Lowe in Dubai, UAE, awarded the Sustainable Restaurant Award; Trèsind Studio in Dubai, UAE, for the Art of Hospitality Award; Reif Othman of Reif Kushiyaki, Dubai, UAE, who was voted by his peers as the winner of the Chefs' Choice Award; Emirati chef Sahar Parham Al Awadhi, who took home the MENA's Best Pastry Chef Award, sponsored by Valrhona; Bahraini chef Tala Bashmi, who was presented with MENA's Best Female Chef Award; Kamal Mouzawak of Tawlet in Beirut, Lebanon, who was recognised with the Foodics Icon Award for his outstanding contributions to the restaurant industry; and Kinoya, the izakaya spot that picked up the One To Watch Award.